News
Casual trading bays to be marked out on Crescent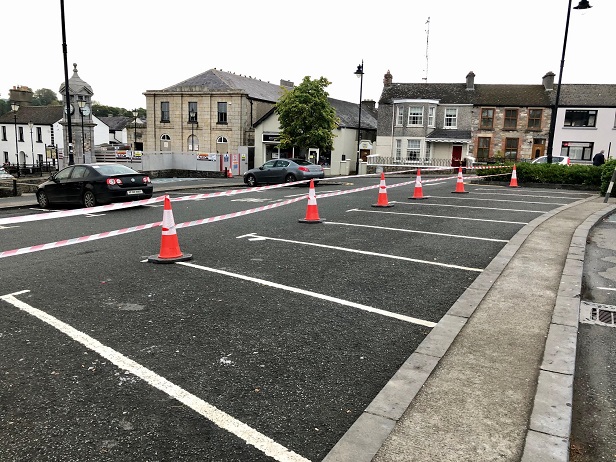 Roscommon County Council has cordoned off a number of spaces on the Crescent this morning in advance of the psychically marking out of designated trading areas.
It is hoped that the work will commence Friday when new trading bays will be marked out and signs erected in accordance with the new bye laws on casual trading for County Roscommon.
Nine of the twenty eight spaces on the Crescent are understood to be designated for trading.
The new casual trading bye laws for County Roscommon came into place on January 1st 2020.
The bye laws contain the various rules and regulations on how trading can take place in the county and include the following:
The annual fee pitch will be €300
A Tax Clearance Certificate from the Revenue Commissioners must be lodged with each completed application form.
A licence for Casual Trading will only be valid for a maximum of three days per week in the County of Roscommon and for a maximum of two days in any one town.
The trading days in County Roscommon are designated as Thursday to Saturday inclusive. Mart days are also designated as trading days in respect of the town in which the mart is taking place.
Casual Trading shall only take place at the times and days specified in the licence and shall be between the hours of 8.00am and 6.30pm.
A person shall not park a vehicle in the Casual Trading Area during allocated trading hour
A licensed trader shall not park a vehicle in the Casual Trading Area during trading hours unless such vehicle is being used for Casual Trading and is wholly parked within the area of the Casual Trading Pitch specified in the Casual Trading Licence.
Trading will be permitted outside of the designated days in the following circumstances:
Christmas week
Easter Week
St Patrick's Day
Traditional Fair Days relevant to the particular town.
Penalties will apply as specified under Section 14 of the Act for anyone who contravenes any of the bye laws.