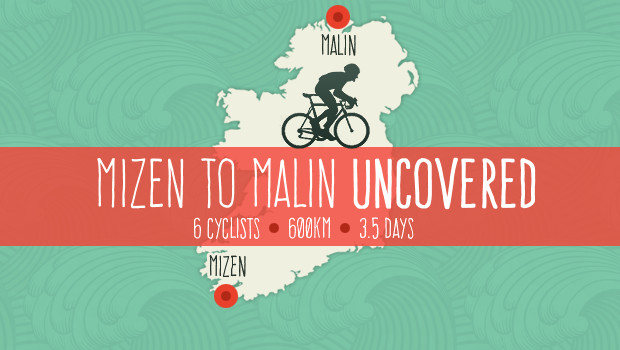 Over the last 4 days, six Boyle cyclists completed a major physical and emotional challenge by cycling the length of Ireland in a short space of time. Their daily (and nightly) happenings have been aptly recorded by one of the cyclists Eddie Conroy and eagerly awaited each day by you the viewer. In his final installement Eddie tells how tough a challenge Mizen to Malin really was. 
Aprés Cycle
It's all over. Yesterday was all about getting back on the bike for me after Saturday's disappointment. I rolled out Sunday morning, not knowing what I'd be feeling but with some big help from Ollie I was able to join the lads at the finish line at Malin Head. Each and every one of the lads proved their metal today. After 4 arduous days, they battled through gale force winds, rain and hailstones to power up the hill at Malin. 605km done and dusted.
To give you an idea of how hard today was, Enda Madden said he felt tired !!??
My well documented crisis on Saturday wasn't the only one. The lads thought I looked very pale. It was nothing compared to the colour Enda went, having cycled 164km to Enniskillen, to be told there was no bar in the hotel. I thought we'd have to call a priest for him. The priest could have said a few words over me too as it happened. We found a spot for Enda to have a "half a shandy" and he was ok again. On a serious note, I'll never forget the way the 6 lads looked out for me and for each other these past 4 days. If I was ever going to war, they'd be the first 6 names I'd call for. A special word of thanks to Cooney Motors / Cooney's Centra for dispatching, free of charge, the extremely helpful, extremely punctual and as it turned out, extremely patient, Peter Noone. I think we were all delighted to see him and to sit into the car and hit for Boyle.
Poor Brian Nerney completed yesterday's final stage without any sleep on Saturday night. Having closed up the media centre at midnight, I fell asleep straight away. Brian describes the next 7 hours as listening to coughing, wheezing, hard, heavy breathing, then silence and no breathing at all for what seemed like 5 minutes. Just as Brian was about to get out of the bed to check if I was dead, a loud cough or snort would occur and the process repeated. The media room had become more akin to a ward in The Plunkett Home. The poor man looked wrecked on Sunday morning.
It was great to get everyone home safe and well. We had no punctures all week and really, just a brief chain issue on Thursday was the only mechanical problem we had. No spills, no cuts or bruises, nothing lost and nothing stolen. What we did have was great craic, some shared torturous experiences and plenty of stories to tell. I'd say that was a fairly good trip.
Of all the quotes I've posted, at the bottom of the blog each day, which I picked randomly before I left, I think today's quote will resonate most with me after this experience.
Thanks Enda, Brian Mc, Seanie, Brian N, Martin & Ollie for a trip that will go down in memory.
"The best rides are the ones where you bite off much more than you can chew, and live through it." ~ Doug Bradbury