Cycling
St. Peter's Day (Can't wait to see him)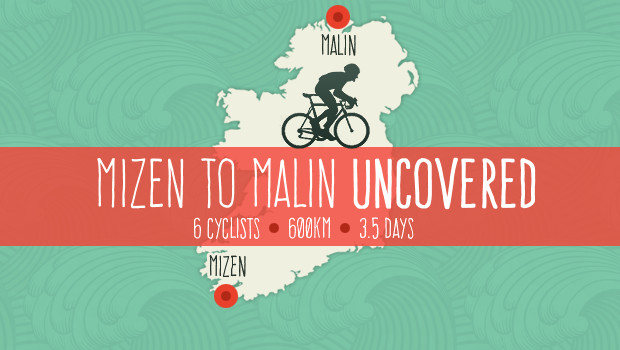 DAY 4 – Sunday 31st May
St. Peter's Day (can't wait to see him)
Stage 4: Enniskillen to Malin Head 135km
Before I start it's important to note that the welcome we got in The County Arms Hotel in Birr was unbelievable. The manager, Conor Loughnane clapped us in on arrival and offered to buy us pints. The staff were very friendly and couldn't do enough for us. Massive chapeaux to them.
Yesterday started well. I was ready for 9 so I set off. It took the boys 6km to catch me. (I eased up)
We got through Athlone and Longford unscathed. From there we went Drumlish to Mohill. Conor Nerney joined us from Boyle and cycled to Ballinamore with us. However, it was in Mohill that the trouble started for me. The rain came down hard, the cold set in and I started to struggle. The boys did everything to look after me. By the time I got to Ballinamore, I was as white as a sheet from sheer exhaustion. I struggled on, very slowly, almost to Swanlinbar. I had 139km on the clock out of the 164km. I was at the top of a climb and the body just gave up. It wouldn't go any further. After 120km, 186km and 139km, in 3 days, it was a new experience but not unreasonable to feel exhaustion like that. The lads were extremely worried about me. I was more angry than sick. I'd wanted to do this so much for myself and some special others. Only 25km short but I couldn't go on. I was barely able to stay upright. Is that failure? I don't believe so. The pros often have to retire.
There was a house right where I stopped and a lovely couple took me in, put a big towel around me and gave me the nicest cup of tea ever. It turned out the man of the house is a first cousin of Gene Byrne from Elphin. He told me that Gene had died in 2002 and his wife Valerie is a councillor in Roscommon. I asked them if I was the first ever half-dead cyclist to fall through the door? The man of the house answered in that lovely thick border accent, "Aye"!
Ollie picked me up and I got into the hotel for a shower. I felt much better after the dinner. It's currently 50/50 as to whether I can take on today's stage. Hopefully a good night's sleep will have sorted me out. Seanie Brennan has offered to come in the van with me on Tuesday and get that 25km done, should tomorrow go to plan. It was an amazing gesture from Seanie and it made me feel a lot better about the situation.
There was no fun and games to write about yesterday as I was in real trouble and the wit was well and truly curbed. We did have some very funny stories from Ollie at dinner but they couldn't be published.
"Think of bicycles as rideable art that can just about save the world." ~ Grant Petersen
Pic 1 Eddie and Martin exiting the tunnel on Molls Gap in Kerry.
Pic 2 Conor Nerney was a welcome face today in Mohill