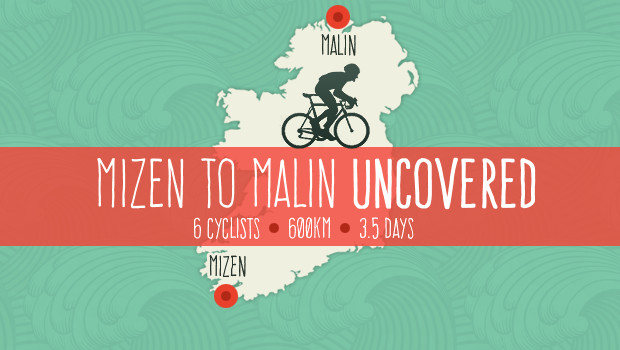 DAY 2 – Friday 29th May

Stage 2: Killarney to Birr 180km
What a day today. We arrived at Mizen Head about 1.30pm and got moving at 2.30pm.
There were a few stops on the way down, including breakfast in Charleville.
The hour of checks and tweaks saves a lot of time by reducing breakdowns. (Sometimes)
Enda's chain broke after 10km. I had advised him not to be using the big chain ring all the time like me because he doesn't have the same level of power. (Take that either way)
Anyway, thanks to the professional supervision of technical director Brian Mac (see photo), the chain was fixed in 10 minutes. Our support vehicle was missing in action or rather his phone was. Anyways we were back moving and Ollie was back in coverage, so all good.
The road from Mizen to Bantry was mostly downhill and it was after Bantry that the fun started. I have to praise Enda for an absolutely stunning route today. We went through probably the most picturesque scenery in Ireland, West Cork and Killarney National Park. I have a huge advantage over the other riders when it comes to scenery, since I'm always going slow enough to really appreciate it.
Enda's distances and markers were accurate to within a metre I'd say. It was a pleasure to know that you're doing the distances it says on the tin. He's brilliant for having things right. He might not do normal but he doesn't do mistakes either.
There was a small issue. Enda, as mentioned in earlier posts, told us there were two climbs. This morning he gave us detailed info on both. The "Glengarriff" climb was 8.5km long. Having left Bantry, there was a sign saying Glengarriff 9km. We were also climbing steadily. I assumed as anyone would, that the figures matched up and this was it. We kept climbing and with Martin Lannon's help I flew up it. Maybe a kilometre from Glengarriff we started to drop and arrived at the food stop in Glengarriff. I was very pleased with myself. One climb over, flew up it, one to go.
"Eh, no", says Enda. "That wasn't the first climb". "That's only the warm up act". The sulk was on.
I got over it and we started the real climbs. We had to cope with road works, tunnels, loose gravel, sheep and some very poor Irish drivers but we got the first one over and then started Molls Gap. The "H" team (H is for Heineken) of Enda and Brian Mac volunteered to push on hard to make sure that the bar would be open in the hotel and to check some other minor details. The "S" team (S is for social drinkers) kept going at a reasonable pace for fellas that were up at 6am. We all arrived safely.
Tomorrow is 180km and will really test Ollie's patience. He said he enjoyed today. Tomorrow might tell a different story.
"Life is like riding a bicycle. In order to keep your balance, you must keep moving." Albert Einstein