News
Drumanilra wins another top award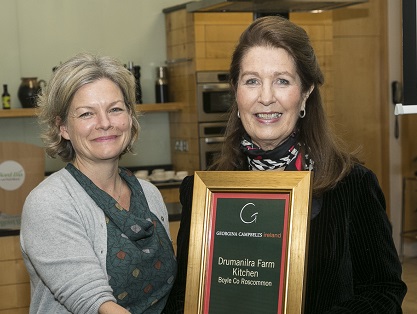 Boyle's Drumanilra Farm Kitchen has been awarded the 'Natural Food Award' at the 2019 Gerogina Campbell Awards held in Dublin on Tuesday.
It is another top accolade for the Boyle establishment following their Connaught Local Food Hero Award earlier this year.
Speaking to Boyletoday.com following the ceremony, Farm Kitchen owner Justina Gavin said   "We are still slightly in shock!  It's a huge boost to the business and hopefully to the town of Boyle too.  Georgina made reference to the Failte Ireland "Ireland's Hidden Heartlands" initiative and Awards like this really help raise the profile of our own business but also  the profile of the town and how much Boyle has to offer as a destination on the Hidden Heartlands & Shannon Blueway Trails".
"The Award recognises and values the work we have put in to forging a connection between the food served at the Drumanilra Farm Kitchen and the fantastic small producers we have in the area including our own Drumanilra Organic Farm".
"It follows on from the Irish Restaurant Association "Local Food Heroes – Connaught Region" Award earlier this year.  The recent coverage in the Farmer's Journal has also been a great boost and we have seen visitor numbers to Drumanilra nearly double compared to the Summer period last year – and that growth has continued into September.  All really encouraging – especially given our plans for investment in the Drumanilra Farm Kitchen site in Boyle.  We are hoping to see building work begin towards the end of  Summer 2019 on a larger and more comfortable cafe/restaurant area, more parking and more retail space including room for a fresh organic meat counter, organic vegetable offer, deli and organic bakery all on site," according to Justina.
Read what Georgina Campbell had to say about Drumanilra Farm Kitchen here