News
Major national award for Honestly/Drumanilra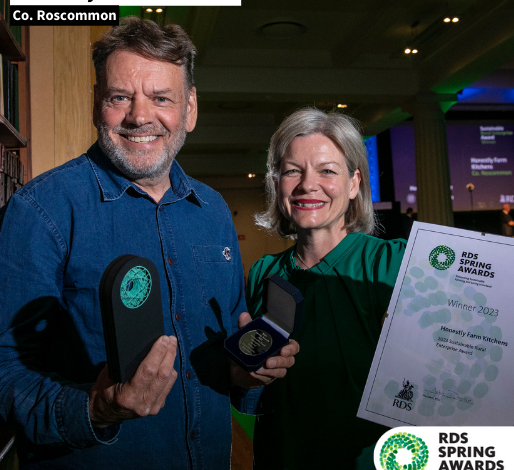 Congratulations to Honestly Farm Kitchens, Co. Roscommon, who have been named the 2023 RDS Sustainable Rural Enterprise Award Winner.
This award recognises individuals and organisations who are making a significant contribution to the economic, environmental, and social development of rural Ireland.
The RDS Sustainable Agriculture and Rural Development Awards celebrate the work of individuals, farm families and organisations who are enhancing the economic, environmental and social development of Irish agriculture and rural communities.
Drumanilra Organic Farm located in Corrigeenroe specialises in pedigree Dexter beef cattle and poultry farming. They prioritise fresh, sustainably sourced, and minimally processed food with short supply chains, aligning with the EU Farm to Fork Strategy.
The farm applies various sustainable management practices. It is certified organic and uses regenerative farming methods. The farm promotes biodiversity by maintaining natural habitats and uses organic methods to grow salads and vegetables.
In their 'Honestly'  restaurants, ingredients are sourced locally to minimise food miles. They use biodegradable cleaning products and participate in initiatives to reduce plastic waste. Recycling is practiced, and compostable packaging is used.
Honestly Kitchens support local producers and employs over 75 people. They actively promote the benefits of supporting local and eating organically through marketing efforts.
The farm prioritises biodiversity, avoids polluting waterways, and engages with the community through internships, farm visits, and collaborations with farming organisations.
See the company's award video here
(Image courtesy rds.ie)