Cycling
Le Grand Depart – long day ahead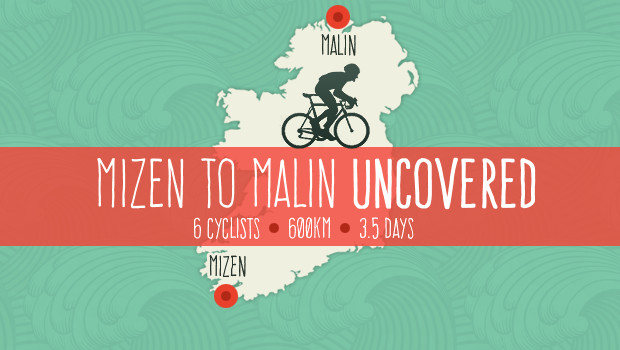 DAY 1 – Thursday 28th May
Stage 1: Mizen Head to Killarney 120km 
We left Boyle at 6am this morning. Can you believe there are two 6 o clocks in a day?
I purposely left my clothes for this morning at the end of the bed so I could just throw them on and sneak out without waking Sharyn or Reece. We packed the bikes and baggage in the van last night. Of course when a man doesn't get up at 6am, ever, the memory part of the brain won't be up either. I roll out of the bed, semi-conscious, the dog is looking at me like I've lost the plot. (I have)
I trip over my runners, bang my head on the wardrobe; the sound reverberates around Erris Bay like a thunder clap. Ah well, they're all awake now. Colin Kearney probably heard it up in Maple Drive.
I didn't sleep much last night. Didn't sleep much Tuesday night, either. Sleep is very important say all the cycling handbooks. I probably should have had a few pints. They're not recommended either though. It's not started well.

Brian Nerney collects me at my house. I'm still asleep. Even the birds are still asleep. Why in God's name are we going at this hour? Could it be that the same man who arranged this time of departure was the same guy who convinced me to cycle through the night, in the freezing cold, depths of October, to Croagh Patrick, to start climbing it at 9am with Kevin Hickey?
Yip, you guessed it, Enda Madden. The Ernest Shackleton, of the cycling world. He can't do normal.
The lads seem chirpy enough. Perhaps it's a façade. I don't bother with a brave face, I'm too tired to pull any face. The bus will bring us to Mizen Head where we have a few minutes to stretch and use the toilet before we tackle 120km to Killarney. Ollie Donagher is right behind us all morning on our way down south, just as he will be tomorrow and Saturday and Sunday. Enda says there are 2 climbs at the end of today's stage but "they are no worse than the Curlieus".  (Except that there are 2 of them Enda, only one Curlieus, like)
Such words of comfort!
I look at the lads, the lads looks at me. Telepathy is not needed. We're all thinking the same thing.
I will have an update for everyone in the morning as to how we goe on today.
Light the candles Mam.

"Go n-éirí an bóthar linn"
Boyle cyclist Eddie Conroy along with Enda Madden, Brian McMahon, Seanie Brennan, Martin Lannon and Brian Nerney and their backup man Oliver Donagher are cycling from Mizen Head to Malin Head in 3.5 days, starting Thursday. Each day Eddie will recap on the days events as the group cycle the length of Ireland. Log on to the "Cycling" section of Boyletoday.com every morning to find out how the "Boyle Six" are surviving the challenge – and each other!