News
New dawn as Atlantic Technological University launched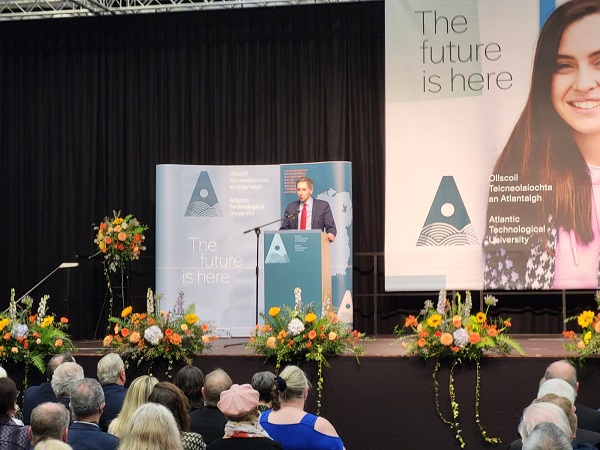 Minister for Further and Higher Education, Research, Innovation and Science, Simon Harris, has opened the new Atlantic Technological University (TU).
Atlantic TU sees the dissolution of Galway-Mayo Institute of Technology, Institute of Technology Sligo and Letterkenny Institute of Technology.
Speaking to mark the occasion, Minister Harris who was in Sligo on Monday said:
"The establishment of Atlantic Technological University, the fourth TU in the State, is a significant occasion for higher education in Ireland and, in particular, for the West and North West regions.
"I know today is a day of mixed emotions as we dissolve GMIT, IT Sligo and Letterkenny IT but it should be a day of immense pride too to the management, governing authorities and staff of the 3 institutions.
"Today is the start of a new journey. Together these institutions will merge to become ATU – a powerhouse working for the region, for investment in the region and its people."
Local TD and Minister of State, Frank Feighan has this expressed his optimism and excitement for the region with the opening of the Atlantic Technology University which sees Sligo now a University town.
"I am delighted that the Minister was present in Sligo for this 'landmark date', April 4th to officially launch the Atlantic Technical University with the virtual presence of the other former ITs including Castlebar, Galway and Letterkenny.
"Personally, I feel very proud as a TD representing Sligo to have played my part in achieving the amalgamation of St Angela's with IT Sligo and now seeing all of the campuses in Sligo form part of the bigger project of Atlantic University, this is another 'red letter day' for Sligo and the wider region which will bring more opportunities and investment"
"I want to conclude by thanking my colleague, Minister Simon Harris who facilitated and encouraged the process around the formation of ATU alongside the exceptional academic and management staff at St Angela's & IT Sligo, the HEA and all the other former ITs including Galway, Mayo and Letterkenny"
The new TU has 8 campuses in:
Sligo (IT Sligo)
Galway City (GMIT x 2)
Castlebar (GMIT)
Letterfrack (GMIT)
Mountbellew (GMIT)
Letterkenny (LYIT)
Killybegs (LYIT)
According to Minister Harris: "The new TU aims to ensure growth in education provision and enhanced research opportunities, as well as dynamic community and industry engagement across the region. Through its support for industry and communities, the new TU will make its region more attractive for indigenous small and medium enterprises and foreign direct investment (FDI) investment by linking to opportunities in knowledge creation and innovation. This in turn would contribute to the development of viable and vibrant communities that can offer an economically and socially-desirable regional counterbalance to the development of Dublin".

(Image courtesy Atlantic Technology University)