News
Power outages and tress down as Storm Debi hits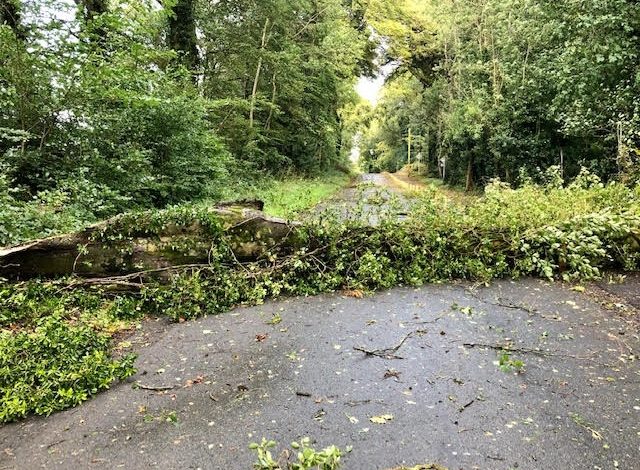 A number of homes around Boyle are without power this morning as Storm Debi continues.
1177 customers in the Boyle town and surrounding area lost power at 06.07 with an estimated restoration time of 18.00. (Power could be restored before that time).
159 customers in the Crossna area are also without power since 06.46 with an estimated restoration time of 18.00.
Trees are blocking a number of roads including Maple Drive.
County Roscommon is now under a Status Orange wind warning until 10am and will move to Yellow from 10am to 3pm. The Status Red warning that was extended until 7am has now expired.
Closures and Late Openings
Abbey Community College in Boyle closed on Monday November 13th.
Boyle Parochial School closed Monday.
Abbey Primary School closed Monday.
Lough Key Visitor Centre Attractions and Lakeside Cafe will open at the slightly later time of 12.30pm on Monday 13th November.
Boyle Further Education and Training Centre will not open until 10.30am on Monday.
Bus Eireann has advised it will not be operating school transport on Monday morning in the areas affected by status red and orange warnings. Afternoon services are intended to operate as normal, subject to local road conditions being safe to travel.
Ireland West Airport said "A yellow weather warning for wind has been issued by Met Eireann for Mayo and remains in place until 3pm Monday, 13th November. Passengers travelling to and from the airport are advised to take extra care. For the latest flight status updates, passengers are advised to contact their airline." (Stansted flight landed at 08.48 and Manchester at 09.33)
09.05 Connolly to Sligo train is cancelled due to fallen trees between Enfield and Sligo. 05.40 Sligo to Connolly train held in Longford. 06.55 Connolly to Sligo operating with a 67 minute delay. 11.05 Sligo/Connolly will operate as bus transfers from Sligo – Boyle and will resume as a train service from Boyle to Connolly.
Please email info to [email protected]
(File pic)