News
Another award for Drumanilra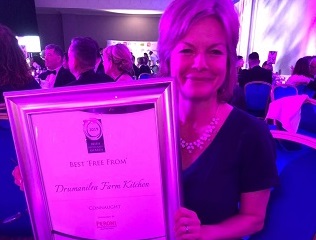 Boyle restaurant and food shop Drumanilra Farm Kitchen were on the winners podium once again on Monday night.
This time the well known restaurant picked up the 'Best Free From' in Connacht award at the Irish Restaurant Awards held in the Clayton Hotel in Dublin.
Joint owner Justina Gavin thanked "Rosheen Gallagher, our fantastic Chef, and all the team at Drumanilra" on winning the award.
Drumanilra Farm Kitchen are soon to lodge planning permission for a major exciting development on Elphin Street in Boyle and have been the recipients of many other awards in recent months.