News
Segways come to Rockingham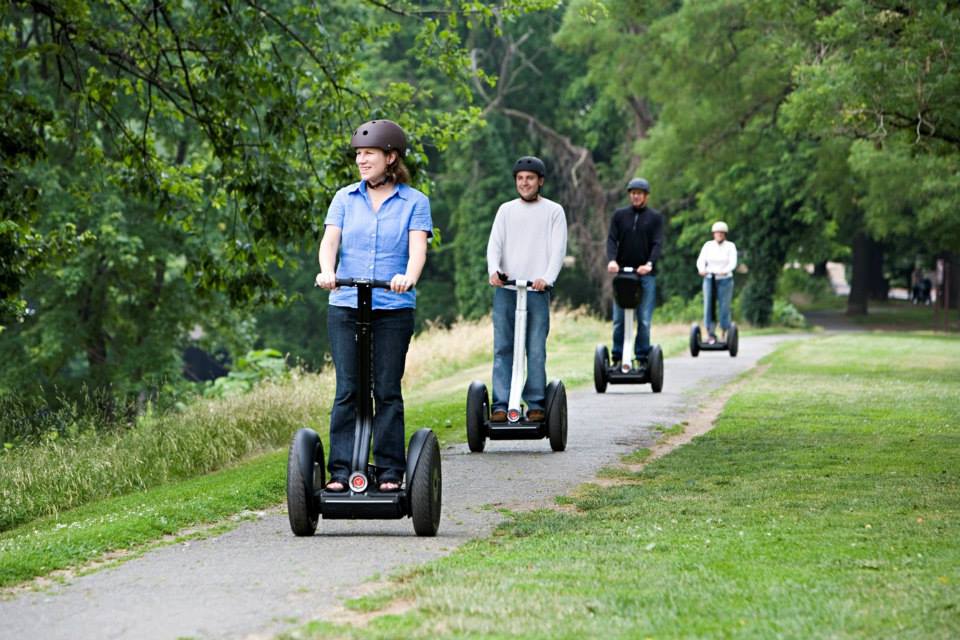 Hot on the news on Boyletoday.com this week that Electric Bike Trails will be open for Easter in Lough Key Forest Park, comes more good news that Woodland Segway will also be open in our Park at the same time.
Here's their story:
Woodland Segway at Lough Key Forest & Activity Park – A Quick Overview
 No its not a teddy bears picnic, its something much more exciting. Its the brand new Woodland Segway glides and tours at the beautiful Lough Key Forest and Activity Park. Woodland Segway is the newest addition to the cluster of unique attractions at Lough Key Forest and Activity Park in County Roscommon located just off the N4 Dublin Sligo Road between Boyle and Carrick On Shannon. Woodland Segway is a new eco tourism attraction that aims to combine the rich history of the Lough Key area with the cutting edge technology and fun of the Segway Personal Transporter.
SegWhat? Segway!
Segway Personal Transporters are super cool high-tech two wheeled self balancing electric scooters that are simple to use and so much fun to ride. With Woodland Segway you will be able to glide effortlessly around the beautiful woodland trails of Lough Key Forest and Activity Park on your very own Segway. You'll also be able to hear all about the history of Rockingham the former King Family Estate on which the Lough Key Forest and Activity Park is located. You'll be able to find out what life was like in Ireland's own Downton Abbey! The history of the area will be brought to life by our colourful guides such as Lorton the Lord of the Manor, the Game Keep Mollison and even Reilly the butler.
Tours & Glides offered by Woodland Segway:
 Rockingham Remembered – Did you know that Lough Key Forest and Activity Park is based on what was once the Rockingham Estate of the King family? Find out all about the estate and how it worked on this exciting tour of the wider areas of Lough Key Forest and Activity Park. As you cruise effortlessly on your Segway you will see how the entire park was laid out with form and function in mind and you will also get to see the beautiful bridges, follies and features of this once majestic estate. You will also get to hear about the colourful and sometimes scandalous history of some of the former occupants of Rockingham.
Tour duration approx 1.5 hrs
Rockingham Highlights – A shorter version of the full estate tour focussing on the remains of Rockingham House and Gardens Tour duration approx. 1 hr
Rockingham Roll – Just want to get out on a Segway and glide? Well this is the one for you. No commentary just a fun filled glide around Lough Key Forest and Activity Park on board your very own Segway.
Tour duration approx. 50 mins
All tours and glides include full Segway and safety training.
What if you've never been on a Segway?
If you've never been on a Segway before then you are in for a real treat. Riding the Segway PT feels like nothing you've ever experienced because there's never been anything like it. Step on and your instinct will be to steady yourself, as you would on anything with two wheels. But almost immediately you'll realize that the Segway PT is balancing for you, almost like it has become an extension of you. Just lean forward a little and you'll see that the Segway PT isn't moving you on its own; it's moving in response to you and what you tell it to do. It all feels natural and really cool. And ask yourself this: When Was The LAST Time You Did Something For The FIRST Time?
Website
Our website www.woodlandsegway.com will be up and running soon. You'll get full information on all our tours and glides and you'll be able to check availability and book on line. Its currently in development and will be live in the next couple of weeks.
Age Limits: 14 upwards
Weight Limits: to be able to use a Segway properly you should weigh between 7 stone (approx. 44.5kg) and 18.5 stone (approx. 118kg). These limits are set by the manufacturer of the Segways.
Who is it suitable for?
Pretty much everyone provided you meet the age and weight limits. So long as you can stand for extended periods then you can use a Segway.
When are we opening?
We are working really hard to be open for Easter. We are hoping to be running tours and glides full time from 10 am to 6 pm each day from April 11th to 27th inclusive.
Why Lough Key?
The addition of Segway tours and glides fits well with the existing attractions in the Forest & Activity Park. It links well with the current Lough Key Experience run by the Visitor Centre and offers people the chance to see wider areas of the park in a fun and unique way. Lough Key is so rich in natural and historical beauty and the Segway business will act as a way of making this more accessible to visitors of the park.
The support of Roscommon LEADER Partnership is gratefully acknowledged in this project.