News
Service awards for Boyle Solicitors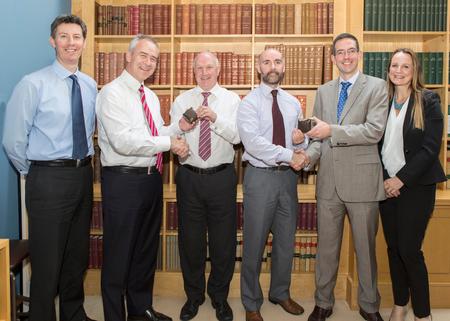 Two well known Boyle Solicitors were recently presented with awards in recognition of 50 years combined service in law.
John Duggan and John Kelly were presented with awards by Christopher Callan and  Roger Murray for being 30 and 20 years qualified as Solicitors respectively.
Both John Duggan and John Kelly are Partners in the law firm of Callan Tansey who have offices in Boyle and Sligo.
 Photograph shows Partners Brian Gill, Christopher Callan, Roger Murray and Niamh NiMhurchu, congratulating fellow Partners John Duggan and John Kelly, who celebrate 50 years combined in the law this year.
John Kelly – John qualified as a Solicitor in 1996 and is an accomplished litigator with 20 years experience.
John is Joint Managing Partner and Head of our General Litigation Department and deals mainly with personal injury, fatal injury, professional negligence, medical negligence and product liability litigation.
John also specialises in defence insurance litigation and advises in relation to all aspects of insurance litigation including catastrophic personal injuries, employers' liability, public liability, product liability, MIBI and motor claims. He has developed long term business relationships with the insurance sector and has established a strong reputation as a leading advisor within this area.
John Duggan – John is Head of the Conveyancing Department and has 20 years of experience in conveyancing in both Ireland and the UK. He has dealt with all kinds of property transactions including residential and commercial property.
Commercial transactions includes the sale and purchase of development land, site acquisition, advising on legal aspects of planning developments, Tax Incentive based developments such as Nursing Homes and Sheltered Housing Units, Section 23 type developments, commercial buildings, commercial leases both Landlord and Tenant. He has also advised on complex taxation issues and company law requirements which arise in this type of transaction.