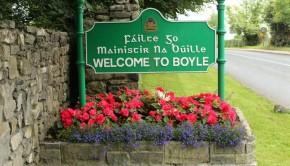 Fall in Love with Boyle Weekend
Valentines weekend is just approaching and Boyle Town Team are co-ordinating a marketing promotion campaign to highlight all events, promotions, special offers, music, deals etc that will be taking place in Boyle over Valentines weekend. If you are organising "anything" let Boyle Town Team know by Wednesday 27th January to be included in printed promotional material. Email details to [email protected]
New date for Toughest Muckers
The date for the first "Toughest Muckers" of the year in Lough Key Forest Park has been announced. Mark in your diary Sunday 28th February for one of the most enjoyable and testing days in the local sporting calendar. A number of new obstacles are planned for the 2016 event. Registrations for the Toughest Muckers event will open shortly and details will be available on Boyletoday.com.
Boyle and District Angling Club AGM
The AGM of Boyle and District Angling club will be held on Friday 29th January at 8.30pm in the Patrick's Well, Boyle. All members are requested to attend
Boyle GAA
Defibrillator/Basic life support training will take place on Saturday 30th January 10:30am. Club members and coaches from all age grades encouraged to attend. Places limited. Contact Jan Flanagan on 086 066 7163 for further information or to book a place.
Thanks to the huge numbers of parents and others interested in promotion of underage football in Boyle who turned up for the Information Event in the Clubroom. Hopefully they derived benefit from the occasion. As a consequence a strong and enthusiastic Underage Committee was established. They will steer underage football through 2016.
New St. Joseph's Church Choir
"We are pleased to announce that we are working with a group of local musicians and singers to form a new Church Choir. The choir will rehearse weekly in the church from 8pm to 9.15pm commencing Tuesday 2nd February. It is intended that the choir will sing for the Easter Ceremonies at the Vigil Mass on Saturday 26th March and on the 4th
Sunday of the month thereafter. We are looking for sopranos, altos, tenors and basses who can commit to weekly rehearsals and monthly masses. The first rehearsal will take place on Tuesday 2nd February 8pm in St Joseph's Church."
Enrolment Forms
St. Joseph's B.N.S. forms for 2016/2017 school year will be available from the school office. Completed enrolment forms must be returned to St. Joseph's B.N.S. on or before Friday 5th February 2016.
Used clothes collection
The Playground Committee in Ballinafad are organising a Recycled/Used Clothes Collection on Saturday 6th February in Ballinafad Hall from 11am until 1pm. Items accepted include clothes, bags, hats, belts, shoes, towels, curtains, bed-linen & soft toys, laptops and phones under 4 years old, in good condition and not cracked. Items not accepted include duvets, pillows, and cushions. All money raised goes towards the Playground Insurance.
Calling all Businesses
Boyle Town & More website is ready to go live, make sure you have all your Businesses / Services/Attractions –Old and New-to forward up to date Information  and contact details( including opening days/hours) to [email protected]  Hoping that this website will provide a comprehensive listing of all Businesses and attractions for the visitor, thus appeal to you to forward your details asap ….an opportunity not to be missed to promote your business.
A new date will be advertised for the taking down of the Christmas Lights. All assistance would be most welcome.
Cootehall NS Enrolment
St. Michael's & St. Patrick's N.S. Cootehall, Boyle enrolment for the 2016/2017 school year will take place from Monday 1st to Friday 12th February, 2016 during school hours. Enquiries and further assistance is also available by contacting the Principal's office in the school – phone no. 071-9667264.
Curlew walkers club
The next meeting of the club will take place on Saturday 14th February, meeting on the Crescent, Boyle at 9am. The walk will take place at Glencare – Mines and is a Climb grade B+. Your leader for the day will be Naomi McBride 087 6743 693 and Pamela Barnes on 087 2027 513. Please confirm times with leader or website prior to each walk www.walkingboyle.com.
Tuesday Night Yoga
Yoga has recommenced in the Primary School Gym, Carrick Road, Boyle 7.30pm for Ladies and 9.30pm for Gents. Beginners welcome. The benefits of attending a Yoga class are: Improved flexibility is one of the first and most obvious benefits of yoga. Builds muscle strength: Perfects your posture: Prevents cartilage and joint breakdown: Protects your spine: Improves your bone health: Increases your blood flow: Better body tone and weight loss: Please bring a rug or mat. Everyone welcome. For more information contact Liz at 0868690804
Boyle Golf Club
Mother Nature has remained against the club in recent times with no course action to report. Realistically, it may be another two weeks at least before the course is fit for play. Letters regarding membership subscriptions for the year will be issued via post or email in the coming week. The club encourages members to submit their fees as early as possible although we realise it can be a busy time of year financially for people. To aid with this there are flexible payment plans in place to ease any strain. Contact Michael at [email protected] for more details. An application has been submitted to the CGI, the national body responsible for promoting golf participation, in relation to assistance in holding a Get into Golf Programme for 2016. This includes a 5 week school's programme and also golf classes for adults. Subject to its acceptance, we will be seeking a number of members to help in various ways.
Community Stall Available
Boyle Farmers Market has a "Community Stall" free and available in our all-weather Farmers Market. The idea is to have a different community group attend each week to promote, showcase your wares, raise awareness of your organisation or group etc. This is for community only. We would love to hear from any groups interested in getting involved… please contact us here or email Janice on [email protected] for more details. The stall will be free and you will be a guest of the market for that day. We would love to hear from groups such as the ICA, the Scouts, Tidy Towns and so on. Please share with anyone you know that might be interested.
CV & Office Service
Are you looking for a new job? Are you having difficulty putting together your CV? Would you like some help? Then why not call into the Úna Bhán office in the grounds of King House, Boyle, where we will be delighted to give you any help, advice or information we can. A good CV could make all the difference in getting your job application through to the interview stage. We have a template and sheet of helpful tips to guide you through the process. We will also type your CV if you cannot do this yourself. Or you may just want to call in for a chat about your CV. All information will be treated in the strictest of confidence. For more details, contact Úna Bhán Tourism on 071 9663033. We also offer office services such as Photo Copying, Scanning, Laminating, Typing, Faxing, Binding and Printing are carried out at the Una Bhan office in the grounds of King House, for further information please contact the office on 071 9663033.