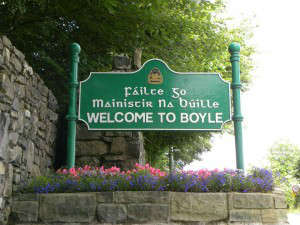 Registration for Toughest Muckers
Ireland's Toughest Muckers challenge in Lough Key Forest Park will take place on June 13th 2015.Online registration for the event is now open.The organisers hope to run two events per year. To register log on to www.toughmucker.ie
 Alzheimer's Tea Party
Alzheimer's tea day local fundraiser takes place in Aunty Bee's Tearoom, King House Grounds on Thursday May 7th from 10am – 12 noon. Please support.
Curlew Walkers Club
The next meeting of the club will take place on Saturday/Sunday 9th/10th May meeting on the Crescent at 9am. This will be a Climb/Grade B at the Clonbur L Mask with your leader being Eugene Griffin contact no 086 2560 400. Please confirm times with Leader or web site prior to each walk www.walkingboyle.com.
Boyle Family Life Centre
Fridays of Crafting fun with Glenda Devlin which will include beading and jewellery making, recycling, up cycling, repurpose, baking, card making and make your own gifts. Dates are as follows: Friday May 8th / 15th / 22nd all at 10.30 until 12.30. For further information email: [email protected]   
King House Salon Sessions
Ciaran O Maonaigh is a fiddle player from Donegal. A noted musician he is no stranger to touring and his virtuosity and charismatic stage presence, make him a natural performer. This time he in on the road with Caitllin Nic Gabhan, three times winner of the All-Ireland Fleadh Cheoil on concertina and a regular performer at festivals and in concert halls around the world. This pairing brings together two of the finest instrumentalists on the Irish traditional scene and is brought to you in association with Age & Opportunity as part of Bealtaine 2015. This session will be taking place in King House, Boyle on Wednesday 20th May at 8pm. To book tickets at this and other events at King House please contact Roscommon Arts Centre on 0906 625 824.
Duck Race Fundraiser
A Duck Race will now take place on the Boyle River on Saturday, May 30th commencing at the bridge on Bridge Street at 1pm. Ducks will cost €5 each – 1st Prize, €500, 2nd Prize €200 and 3rd €100. Cards are being distributed around the town so please make sure you get your duck early! Your Support is most appreciatedbetween 4pm & 6pm.Saturday, 4th July between 3pm & 5pm. All proceeds in aid of Boyle Courthouse Project.
Irish TV film crew visit Boyle
Irish TV were in Boyle on Tuesday 21st April filming three segments for their Roscommon Matters programme.They visited the office of Boyletoday.com to interview founder Brian Nerney. Then it was on to Drumanilra Farm to view the family run organic farm and recently opened retail outlet on Bridge St. The final piece of filming was with Justin Murphy of Wildbeest clothing and embroidery in Knockavroe just outside Boyle. The relevant programme is due to air on Sky 191 and Irishtv.ie on June 8th.
Lough Key Classic Cycling Sportive
Are you interested in competing in the Lough Key Classic Cycling Sportive that will take place in Boyle on Saturday May 16th?  If so, the local cycling club Curlieu Wheelers are running training cycles for those who would like to complete the 60k route. Training cycles continue from the Crescent very Tuesday and Thursday at 7pm. A club member will be on hand to assist and lead each cycle.
Boyle Golf Club
On 26th April The Men's AGM took place which saw outgoing Captain Padraig O'Connell welcome incoming Captain Michael Rush and Vice-Captain Ross Andrew with best wishes for 2015. The Captain was thanked by the members for his great contribution and the support he gave to the club. The Secretary Brendan Gaffney gave a report on the clubs activities during 2014. He thanked all the officers, and members for their great support. The Treasurer Liam Mullaney gave a financial report for 2014. Open week had been a great success and competition revenue had held up well. Tributes were paid at the meeting to all the volunteers with special mention for Michael Rush, John McGuinn, and Lionel Lynn. The full list of officers elected is as follows: Captain Michael Rush, Vice-Captain Ross Andrew, President Charlie O'Donnell, Secretary Brendan Gaffney, and Treasurer Liam Mullaney. The AGM of the Parent Club will take place on Sunday December 7th at 5.00pm in the Clubhouse.
In Ladies news best wishes to incoming Lady Captain Sandra McCrann and Vice-Captain Tish Perry.
Boyle Farmers Market
The Market is open from 10am to 2pm each and every Saturday in the grounds of King House, Boyle. If you would like to enjoy the best locally grown fresh and organic produce, then a trip to Boyle Farmers' Market on Saturday should be on your agenda. There is a wide range of seasonal produce, including organic fruit and vegetables, homemade jams and marmalade, organic free range eggs, fruit juices, gluten free/ sour dough/ spelt bread and all kinds of delicious home bakes are available every week. Alongside the food stalls are a number of crafters selling their handmade wares, personalized candles and knitwear. So why not come along and have a chat with the stall holders and avail of their ideas. For further information please a call Una Bhan on 071 9663 033.
Bingo in Boyle
Every Tuesday evening in St. Josephs Hall Boyle at 8.30pm until 10.30pm. €1000 Jackpot to be won every week.