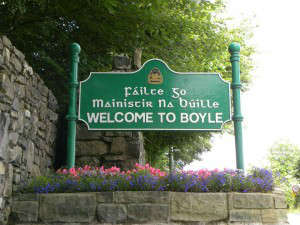 BOYLE BUSINESS AWARDS 2015 
Boyle Town will have its first ever Business Awards this year organised by local website Boyletoday.com and Financial Services Company Moneyplus. The awards will recognise and honour the many businesses that operate in the town of Boyle. There are six categories in this year's awards: 1. Best Bar/Pub of the year. 2. Best Established Business. 3. Best Start up Business. 4. Best Customer Service Award. 5. Employee of the Year. 6. Employer of the Year. Entry forms and guidelines will be available to download on Boyletoday .com and from the Moneyplus office on Bridge Street in Boyle.  All businesses in Boyle and within a five mile/eight kilometre radius of the town are eligible to enter the awards. The deadline is Wednesday 25th March results being issued 3/4 weeks later.  The awards will be presented in King House dates to be confirmed.
Bike Maintenance Courses
With the arrival of longer evenings and the temperature on the rise it's time to start thinking about getting back on your bike. Don't allow mechanical issues ruin your ride outs this summer! Get on top of your bike maintenance with our basic road side repair courses or our comprehensive bike maintenance courses. Up Coming Courses:- Level 1- Basic Bike Maintenance  Friday 13th March Level 2- Advanced Bike Maintenance Tuesday 24th March / 31st March / 7th April Venue:- St. Joseph's Resource Centre, Boyle, Co. Roscommon from 7pm-10pm "For less than the price of a standard service, learn how to service and maintain your own bike" Work on your own bike. Work stands and tools supplied. Tea/coffee provided during all courses. For more details please contact David on 086 8586225 or email [email protected]
Craft Classes
The Space will be organising Craft Classes at Boyle Library, with "Auntie Kittys Button Box" on Fridays 11am until 12.30pm on Friday March 13th, 20th, and 27th.  Crafts suitable for adult male/females to make. Take home a new craft each week. Learn the skills of decoupage, mosaic, quilting, lace, and lots more. Cost of 3 workshops including materials is €25 per person. Please book before Wednesday 11th March with Veronica on [email protected] or 086 377 6258.
Lenten Retreat
A Lenten Retreat in Galilee Community will take place on Saturday, March 14th. The retreat will begin with tea/coffee at 10:30am and conclude at 5pm. The theme of the retreat is "Freedom from fear, freedom for love. The Easter Journey…"A light lunch of soup and scones will be served. It is recommended to book by phoning 071 966 4101/085 883 7226 or email [email protected]
CHILDREN COME FIRST
A St Patricks Day Parade charity raffle will take place on Monday 16th March in aid of "Children Come First" at their shop on St Patrick Street, Boyle. Lots of great prizes with tickets on sale at €2 or free with every purchase over €5 spent. For further information call 086 210 5327.
BOYLE BOOK CLUB
The book for review this month is Alice Munro The View from the Castle Rock. Taking place on Wednesday 18th March at 11am until 12-30pm. The Book Club meet one Wednesday every month in the Moylurg Room in the Library. New members are welcome For further information call Boyle Library on 0719662800
Easter camp in Ballinameen
Ballinameen Easter Camp will run from Monday 30th March to Thursday 2nd April from 9:30am to 2:30pm in Ballinameen Community Centre and GAA grounds. This camp is organised and run by primary school teachers. It is open to boys and girls, junior infants to sixth class. Children will be given the opportunity to enjoy a variety of sports, games and fun activities in a safe and enjoyable environment. Activities include: Gaelic football, Hurling/ Camogie, Hockey, Orienteering, Yoga, literacy and numeracy games. For further information call Ruth on 0861055659.
Curlew Walkers Club
The next meeting of the club will take place on Sunday 22nd March meeting on the Crescent at 10am. This will be a Climb/Grade 3 at Benwiskin, with your leader being Beverly James, contact no 087 990 5217. Please confirm times with Leader or web site prior to each walk www.walkingboyle.com.
ST PATRICKS DAY PARADE
Traders are requested to start getting your windows ready with a prize of €100 for Best Dressed Window. For further detail contact any of the parade organisers: Maura Clarke, Eddie Creighton, Keith Suffin, Keith & Majella Condon, Eamon Downes, Sean O'Dowd. Overall Winner €500 + Cup Runner Up €200 3rd Prize €100 Traditional & Heritage €200 Junior (Under 16 years) €200 + Cup Runner up €100 Under 16 years) Best Shop Window €100
Memorial for those who died young
A representative committee has organized the erection of a seat to the memory of those who have died young from the locality and surrounding areas. An ecumenical service in the Barrack Garden will take place on Saturday the 28th March at 3pm. Music will be provided by young musicians, many of whom will have personally known some of the deceased. The memorial seat will be unveiled by Mrs Molly Fryer, representing those who have lost a loved one at a young age. A tree will be planted by Mrs Mobe Ogundiran. All are invited back for refreshments to Oakport Haven – the respite Centre owned by the National Association of Housing for Visually Impaired (which is within 5 minute walking distance of the Barrack Garden). The historic Barrack Garden has been developed by the Local Cootehall Community Development Group in conjunction with Roscommon County Council and Roscommon Leader Partnership. The event is open to all. All indeed welcome. Committee Members: May Moran, Martina Mc Quaid, Berni Mc Loughlin, Clive Gillespie, Carol Gillespie, and Brian Conlon.
Funkidz Easter Camp in Boyle
Taking place in Abbey Community College from Monday March 30th until Thursday April 2nd from 10.00am until 2.00pm.Activities on offer include Soccer, Tag Rugby, Athletics, Gaelic Football and Volleyball.  7 years up to 12 year olds.Due to limited places being available, bookings are encouraged to be made by Thursday 26th March.Call 0863567145 for bookings and enquiries.
CREATIVE DANCE MOVEMENT
The very popular Elderberries dance movement for the over 55's takes place in King House, Boyle every Thursday from 11am until 12noon. Drop in sessions are €10 and are pay as you go which is then followed by a cuppa. For further enquiries text Catherine on 087 326 7860 or King House on 071 966 3242.
FLOWER ARRANGING FOR EASTER
Would you like to make an Easter Basket with your favourite flowers with the guidance of professional Florist Angela East. Angela will give tips and help you to complete an arrangement  which will be taking place on Monday 30th March 7.30pm until 9.30pm.  Booking essential. Family Life Centre, Boyle 071 966 3000.
Class of '85" reunion
A Class Reunion is planned for those who attended Scoil Chriost an Ri in 1985.
The get together is being planned for this summer of Scoil Chriost an Ri Class of 1980-1985. Please contact Michelle [email protected] or Angela [email protected] to confirm your interest.
BOYLE SUMMER SHOW
Could your design be the face of the summer? Poster and Booklet design campaign using any medium to design the cover of the Summer Show Poster and Booklet. The Booklet Campaign is open to all between the age of 9 to 15 years of age and the Poster Campaign open to all between the ages of 15 to 100 years. Completed entries to be handed in to Una Bhan, in the Grounds of King House. Boyle.  Closing date for entries is Monday 8th June. Contact [email protected] for more information.
 BOYLE FARMERS MARKET
The Market is now open from 10am to 2pm each and every Saturday in the grounds of King House, Boyle. If you would like to enjoy the best locally grown fresh and organic produce, then a trip to Boyle Farmers' Market on Saturday should be on your agenda. There is a wide range of seasonal produce, including organic fruit and vegetables, homemade jams and marmalade, organic free range eggs, fruit juices, gluten free/ sour dough/ spelt bread and all kinds of delicious home bakes are available every week. Alongside the food stalls are a number of crafters selling their handmade wares, personalized candles and knitwear. So why not come along and have a chat with the stall holders and avail of their ideas. For further information please a call Una Bhan on 071 9663 033.
Students seek work experience
A number of students in Roscommon Learning Links are seeking two weeks work experience, over the coming weeks, which forms part of their overall award at Level 4 or 5 in Information Technology.Without these two weeks, students cannot achieve their Major Award.If you see any opportunity and/or have any backload of work that needs updating or creating, please make contact with Siobhan at 071 9664510 or email [email protected] students are competent using all Microsoft Office applications, but are happy to do any chores or tasks that come under the remit of Work Experience. We look forward to hearing from you.
Bingo in Boyle
Every Tuesday evening in St. Josephs Hall Boyle at 8.30pm until 10.30pm. €1000 Jackpot to be won every week.