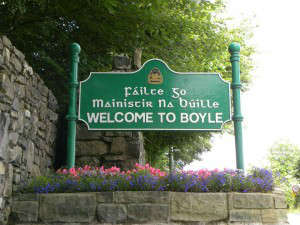 BOYLE TENNIS CLUB
Tennis coaching for children has just commenced from 4pm to 5pm. This is a six week course at €20 for members and €30 for non-members. For further information contact Noreen Hawkins on 087 6573046.
VISUAL ART PROGRAMME
The 2015 Visual Arts programme for King House will begin with an exhibition by Christine Mackey running parallel with Context: 01, an exhibition of works from the Boyle Civic Art Collection that respond to Christine's work. Mackey's work involved an engagement with students from St Nathys College and local publics. This process led to the publication of BACKLANDS a fold up map devised through a series on works that relate to the "logging" process will be installed in the Long gallery of King House, inviting audiences to engage on their own exploration of this typical town in County Roscommon. The Exhibition preview will take place on Saturday April 18th and will run until Saturday June 13th.
BOYLE GOLF CLUB
Entry sheet for the King Harmon can be obtained on the club notice board with the draw  taking place on Thursday 23rd after the men's competitionDates for your diary are the voucher competition on Sunday April 26th, the Club Fundraiser on the May Weekend and the Horse and Summer Show Classic on Saturday May 9th. Friday evening Scrambles commence on Friday April 17th.
Curlew Walkers Club
The next meeting of the club will take place on Sunday 26th April meeting on the Crescent at 10am. This will be a Climb/Grade B/C at the Cuilcagh Mountains with your leader being Tome Brown contact no 087 2379 632. Please confirm times with Leader or web site prior to each walk www.walkingboyle.com.
FAMILY LIFE CENTRE
6 Fridays of Crafting fun with Glenda Devlin which will include beading and jewellery making, recycling, up cycling, repurpose, baking, card making and make your own gifts. Dates are as follows: Friday April 17th / 24th May 1st / 8th / 15th / 22nd all at 10.30 until 12.30. For further information email: [email protected]   
Boyle Courthouse Project
A Duck Race will take place on the Boyle River on Saturday, May 2nd commencing at the bridge on Bridge Street at 1pm. Ducks will cost €5 each – 1st Prize, €500, 2nd Prize €200 and 3rd €100. Cards are being distributed around the town so please make sure you get your duck early! Your Support is most appreciatedbetween 4pm & 6pm.Saturday, 4th July between 3pm & 5pm. All proceeds in aid of Boyle Courthouse Project.
CLASSIC CYCLING SPORTIVE
Are you interested in competing in the Lough Key Classic Cycling Sportive that will take place in Boyle on Saturday May 16th?  If so, the local cycling club Curlieu Wheelers are commencing training cycles for those who would like to complete the 60k route. The cycles will start with a short 10-15k and gradually build up each week to get you in shape to undertake the challenge. All you need is a road worth bicycle, helmet and high vis jacket. Training cycles continue Tuesday 14h at 7pm from the Crescent and continue every Tuesday and Thursday thereafter. A club member will be on hand to assist and lead each cycle.
GREEN OPPORTUNITIES
Workshops and Training on Green Opportunities: Community Groups, Enterprises and Individuals. The Accelerate Green Enterprise programme, based in Boyle, Co. Roscommon is offering a range of workshops and training for interested individuals, businesses and groups. All workshops are free and include themes such as – how to create viable business opportunities from natural resources, understanding the green customer of the future – and much more. The programme also offers an IdeaGen platform which will assist budding entrepreneurs with a green idea, seeking to test out the idea and receive advice on how to move it forward. Additional supports include: case study visits and general business mentoring / training. The Accelerate programme may be of interest to those currently unemployed / underemployed. For more information contact Olwen on 087-7997772, or Orla on 086-3807802.
EMPLOYABILITY SERVICE:
Are you currently between the ages of 18 – 65? Do you have a disability or health related issue? Would you consider working part-time? If so, why not let Employability Service Roscommon support you to find that job in your local area. This is a confidential and free service funded by the Department of Social Protection. For further information Call 09496 20328 or Call/Text 087 6538176or email [email protected]The EmployAbility Service is an Employment and Recruitment Service to assist people with a disability or health issue to pursue and maintain employment in the open labour market.
BOYLE FARMERS MARKET
The Market is open from 10am to 2pm each and every Saturday in the grounds of King House, Boyle. If you would like to enjoy the best locally grown fresh and organic produce, then a trip to Boyle Farmers' Market on Saturday should be on your agenda. There is a wide range of seasonal produce, including organic fruit and vegetables, homemade jams and marmalade, organic free range eggs, fruit juices, gluten free/ sour dough/ spelt bread and all kinds of delicious home bakes are available every week. Alongside the food stalls are a number of crafters selling their handmade wares, personalized candles and knitwear. So why not come along and have a chat with the stall holders and avail of their ideas. For further information please a call Una Bhan on 071 9663 033.
Bingo in Boyle
Every Tuesday evening in St. Josephs Hall Boyle at 8.30pm until 10.30pm. €1000 Jackpot to be won every week.