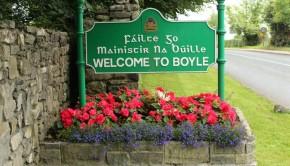 ARDCARNE GARDEN CENTRE
Watercolour Classes with Martina Burke will be starting on Tuesday 18th October from 10am until 12.30pm at Ardcarne Garden Centre, Boyle. Places limited – please ring or email to book a place. Tel: 07196 67091. Email: [email protected]
BOYLE & DISTRICT ANGLING CLUB
The Michael Conroy Cup will take place at Lough Key on Saturday 22nd October from 10am until 4pm. This is a boat competition and entries will take place at Doone Shore.
RUN WALK N ROLL
The 21st annual run in aid of Cancer Research will take place in Boyle on Sunday next the 23rd of October. Registration will be from 1.30 with the Run/Walk starting off from St.Joseph's Hall at 3pm and going through the town via Main St. Abbeytown , Maple Drive , Carrick Road and returning back to the hall via Marian Road where light refreshments will be available afterwards. This is a non competitive event for all ages and abilities and a fun day for all the family. The only one you are competing against is yourself. Entry is €10.00 for Adults and €5.00 for under 16's and €20.00 for a family. Please share our page on facebook and take a look back at some of the memories of the last 20 years you might see someone you know. Thank you for your support over the last 20 years in which the Boyle run alone has raised over €158,000 for Cancer Research in Ireland. Looking forward to seeing you all there Damian Regan 0863942388.
GOLF CLASSIC
Boyle Courthouse Development Fund will be holding a Golf Classic on Sunday 30th October at Boyle Golf Club with Excellent prizes for 1st 2nd and 3rd. Nearest to the Pin, Teams Ladies and Men, nearest Longest Drive, Ladies and Men, Entry fee includes meal Raffle for very valuable prizes. To pre enter, contact Michael Rush 086 864 5797 Frank Geelan 087 2234477.

CURLEW WALKERS
The next meeting of the Curlew Walkers club will take place on Sunday October 30th and will meet on the Crescent Boyle at 10am. This will be a Flat C walk in the Suck Valley. Your leader for the day will be Philip James 086 335 3000. Please confirm times with leader or website prior to each walk www.walkingboyle.com.
CRAFT & ENTERTAINMENT WORKSHOPS
Úna Bhán Tourism are holding children's craft and entertainment workshops in Boyle Library on Wednesday 2nd Thursday 3rd and Friday 4th November from 2pm until 4,30pm. The workshops will cost €10.00 per day or €25.00 if your child is doing all 3 workshops. Children from 6 years to 12 years are all welcome. Anna and Eva will be showing the children the art of craft making and other entertainment. Snacks will be provided for the children and are included in the price. Book now, spaces going quick. Call 071-9663033. Meeting in Una Bhan Craft Shop1.50 pm in the Grounds of King House, Boyle.
BOYLE GOLF CLUB RESULTS
The first round of the Winter League took place at the weekend of 8th/9th October. In a three way tie for the lead are the teams by Patrick Egan, Charlie O'Donnell and Brendan Gaffney all of whom returned a score of 116 from their best three cards. The best scores for each format were as follows: Foursomes: Patrick Egan & Eamon Perry 40pts Fourball Betterball: Tom Kearney & Kevin O Connor 44pts Singles: Michael Reid & Tish Perry 77pts Last week's 9 hole competition was won by Seamus Gallagher with 22pts, in second was Charlie O'Donnell also with 22pts and in third was Michael Rush with 18pts. Other Recent Results The Drumderrig House Cup (Sept 30th-Oct 2nd)
1st: Terry Bright, David Wynne, Owen Garvin 92pts 2nd: Patrick Egan, Lorcan Egan, Jonathan Egan 91pts 3rd: Ross Andrew, Terry Canning, Gerry O Hara 91pts
Ladies: Mary O Hara, Sandra Mc Crann, Paula Cull 75pts.
COURTYARD MARKET
The Market is open from 10am to 2pm each and every Saturday in the grounds of King House, Boyle. If you would like to enjoy the best locally grown fresh and organic produce, then a trip to Boyle Courtyard Market on Saturday should be on your agenda. There is a wide range of seasonal produce, including organic fruit and vegetables, homemade jams and marmalade, organic free range eggs, fruit juices, gluten free/ sour dough/ spelt bread and all kinds of delicious home bakes are available every week. Alongside the food stalls are a number of crafters selling their handmade wares, personalized candles and knitwear. So why not come along and have a chat with the stall holders and avail of their ideas. For further information please call Una Bhan on 071 9663 033.

SOCIETY OF ST VINCENT DE PAUL
If you need help with bills, with education expenses or simply need to speak to someone outside the family or friends about any difficulties you are facing or wish to make a donation -contact St. Vincent de Paul Society, Boyle telephone or text 087 9292627 Email: [email protected] All calls, texts and help provided are CONFIDENTIAL
CV & OFFICE SERVICES
Are you looking for a new job? Are you having difficulty putting together your CV? Would you like some help? Then why not call into the Úna Bhán office in the grounds of King House, Boyle, where we will be delighted to give you any help, advice or information we can. A good CV could make all the difference in getting your job application through to the interview stage. We have a template and sheet of helpful tips to guide you through the process. We will also type your CV if you cannot do this yourself. Or you may just want to call in for a chat about your CV. All information will be treated in the strictest of confidence. For more details, contact Úna Bhán Tourism on 071 9663033. We also offer office services such as Photo Copying, Scanning, Laminating, Typing, Faxing, Binding and Printing are carried out at the Una Bhan office in the grounds of King House, for further information please contact the office on 071 966 3033