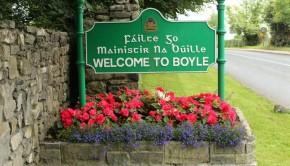 BOYLE ENTERPRISE CENTRE
A free Foundation Cookery Course takes place in Boyle from up until April 7th. The course is suitable for those seeking employment opportunities in the Hospitality/Nursing Home and Deli sectors. Course content includes Foundation Cookery, Food Hygiene Training and interview/communication skills. For more information or to express interest please email [email protected] or call 071 9673440.
ARDCARNE GARDEN CENTRE
Pick up some great tips and advice from organic vegetable grower expert Klaus Laitenberger. This is a free event and will be taking place on Saturday 9th April in the Garden Centre Boyle from 3am until 4.30.
CURLEW WALKERS
The next meeting of the Curlew Walkers club will take place on Sunday 17th April, meeting on the Crescent, Boyle at 9am.The walk will take place at Benwiskin and Benbullben and will be a Climb/ Grade A. Your leader for the day will be Bev Jones who can be contacted on 086 1990 5217. Please confirm times with leader or website prior to each walk www.walkingboyle.com.
WHEATGRASS WORKSHOP
Learn how to grow and juice your own Wheatgrass at home so that you can experience the many wonderful health benefits of this amazing food. Try some freshly juiced samples on the day. Taking place at Ardcarne Garden Centre, Boyle on Saturday 23rd April at 2am until 3pm,book now on 07196 67091
2016 CYCLE AGAINST SUICIDE
The 2016 Cycle against Suicide will take place between Sunday, April 24th and Saturday May 7th. The Cycle starts at the Phoenix Park, Dublin and will cover two legs each day with approximately 40kms per leg. Day 7 Saturday 30 April Morning Leg: Sligo to Boyle 45km Afternoon Leg: Boyle to Carrick-on-Shannon 14km. Come out and support.
PILGRIMAGE TO KNOCK
The Apostolate of Eucharist Adoration invites all Parishioners on a special Year of Mercy Pilgrimage to Knock Shrine on Sunday 24th April. There is a full programme organised for Adults, Teens and Children. The launch of a National Crusade of Prayer for Vocations will take place at the 3pm Mass. The programme begins at 11.30. Bishop Kevin Doran is the chief celebrant and homilist Fr Declan Hurley Adm, Navan, will give a talk on "Gazing at the face of Mercy" at 1.30 in the Basilica.
BOYLE GOLF CLUB
The results of last weekend 26th/27th March Club Classic are as follows:1st Sean Heslin, John Mc Guinn, Michael Rush & Pat Conroy 92pts 2nd Ross Andrew, Terry Canning, Lionel Lynn & Gerry O Hara 90pts 3rd John Mc Guinn, Pat Conroy, Michael Gilmartin & Michael Rush 90pts. The final Winter Open of the season was won by Paddy Mc Loughlin 21pts, 2nd Sean Heslin 19pts. Thank You to all who took part in the Winter Open over the past few months. They will resume again in September. The Hollow Coring of the Greens has been cancelled this week due to the bad weather. An update will follow shortly. The Draw for Men's Foursomes has taken place and can be viewed on noticeboard or on the website. The competition runs up until Sunday 25th June.
TASTE OF SUCCESS 3
RTE One in association with Lidl Ireland has once again joined forces to offer a dream opportunity for one lucky food entrepreneur. This year we will be searching for the person who has a new food innovation that will be good enough to grace the shelves of over 140 Lidl supermarkets, nationwide. Do you have a new amazing recipe? Are you an amateur chef with a twist on a classic? Are you a professional chef with a signature dish? Are you a baker with the best buns? – Is your idea worth €100,000? If so, and you fancy seeing YOUR product on supermarket shelves nationwide – we want you! The winner will walk away with a guaranteed contract with Lidl Ireland which will see their product on shelves in over 140 supermarkets nationwide. If you know someone who you think could win with one of their dishes Tag them on the RTE One Facebook – https://www.facebook.com/RTEOne/?fref=nf or Twitter – @RTETasteSuccess –  get them to apply. Apply here – http://www.rte.ie/tv/programmes/thetasteofsuccess.html
BOYLE FARMERS MARKET
The Market is open from 10am to 2pm each and every Saturday in the grounds of King House, Boyle. If you would like to enjoy the best locally grown fresh and organic produce, then a trip to Boyle Farmers' Market on Saturday should be on your agenda. There is a wide range of seasonal produce, including organic fruit and vegetables, homemade jams and marmalade, organic free range eggs, fruit juices, gluten free/ sour dough/ spelt bread and all kinds of delicious home bakes are available every week. Alongside the food stalls are a number of crafters selling their handmade wares, personalized candles and knitwear. So why not come along and have a chat with the stall holders and avail of their ideas. For further information please a call Una Bhan on 071 9663 033.
CV & OFFICE SERVICES
Are you looking for a new job? Are you having difficulty putting together your CV? Would you like some help? Then why not call into the Úna Bhán office in the grounds of King House, Boyle, where we will be delighted to give you any help, advice or information we can. A good CV could make all the difference in getting your job application through to the interview stage. We have a template and sheet of helpful tips to guide you through the process. We will also type your CV if you cannot do this yourself. Or you may just want to call in for a chat about your CV. All information will be treated in the strictest of confidence. For more details, contact Úna Bhán Tourism on 071 9663033. We also offer office services such as Photo Copying, Scanning, Laminating, Typing, Faxing, Binding and Printing are carried out at the Una Bhan office in the grounds of King House, for further information please contact the office on 071 9663033.