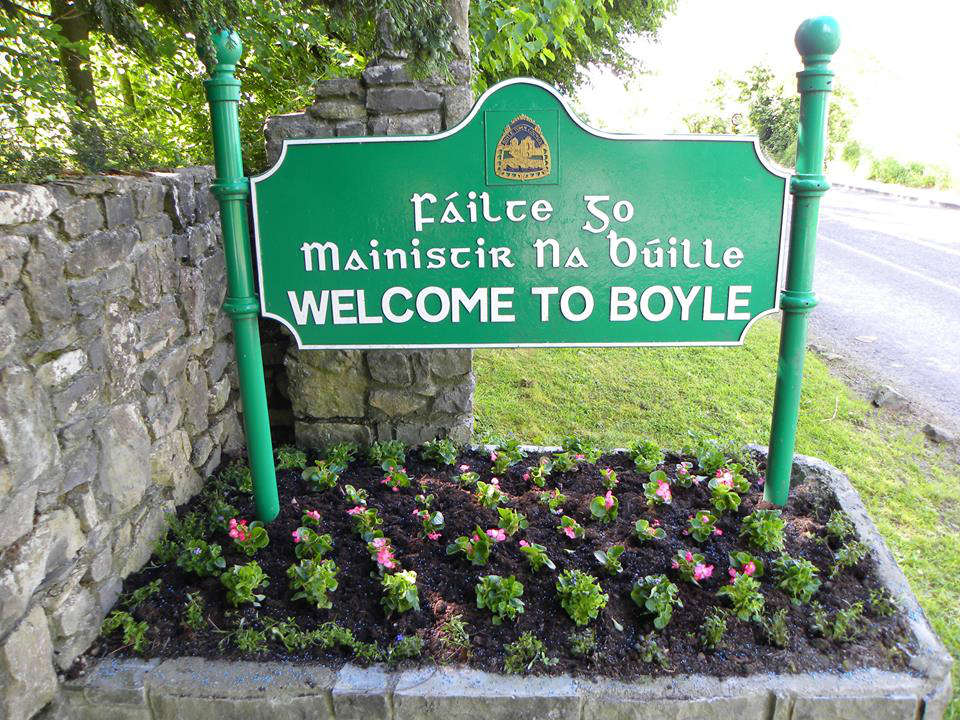 SUMMER READING BUZZ
Following the great success of the first two years of the summer reading challenge, the Boyle Library have joined up with a number of other local authorities to offer children the opportunity of taking part in the 2015 Summer Reading Buzz. The challenge will take place through the month of August. Children will register for the challenge and receive a loyalty card, and a small gift. With every book the child reads they will have their card stamped and once they have read six books they will receive a small prize, and on completing the challenge by reading ten books they will receive further prizes. When the child has completed the challenge and filled in their card (ten stamps = ten library books read) they will also receive a certificate at the end of the summer. Registration cards are available in the Boyle Library.
COLOURRUN EVENT
Roscommon Colour Run is a fantastic 'crawl, walk, or run', colour event suitable for all ages and abilities. It will take place in Lough Key Forest Park, Boyle on Sunday 21st August. Not so much about speed or endurance and more about having the time of your life, The Roscommon ColourRun is a family fun event in which participants of all ages from 1 to 100 years are covered from head to toe in different colours as they make their way through the beautiful grounds of Lough Key Forest Park. The fun continues at the finish line with a gigantic "Color celebration," using more coloured powder to create happiness and lasting memories, not to mention millions of vivid colour combinations.
With only two rules, the idea is easy to follow: 1. Wear white at the starting line 2. Finish plastered in colour
HERITAGE WEEK IN KING HOUSE
Life size historical figures, interactive displays and activities bring the past 300 years to life. Saturday 22nd August from 11am until 5pm/ Tuesday 25th / Wednesday 26th / Thursday 27th / Friday 28th and Saturday 29th. Free admission for children who are accompanied by an adult.
BOYLE ABBEY
Traditional singing and music will take place in the Boyle Abbey on Sunday 23rd August from 2pm until 5pm. Featuring: – Boyle Singers Circle, South Sligo Traditional Singers and Deus Meus Traditional Musicians. All singers and listeners welcome with free admission.
BOYLE HORSE SUMMER SHOW
The Boyle Horse and Summer Show will take place on Sunday 23rd August at its new location at the top of Green Street between the Church of Ireland and Green Street Veterinary Clinic. Show programs are available in UnaBhan and throughout the town.
Show entries must be delivered to the Marquee between 9am – 12noon on Sunday 23rd August. You can also leave in your completed entry forms and entry fees to UnaBhan from Monday 17th August to avoid the queues on the day. Hope to see you there!
MICHAEL COLEMAN STORY
This year is the 70th Anniversary of the death in New York of Michael Coleman, that renowned fiddle player from Knockgrania who emigrated to America one hundred and one years ago.  To fittingly mark these anniversaries, the weekly summer sessions in the Coleman Music Centre tells the story of Michael Coleman. (1891-1945) Michael Coleman himself, very well portrayed by Eamon McCoy resonates his life story. Show runs each Wednesday during August at 9pm. Booking at 0719182599 or www.colemanirishmusic.com
HERITAGE WEEK AT FEELYSTONE
A Celebration of 235 years in the Stone Industry will take place on Friday 28th August from 2pm until 6pm beginning with a tour of Feelystone Factory, Greatmeadow, Boyle with stone cutting demonstrations (Celtic Crosses and Contemporary Designs), talks and readings, FeelyStone Heritage and Tradition Exhibition with children's activities.
ARDCARNE GRAVEYARDS
There will be an Audio visual presentation of Boat Building at Shannon Cruisers by Michael John Breheny in Ardcarne Church of Ireland on Friday 28th August at 8.30.  Music by Ceolteoiri Lough Allen.
BOYLE FITNESS CLUB
Boxing Club will officially open on Monday 31st August 6.20pm-7.20pm. Children from 8 to 12 years Monday / Wednesday and Friday. Men also (13+) 7.30pm until 9pm. Men (beginners) Monday/ Wednesdays and Friday 9pm-10pm. Ladies Tuesdays and Thursdays 7:30-9pm. Ladies (beginners) Tuesdays and Thursdays 9pm until 10pm. For groups bookings and any enquiries please contact Simon on 086 404 1830. No membership needed just pay as you go.
LOUGH KEY TRI
The annual Lough Key Sprint Triathlon will take place this year on Sunday September 6th. One of the final races of the this year's Vodafone National Series the sprint distance event has a 750m swim over to the scenic Castle Island and back, a 23km bike leg around the lake followed by a 5km run through the new and improved park paths. Lough Key has consistently proved to be one of the more popular Triathlon events on the calendar and has always managed to attract a quality field with names such as Gavin Noble, Kevin Thornton, Jennifer O'Connell and Laura Tighe topping the results in recent years.
This year's event is sponsored once again by Waterways Ireland and in addition to our substantial prize pot and well renowned goodie bags we have impressive trophies for the fastest male and female bike splits. New to Lough Key this year will be two new perpetual trophies for the fastest swim splits in memory of club member John Cloughley who passed away earlier this year. Having seen the almost finished trophies we can guarantee that these will be well sought after trophies for years to come! So whether you are a top class triathlete bidding to get your name on one of our high quality bespoke marble trophies for posterity or a beginner looking for a great venue and friendly welcome come to Lough Key on Sunday 6th for a great day's racing. Entry is strictly limited to 500 on the day so make sure to get your entry in early. It's also an ideal warm up for the Sprint Triathlon National Championships taking place 3 weeks later in Clogherhead.Full details can be found on the club website www.loughkeytri.com or the Club's Facebook page.
Cannonball Run in the Boyle area
Car enthusiasts are in for treat in Boyle on Friday September 11th when the seventh Cannonball Run travels past the town on the N4. The three day Cannonball Run is the largest organised road trip in Europe and the most exciting motoring and social event of the year. The trip typically features 170 cars including the world's top makes: McLaren, Lamborghini, Ferrari, Aston Martin, Porsche, Masseratti, Rolls Royce and Bentley. Cannonball Ireland has raised over 700,000 euro for Irish Children Charities. This year, Make A Wish Ireland will be Cannonball Ireland charity. It is a spectacle to behold as the cars and their colourful drivers make their way around Ireland. Friday 11th will see the cars travel from Dublin to Sligo. Further details on www.cannonball.ie
BOYLE GOLF CLUB
Well done to Lionel Lynn who won 18 hole stableford on Sunday 9th August with 41pts, 2ndSean Heslin 38pts, Gross Michael Gilmartin, 3rd Gerry Carty 37pts. Thursday 6th August saw the night Competition won by Seamus Gallagher 22pts, 2nd Patrick Egan 21pts, and 3rd Gerry Carty 20pts.  Friday 7th August saw the Scramble won Patrick Egan, Annette Bartlett, Lewis Shaw & Michael Gilmartin 2nd Michael Simon, Susan O'Mahoney & Lionel Lynn, 3rd Michael Rush, Gerry Carty & Pat Conroy. Dates for your diary are Last Man Standing" Saturday August 22nd and Lady Presidents Day on Sunday August 30th. In King Harmon news well done to Lionel Lynn, Seamus Gallagher, Niall Kearney & Willie Tiernan who are through to the King Harmon semi-finals. Commiserations to beaten quarter finalists Patrick Egan, Shane O'Dowd, Charlie O'Donnell & Brendan Gaffney.
BOYLE FARMERS MARKET
The Market is open from 10am to 2pm each and every Saturday in the grounds of King House, Boyle. If you would like to enjoy the best locally grown fresh and organic produce, then a trip to Boyle Farmers' Market on Saturday should be on your agenda. There is a wide range of seasonal produce, including organic fruit and vegetables, homemade jams and marmalade, organic free range eggs, fruit juices, gluten free/ sour dough/ spelt bread and all kinds of delicious home bakes are available every week. Alongside the food stalls are a number of crafters selling their handmade wares, personalized candles and knitwear. So why not come along and have a chat with the stall holders and avail of their ideas. For further information please a call Una Bhan on 071 9663 033.
BINGO IN BOYLE
Every Tuesday evening in St. Josephs Hall Boyle at 8.30pm until 10.30pm. €1000 Jackpot to be won every week.
CV & OFFICE SERVICES
Are you looking for a new job? Are you having difficulty putting together your CV? Would you like some help? Then why not call into the Úna Bhán office in the grounds of King House, Boyle, where we will be delighted to give you any help, advice or information we can. A good CV could make all the difference in getting your job application through to the interview stage. We have a template and sheet of helpful tips to guide you through the process. We will also type your CV if you cannot do this yourself. Or you may just want to call in for a chat about your CV. All information will be treated in the strictest of confidence. For more details, contact Úna Bhán Tourism on 071 9663033. We also offer office ser
vices such as Photo Copying, Scanning, Laminating, Typing, Faxing, Binding and Printing are carried out at the Una Bhan office in the grounds of King House, for further information please contact the office on 071 9663033.