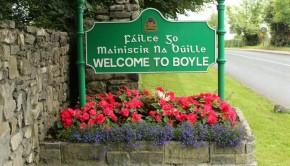 CAMOGIE IS BACK
Camogie has returned to Boyle on Friday's from 6.30pm until 7.30 pm (day and time subject to change). Any girl aged between 6 – 8 years (Born between 2008-2010) is invited along to try it out. The evening will consist of skill development & fun games. All equipment will be provided. There will be a charge of €2 per child to cover the cost of the complex. For information please contact: Eithne Kennedy, Local Camogie Coach in Boyle, 086 157 8768 | Yvonne Byrne, Connacht Camogie Development Officer 087 623 5855
TENNIS IN BOYLE
Boyle Tennis Club are running special teenager only classes on Tuesdays 19th April from 5 until 6pm for 5 weeks. These 'Get Up, Get Active' sessions are designed to improve physical and mental wellbeing through social tennis. The cost of the 5 week course is €30 which includes club membership until March 2017. All standards are welcome and all equipment is provided. To get involved just come along on Tuesday 19th or text Boyle Tennis Club coaches Olwyn & Noreen on 086 351 4123 for more info.
FOR THE RECORD TOUR
Barry Feely will give a guided tour of 'For the Record' on Thursday 21st April at 11.30am. During this free talk/tour, Barry will take people around the exhibition he curated with the Boyle Old IRA Commemorative Committee for the Roscommon Ireland 2016 Centenary Programme, supported by Roscommon County Council. All welcome.
COOKERY COURSE IN BOYLE
Would you like to learn how to bake gluten free bread, and how to cook without dairy and sugar ? Do you suffer from digestive issues, low energy, weight problems ? Then grab your place on the course and enjoy several dishes, snacks,refreshments and a smoothie on arrival. You get recipes, samples and information to take home.
The course is being run by Nutritional Therapist Doris Rabe and will be taking place on Saturday 23rd April from 11am until 1pm. For further information call 085 1543 354 or email [email protected]
WHEATGRASS WORKSHOP
Learn how to grow and juice your own Wheatgrass at home so that you can experience the many wonderful health benefits of this amazing food. Try some freshly juiced samples on the day. Taking place at Ardcarne Garden Centre, Boyle on Saturday 23rd April at 2am until 3pm,book now on 07196 67091
CYCLE AGAINST SUICIDE
The 2016 Cycle against Suicide will take place between Sunday, April 24th and Saturday May 7th. The Cycle starts at the Phoenix Park, Dublin and will cover two legs each day with approximately 40kms per leg. Day 7 Saturday 30 April Morning Leg: Sligo to Boyle 45km Afternoon Leg: Boyle to Carrick-on-Shannon 14km. Come out and support.
PILGRIMAGE TO KNOCK
The Apostolate of Eucharist Adoration invites all Parishioners on a special Year of Mercy Pilgrimage to Knock Shrine on Sunday 24th April. There is a full programme organised for Adults, Teens and Children. The launch of a National Crusade of Prayer for Vocations will take place at the 3pm Mass. The programme begins at 11.30. Bishop Kevin Doran is the chief celebrant and homilist Fr Declan Hurley Adm, Navan, will give a talk on "Gazing at the face of Mercy" at 1.30 in the Basilica.
THE ANTON SAVAGE SHOW
The hugely popular Today FM, Anton Savage Show will broadcast live from Lough Key Forest Park on Friday 29th, 9am until 12pm. The guest list is now complete and will include some well-known personalities. Full details on how to be an audience member will follow.
ARDCARNE REMEMBERS 1913-23
The Ardcarne Remembers Committee has organised commemorative weekend events to take place from Friday April 29th to Monday May 2nd in the Crossna Community Centre, Cleen Hall, Knockvicar.
JOIN OUR BOYS
You are invited to join the 'Anniversary Join Our Boys March of Solidarity' for all children with DMD; those living with it; those who have passed away and those to come. The March will be leaving from behind Rockfords, Roscommon Town at 6.30PM sharp! You are asked to 'Wear Orange' – it can be anything at all! Something as simple as a T Shirt, a hair ribbon or a whole orange ensemble!! In saying that there is going to be a prize for the best Adult Orange outfit and best children's Orange outfit – so get planning folks! We will make our way to the park where you will be asked to tie an orange ribbon around the trunk of one of our beautiful trees. There will be music, entertainment for the children and light refreshments. This is not a fundraising event; it is a community event to show the phenomenal support we have here for children with a disease that currently has no treatment; a disease that currently has no cure. The event is being filmed for future use to raise awareness of DMD and the amazing community effort that has done so much to support. Join Our Boys. May 1st is also two special little boys 5th Birthday!! George & Isaac would love to celebrate with you along with their big brother Archie. If you cannot join us remember we would love to see your images for Wear Orange Day! Remember to post them to social media – #JoinOurBoys #WearOrangeDay
CURLEW WALKERS
The next meeting of the Curlew Walkers club will take place on Sunday 8th May, meeting on the Crescent, Boyle at 9am or Leenan at 11am. The walk will take place at Devils Mother and will be a Climb/ Grade B+. Your leader for the day will be Zeta Griffin 086 3661 336. Please confirm times with leader or website prior to each walk www.walkingboyle.com.
FREGOLI THEATRE PRESENTS
"The Pleasure Ground" by Jarlath Tivnan is back in Boyle on Saturday 14th May for one night only. A wonderful strong play that will stay with you after the lights go down will be taking place in St Josephs Hall, Boyle at 8.30. Tickets are now on sale in Una Bhan Tourism and Taylors Jeweller.
BOYLE GOLF CLUB
The result for Sunday10th April for the Holmpatrick Cup is as follows:
1st Owen Garvin and Michael Costello 41pts (c/b) 2nd Jim Mooney & Brendan Gaffney 41pts 3rd Patrick Egan & Lorcan Egan 39pts Well done to Owen & Michael, they will represent the club at the county finals later in the year.
BOYLE FARMERS MARKET
The Market is open from 10am to 2pm each and every Saturday in the grounds of King House, Boyle. If you would like to enjoy the best locally grown fresh and organic produce, then a trip to Boyle Farmers' Market on Saturday should be on your agenda. There is a wide range of seasonal produce, including organic fruit and vegetables, homemade jams and marmalade, organic free range eggs, fruit juices, gluten free/ sour dough/ spelt bread and all kinds of delicious home bakes are available every week. Alongside the food stalls are a number of crafters selling their handmade wares, personalized candles and knitwear. So why not come along and have a chat with the stall holders and avail of their ideas. For further information please a call Una Bhan on 071 9663 033.
CV & OFFICE SERVICES
Are you looking for a new job? Are you having difficulty putting together your CV? Would you like some help? Then why not call into the Úna Bhán office in the grounds of King House, Boyle, where we will be delighted to give you any help, advice or information we can. A good CV could make all the difference in getting your job application through to the interview stage. We have a template and sheet of helpful tips to guide you through the process. We will also type your CV if you cannot do this yourself. Or you may just want to call in for a chat about your CV. All information will be treated in the strictest of confidence. For more details, contact Úna Bhán Tourism on 071 9663033. We also offer office services such as Photo Copying, Scanning, Laminating, Typing, Faxing, Binding and Printing are carried out at the Una Bhan office in the grounds of King House, for further information please contact the office on 071 9663033.