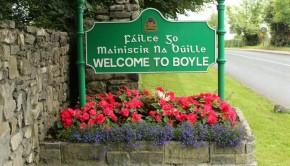 CURLEW WALKERS
The next meeting of the Curlew Walkers club will take place on Tuesday 21st June, meeting on MacDermotts Carpark at 7pm. This will be Bricklieves "Sunset" walk. and will be a picnic Grade C. Your leader for the day will be Philip James 086 335 3000. There is also a weekend away coming up on 24th to 27th June to Sheeps Head with your leaders being Moira Egan 086 856 1561 and Zita Griffin 086 366 1336 and will be a Climb-Flat grade B and C. Please confirm times with leader or website prior to each walk www.walkingboyle.co
SOLSTICE CHOIR
Roscommon Solstice Choir will hold a concert in St. Joseph's Church Boyle on Friday June 24th from 8.30 pm until 9.30 pm with doors opening at 8pm. Admission costs €10 with all proceeds going to Boyle Church of Ireland Restoration Fund and TOUCH Ireland (Shannonside Group). Tickets are available from various local outlets.
SUMMER SHOW QUIZ
A Table Quiz will be held in Moylurg Inn on Friday June 24th at 9pm. All support greatly appreciated. This year's show will take place on August 21 at Bellspark, Boyle. Visit 'Boyle Summer Show' on Facebook for regular updates.
CELEBRATING COMMUNITY
An evening of Information and Training on Supporting Diversity in our community in Boyle evening on Tuesday 28th June from 6 am until 8pm in King House, Boyle.
Providing information on how making business and community accessible to all inspires the growth of the local economy and increased town development. Information will also be provided on employer incentives available for supporting diversity. Refreshments will be provided during the session.
SPECIAL MASS
In this Jubilee Year of Mercy, Bishop Kevin invites all expectant mothers and fathers and their wider families to a joyful celebration to pray for their unborn child. During this liturgy, Bishop Kevin will also remember in prayer children who have died at any stage during pregnancy and we will pray for the protection of our most vulnerable children in the womb. St Josephs Church, Boyle Saturday 25th June at 5pm. Refreshments afterwards, all very welcome.
GAA AUCTION
Boyle GAA club will hold a "Monster Auction" on Saturday 9th July in the Sports Complex commencing at 1pm with numerous items for sale including new and nearly new furniture, vouchers, green fees, signed jersey, tools and Manchester United tickets.
Further details closer to the date.
POETRY COMPETITION
We are delighted to announce the Boyle Arts Festival Poetry Competition for 2016.
Prizes: €250 first prize plus 2 x €50 highly commended Closing Date June 30th
Shortlisted poems will be notified ahead of the awards which will be held on Saturday 30th July in King House, Boyle. Entry €5 per poem Entry form must accompany poems.
Entrants may submit as many poems as they wish The name of the entrant must not appear on the poem itself Poems, in English must be the unpublished, original work of the author Poems must be printed on one side of A4 paper, maximum length 40 lines
Judges decision is final and no correspondence will be entered into Poems will not be returned. Poems will be judged by Ross Donlon Ross has published 7 collections of poetry and his poems have also appeared in journals in his native Australia, the United States and New Zealand as well as Ireland including Poetry Ireland and Crannog magazine. Ross has travelled to Europe many times in the past five years, enjoying residencies in Norway and Romania, and reading in several other countries, both at festivals and as a feature reader. He was the inaugural judge of the Castlemaine Poetry Prize which has been running since 2011.
BOYLE ARTS FESTIVAL
Reminder to all artists, local, new, those from further afield and those under 25 – that it is time to be thinking of your entry to the BAF16 Boyle Open Art Exhibition.
Handing-in of entries in Church of Ireland, Parochial School, Military Road, Boyle (opposite Family Life Centre) on Friday 8th July 4pm to 6pm and also on Saturday 9th July – 4pm to 6pm. Entries accepted in any medium (max 3 pp). Conditions of Entry and Entry Form available by emailing [email protected] or call into Una Bhan Centre, Grounds of King House between 9am and 5pm. The exhibition runs this year from Friday 22nd July until Saturday 30th July.
BOYLE ARTS FESTIVAL
Boyle is certainly the place to be this summer, with appearances by Phil Coulter, Sharon Shannon, Paddy Casey, Frances Black, Kieran Goss and Deirdre O'Kane all lined up for the 27th annual Boyle Arts Festival, which will take place from July 21st to 31st. More details of very exciting and diverse events will soon be announced when the official programme and new website are launched, in a few weeks time.
JAMES WOODS DARTS COMPETITION
The James (Lal) Woods Memorial Darts Competition will take place on Friday 29th July in the Moylurg Inn. First prize €150 plus memorial cup (sponsored by the Woods family) and second prize €100 (sponsored by the Woods family). All proceeds in aid of Roscommon Mayo Hospice. This will be an 8pm start with boards open from 7.30pm. Entry fee will be €10 per player with raffle and spot prizes on the night. For further information call 086 7342251.
MIDLANDS AQUATHON
Lough Key will be the venue on Wednesday June 29th for Race 5 in the Midlands Aquathon Series 2016. This is a swim and run event hosted by Lough Key Triathlon Club. A Triathlon Ireland (TI) race license is required to take part in this event and a valid TI membership card will need to be presented at registration. Alternatively a One Day race license may be purchased in advance via the TI website or on the night for a fee of €10. Prizes will be awarded to the triathlon club with the highest number of points, best overall male and best overall female.
SECRET GARDENS
Created by two artists in an intimate rural setting, this garden combines productivity, ornamental planting and permaculture. Winding grass paths lead to ponds, developing woodland and polytunnel, one jungle-themed, one for fruit and veg. With an eclectic mix of planting and sculpture, this 16 year old garden is still developing. Open11am until 5pm on Saturday 30th July, 21st August and 11 September. On R361 Boyle – Frenchpark, Right after Saddlers Inn. After approx 2.5km keep right on big bend, take 2nd lane on Right. Entrance just after first cottage. Saffron Thomas and Ian Stanley 086 869 1141 Ardsoran, Lisserlough, Boyle.
COURTYARD MARKET
The Market is open from 10am to 2pm each and every Saturday in the grounds of King House, Boyle. If you would like to enjoy the best locally grown fresh and organic produce, then a trip to Boyle Farmers' Market on Saturday should be on your agenda. There is a wide range of seasonal produce, including organic fruit and vegetables, homemade jams and marmalade, organic free range eggs, fruit juices, gluten free/ sour dough/ spelt bread and all kinds of delicious home bakes are available every week. Alongside the food stalls are a number of crafters selling their handmade wares, personalized candles and knitwear. So why not come along and have a chat with the stall holders and avail of their ideas. For further information please a call Una Bhan on 071 9663 033.
CV & OFFICE SERVICES
Are you looking for a new job? Are you having difficulty putting together your CV? Would you like some help? Then why not call into the Úna Bhán office in the grounds of King House, Boyle, where we will be delighted to give you any help, advice or information we can. A good CV could make all the difference in getting your job application through to the interview stage. We have a template and sheet of helpful tips to guide you through the process. We will also type your CV if you cannot do this yourself. Or you may just want to call in for a chat about your CV. All information will be treated in the strictest of confidence. For more details, contact Úna Bhán Tourism on 071 9663033. We also offer office services such as Photo Copying, Scanning, Laminating, Typing, Faxing, Binding and Printing are carried out at the Una Bhan office in the grounds of King House, for further information please contact the office on 071 9663033.