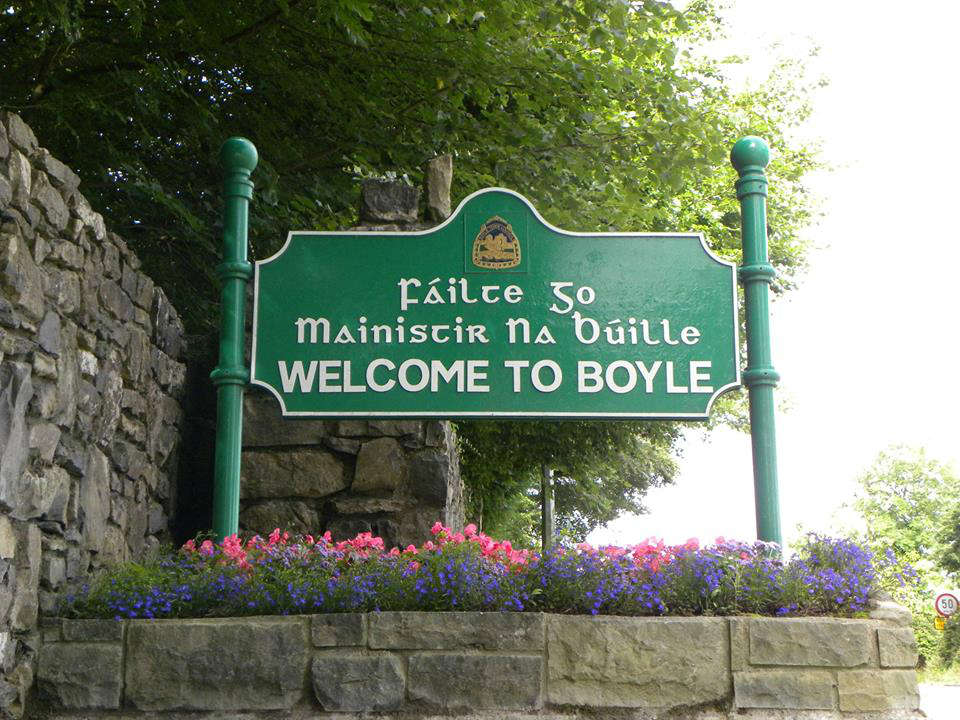 The following are the Boyle Community notes for the coming week.
CIVIC AMENITY SITE
Easter arrangements for the Boyle Amenity Site are as follows: Closed on 3rd April (Good Friday) and again on the 6th April (Easter Monday). Open 2nd/4th/7th April.
AUTISM AWARENESS DAY
King House, Boyle will be going 'Blue' for World Autism Awareness Day on Thursday 2nd April at 10am until 12noon, with a Coffee Morning taking place in King House, in support of Autism Ireland. For further information contact Marian Frawley 086 258 8498
BRIGHT SPARKS
Bright Sparks Quiz on Good Friday 3rd April at 8pm in St, Josephs Hall, Boyle promises to be a great night with lots of surprises in store. This is a quiz with a difference and a great start to your Easter Holidays. The organising crew encourage all Businesses, Traders, Clubs, Societies and Associations to join in the fun and reserve your table with any of the organisers-Stephen Bohan, Dara Callaghan, Cecil Draper, Brian Kelly. Tish Golden or Siobhan Gallagher. Registration on the night but once your table is reserved, it's guaranteed! €40 per table of 4 and all proceeds raised go to Boyle Christmas Lights.
'WE NEED CAKES'
A Cake Sale will be held on Good Friday after 3pm Devotions in Ballinafad Hall. Proceeds raised go towards the maintenance of Aughanagh Community Playground in Ballinafad. All Donations greatly appreciated & can be left in Ballinafad Hall before 3pm.
BOYLE & DISTRICT ANGLING CLUB
The Pike Angling Festival Boat Competition will take place on Saturday 4th and Sunday 5th April on Lough Key, Boyle starting on Saturday at 11am until 6pm with prize money of €1,275 & Sunday 10am until 5pm with prize money of €1,175 and the heaviest fish is worth €2,500 plus Moonstone Jewellers Cup. Entrance fee is €60 per adult and €20 per junior. Juniors must fish for junior prizes at €20 per entry and must be accompanied by a fee paying adult. Presentation will take place on Sunday 6th on Doon Shore.
KNOCKVICAR ORGANIC GARDEN
A Bring and Bake will take place on Saturday 4th April at Knockvicar Organic Garden at 12 until 3pm. This is a free event with wood fired clay oven. There will be a Plant Swap on Easter Sunday in Cleen Hall from 12 until 3pm this is also a Free Event.
TEA PARTY & MINI FAIR
An Easter afternoon Tea Party and Mini Fair will be held in Tawnytaskin Community Centre on Easter Sunday and Monday the 5th and 6th April from 2pm until 6pm. Come out and enjoy an Afternoon Tea and while you are there browse through the fantastic stands featuring local craft and food producers. Exhibits will include local homey, cakes, bread, jams and chutneys. Creative Cheese Works with home kits for you to make your own cheese at home. A Nutritional Therapist will have organic goods and a variety of teas, alongside a local photographer with prints and postcards. All you might need for your knitting baking and sewing. Boyle Men's shed will also be there with a selection of their hand crafted gifts and a bric a brac stall. A guest appearance of the local High Nelly Club will come and maybe even let you take a spin on one of their bikes. For further details call Ann 086 8130 005 or Mary on 085 1618 420. 
Bike Maintenance Courses
With the arrival of longer evenings and the temperature on the rise it's time to start thinking about getting back on your bike. Don't allow mechanical issues ruin your ride outs this summer! Get on top of your bike maintenance with our basic road side repair courses or our comprehensive bike maintenance courses. Courses: – Level 2- Advanced Bike Maintenance Tuesday 7th April Venue:- St. Joseph's Resource Centre, Boyle, Co. Roscommon from 7pm-10pm "For less than the price of a standard service, learn how to service and maintain your own bike" Work on your own bike. Work stands and tools supplied. Tea/coffee provided during all courses. For more details please contact David on 086 8586225 or email [email protected]
Curlew Walkers Club
The next meeting of the club will take place on Sunday 12th April meeting on the Crescent at 10am. This will be a Climb/Grade A at the Ox Mountains Knockalongy with your leader being Philip James, contact no 086 335 3000. Please confirm times with Leader or web site prior to each walk www.walkingboyle.com.
FAMILY LIFE CENTRE
6 Fridays of Crafting fun with Glenda Devlin which will include beading and jewellery making, recycling, up cycling, repurpose, baking, card making and make your own gifts. Dates are as follows: Friday April 17th / 24th May 1st / 8th / 15th / 22nd all at 10.30 until 12.30. For further information email: [email protected]   
DUCK RACE
Boyle Courthouse Development Limited will be holding a Duck Race on Boyle River on Saturday 2nd May at 1pm with €800 in prizes. Purchase your Duck now from any outlet store in Boyle only €5 each.
Open Art Exhibition Submission Details 2015
Providing a forum for artists to display their work, Boyle Arts Festival Open Art Exhibition has grown to attract entries from all over Ireland, the West being particularly strongly represented. The work is selected on merit and entries have been selected from part-time, full-time and occasional artists, giving a unique blend and standard of excellence. Entrants are judged for three overall prizes, as well as a prize for 'The Most Promising Artist Under 25′. The overall winner will be presented with the Sue Hill Perpetual Trophy.Entries will be accepted in any medium, to a maximum of 3 per person. Handing In:Works should be brought to Church of Ireland School, Boyle (on the same road as the Garda Station and opposite the Family Life Centre) on Friday, 3rd July between 4pm & 6pm.Saturday, 4th July between 3pm & 5pm.
BOYLE GOLF CLUB
Well done to Spring League winners, Brendan Gaffney, Sandra McCrann & Cillian Doyle 217pts, 2nd Charlie O'Donnell, Ruth Hogg & Michael Reid 211pts, 3rd Jim Mooney, Mary O'Hara & Pat Conroy 209pts. Weekly prize winners were weak 1 Gary Carty, Maura O'Farrell & Dave Purser, week 2 Liam Mullaney, Tom Kearney & Ted Hestor, week 3 Terry Canning, Kathleen Candon & Paddy McLoughlin. Thanks to all who took part. Last week's nine hole was won by Charlie O'Donnell 21pts, 2nd Michael Rush 21pts. Please send your 2015 membership fees to Geraldine McDermottroe, Membership Secretary, Carrick Road, Boyle. Thanks to all who have paid fees to date.
 BOYLE FARMERS MARKET
The Market is now open from 10am to 2pm each and every Saturday in the grounds of King House, Boyle. If you would like to enjoy the best locally grown fresh and organic produce, then a trip to Boyle Farmers' Market on Saturday should be on your agenda. There is a wide range of seasonal produce, including organic fruit and vegetables, homemade jams and marmalade, organic free range eggs, fruit juices, gluten free/ sour dough/ spelt bread and all kinds of delicious home bakes are available every week. Alongside the food stalls are a number of crafters selling their handmade wares, personalized candles and knitwear. So why not come along and have a chat with the stall holders and avail of their ideas. For further information please a call Una Bhan on 071 9663 033.
Bingo in Boyle
Every Tuesday evening in St. Josephs Hall Boyle at 8.30pm until 10.30pm. €1000 Jackpot to be won every week.