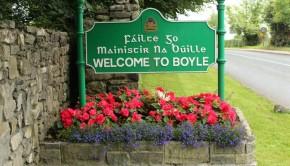 Roscommon LEADER Partnership
In conjunction with the Public Participation Network in Roscommon, Roscommon LEADER Partnership will be rolling out a series of Roadshows across County Roscommon. The Boyle Roadshow will be in King House on Tuesday 25th October from 7pm until 8:30pm with light refreshments served afterwards. Have you always had an idea worth sharing? A question for an RLP or PPN staff member? Or simply to further your knowledge of the various supports and services available from RLP and PPN? Come along as this Roadshow will prove invaluable!!
Day of Mindfulness
Take some time out to get back to yourself. Maura McGuinness, qualified mindfulness teacher, will give a day of mindfulness at the Galilee Community, Tintagh, Boyle on Wednesday October 26th. The practice of mindfulness is about being present and awake to each moment of our daily lives.
Hairspray Musical
With just four weeks to go until opening night, Boyle Musical Society's are delighted to announce that tickets for their eagerly anticipated new show, 'Hairspray', will go on sale at 12pm on Saturday October 29th. Tickets can be booked or purchased from the BMS ticket office, which will be situated beside Marian's on Bridge Street. The office will remain open until 2.30pm. A detailed seating plan will soon be available on www.boylemusicalsociety.com. Tickets can also be booked by telephone on the BMS Ticketline, 085 275 6426. This line will be open during booking office hours only. We also accept credit card bookings.

Golf course closes for works
Boyle Golf course is set to close this week for approximately four weeks to facilitate the planned course development programme. Funded by the National Lottery, the work will include drainage to specified areas of the course and the creation of a new practice area which will be located adjacent to the car park. Members can view the plan of the course drainage work on the noticeboard in the clubhouse. For reasons of health and safety, it has been decided to close the course for the duration of the work. The management committee regret any inconvenience caused by the closure and thank the members for their support and understanding.
Courthouse golf classic postponed
The upcoming Boyle Courthouse Golf Classic has unfortunately been postponed due to essential drainage repairs being undertaken at Boyle Golf Course. The organisers have decided that due to the uncertainty of the work been completed in time, the Golf Classic due to be held on 29th. & 30th. October has been postponed to 25th. & 26th. March 2017.
The committee regret having to make this decision and apologise to all concerned.
Curlew Walkers Club
The next meeting of the Curlew Walkers club will take place on Sunday October 30th and will meet on the Crescent Boyle at 10am. This will be a Flat C walk in the Suck Valley. Your leader for the day will be Philip James 086 335 3000. Please confirm times with leader or website prior to each walk www.walkingboyle.com.
Craft & entertainment workshops
Úna Bhán Tourism are holding children's craft and entertainment workshops in Boyle Library on Wednesday 2nd Thursday 3rd and Friday 4th November from 2pm until 4,30pm. The workshops will cost €10.00 per day or €25.00 if your child is doing all 3 workshops. Children from 6 years to 12 years are all welcome. Anna and Eva will be showing the children the art of craft making and other entertainment. Snacks will be provided for the children and are included in the price. Book now, spaces going quick. Call 071-9663033. Meeting in Una Bhan Craft Shop at 1.50 pm in the Grounds of King House, Boyle.
African Fashion Week in Boyle
The Africa History Month Ireland is here again in the month of November as we celebrate African Caribbean in Diaspora here in Ireland. The African Fashion Week Ireland 2016 will kick start on the 12th November, 2016 in King House, Main Street Boyle. This year's fashion week show will showcase the best of African Caribbean through fashion as powerful, focused, determined, thriving, stylish, modern and in control. The Designers at AFWI fashion showcase will include both emerging and established brands across ready-to-wear, accessories and footwear. The show will continue to build its platform as an authority in the fashion industry; the African Fashion Week Ireland will be attracting an audience of UK and international press and buyers at the King House, Boyle.

Parkrun in Boyle
The weekly 5k parkrun takes place in Boyle's Lough Key Forest on Saturday morning. There are now parkrun events each Saturday and Sunday in countries all around the world. Each event is based in a unique location like a park, beach or promenade. All events are organised by a group of dedicated volunteers. The Boyle event will take place every Saturday morning at 9.30am in Lough Key Forest Park.
Courtyard Market
The Market is open from 10am to 2pm each and every Saturday in the grounds of King House, Boyle. If you would like to enjoy the best locally grown fresh and organic produce, then a trip to Boyle Courtyard Market on Saturday should be on your agenda. There is a wide range of seasonal produce, including organic fruit and vegetables, homemade jams and marmalade, organic free range eggs, fruit juices, gluten free/ sour dough/ spelt bread and all kinds of delicious home bakes are available every week. Alongside the food stalls are a number of crafters selling their handmade wares, personalized candles and knitwear. So why not come along and have a chat with the stall holders and avail of their ideas. For further information please call Una Bhan on 071 9663 033.

Society of St. Vincent de Paul Boyle
If you need help with bills, with education expenses or simply need to speak to someone outside the family or friends about any difficulties you are facing or wish to make a donation -contact St. Vincent de Paul Society, Boyle telephone or text 087 9292627 Email: [email protected] All calls, texts and help provided are CONFIDENTIAL
CV & Office Services
Are you looking for a new job? Are you having difficulty putting together your CV? Would you like some help? Then why not call into the Úna Bhán office in the grounds of King House, Boyle, where we will be delighted to give you any help, advice or information we can. A good CV could make all the difference in getting your job application through to the interview stage. We have a template and sheet of helpful tips to guide you through the process. We will also type your CV if you cannot do this yourself. Or you may just want to call in for a chat about your CV. All information will be treated in the strictest of confidence. For more details, contact Úna Bhán Tourism on 071 9663033. We also offer office services such as Photo Copying, Scanning, Laminating, Typing, Faxing, Binding and Printing are carried out at the Una Bhan office in the grounds of King House, for further information please contact the office on 071 966 3033.