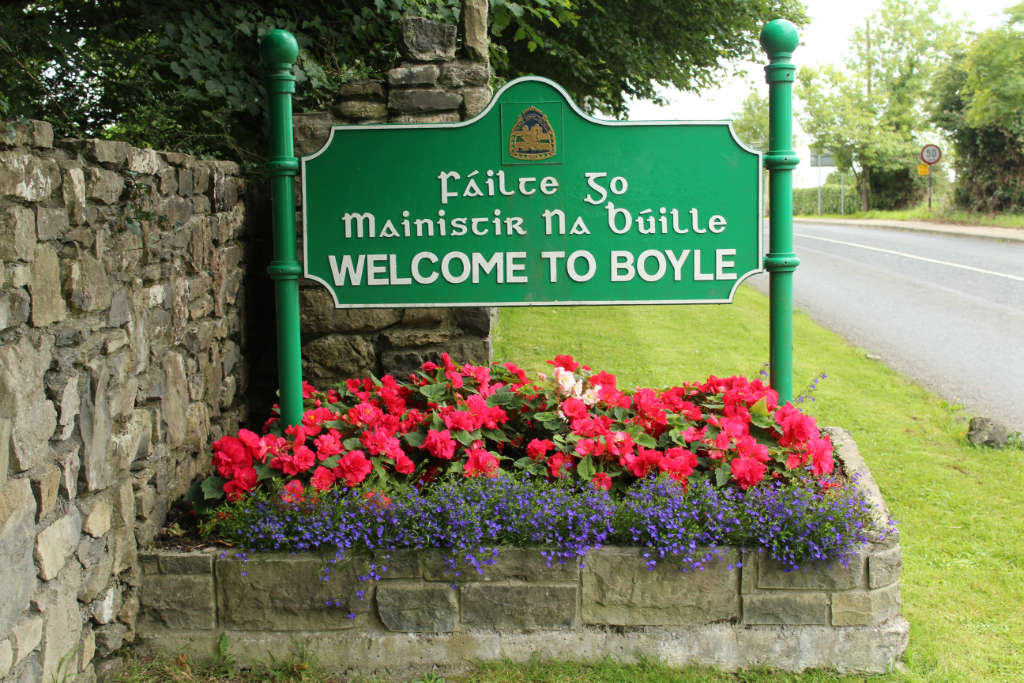 ROSCOMMON REMEMBERS
Whet your appetite for the Decade of Commemorations and Ireland 1916:2016 a time of commemoration, conversation and exploration- by listening to tales of that era in Roscommon from people who lived through those times or whose families passed on their stories from one generation to next. Listen to interviews collected by the County Roscommon Folklore & Oral History Network – hear stories of life in Roscommon during times of the Troubles, the Black and Tans and Scramogue Ambush and much more. All this is taking place throughout Heritage Week at Boyle Library during opening hours.
HERITAGE WEEK IN KING HOUSE
Life size historical figures, interactive displays and activities bring the past 300 years to life on Tuesday 25th Wednesday 26th, Thursday 27th, Friday 28th and Saturday 29th. Free admission for children accompanied by an adult.        
HERITAGE WEEK AT FEELYSTONE
Discover 235 Years of Industrial Heritage & Design at Feelystone Boyle. FeelyStone Boyle are delighted to announce details of events as part of National Heritage Week on Friday 28th & Saturday 29th August from 2pm until 6pm. The event will launch at 2pm on Friday 28th with the cutting of a cake to celebrate the family's 235 years in the stone industry. All are welcome over the two afternoons for refreshments and a variety of events including: Guided tours of the factory and showrooms; Stonecutting demonstrations; Visit the museum; and a Reading at 5pm by Barry Feely from his recent book 'A Life in Stone'. Children can take part in colouring activities to create their own kitchen and young people may be interested to view a demonstration of the company's design process on CAD (Computer Aided Design) on Friday afternoon. Finbarr Feely and his brother Shane are the 10th generation of the Feely family in the Boyle business working alongside an expert management and production team. Copies of the County Roscommon Heritage Week Event Guide are available at FeelyStone Boyle & Roscommon Showrooms, in library branches throughout the county and online at heritageweek.ie.
ARDCARNE GRAVEYARD COMMITTEE
There will be an Audio visual presentation of Boat Building at Shannon Cruisers by Michael John Breheny in Ardcarne Church of Ireland on Friday 28th August at 8.30.  Music by Ceolteoiri Lough Allen.
BOYLE MUSICAL SOCIETY
While it may not seem like it just yet, the evenings will soon be drawing in around us, meaning it's time to think about what to do for the autumn….. You could, of course, do worse than take up evening classes for basket weaving, a foreign language or fishing rod maintenance. Or you could stay at home and rearrange your sock drawer! However, the best fun to be had this autumn will be taking part in Boyle Musical Society's forthcoming production of the well known fantasy musical extravaganza, The Wizard of Oz which will be staged from November 18th to 22nd. Rehearsals will begin on Monday August 31st in St. Joseph's Hall, Boyle at 8pm and a warm welcome is extended to all new, former and existing members to join up for twelve unforgettable weeks of music, singing, drama, dancing, comedy and lots more…. Rehearsals will continue in the Hall at 8pm on Thursday September 3rd and thereafter on Monday and Thursday nights. Musical Director Anne and Director/Choreographer, Vivienne will be on hand to outline the show to everybody, so come along and join the fun. It is hoped to have the principal parts in the show cast by mid September, so we are really expecting a big turnout at the first rehearsal. We will be looking for children, aged 8 to 12 to take part in the show and we will hold a workshop/audition, specifically for them, on Sunday September 20th at 3pm. More details later. Everybody will be familiar with the 1939 film production of The Wizard of Oz, in which Judy Garland played the part of Dorothy, the young girl from Kansas who dreams of faraway places. The show features well-known songs like, 'Somewhere Over The Rainbow', 'We're Off To See The Wizard', 'Ding Dong The Witch Is Dead', and 'The Merry Old Land Of Oz'. Plans are already underway to ensure that The Wizard of Oz will be Boyle Musical Society's most spectacular and memorable show ever! So come along and join the fun on Monday August 31st. Boyle Musical Society will stage The Wizard of Oz from Wednesday November 18th until Sunday November 22nd in St. Joseph's Hall, Boyle. For more information please go to
www.boylemusicalsociety.com or follow us on Facebook.
TAI CHI CLASSES
Beginner Taoist Tai Chi Classes start with a free Introductory Class on Monday 31st August 7:30pm-9:30pm at the Convent Primary School, Carrick Road, Boyle. Contact Trish on (087) 746 7282 for more information. Everyone welcome.
BOYLE GOLF CLUB
Well done to Enda Smith who won last weekend's 15th/16th August Fore Club Alliance competition sponsored by The Roscommon Herald with 39pts, 2nd Jim Mooney 37pts, 3rd Brendan Gaffney 36pts. Thursday 13th August saw the 12 hole competition won by Seamus Gallagher with an excellent score of 31pts, 2nd Lionel Lynn 29pts, 3rd Jonathan Egan 28pts. Friday's Scramble was won by Charlie O'Donnell, Pat Conroy, Lewis Shaw & Susan O'Mahoney. The club outing has been fixed for Saturday October 3rd at Portumna Golf Club. The first tee-time will be at 10.30am. Please put your name on the club noticeboard if you wish to attend. In King Harmon news, Lionel Lynn has progressed to the final after defeating Willie Tiernan. He awaits the winner of the other semi final between Seamus Gallagher and Niall Kearney.
BOYLE FARMERS MARKET
The Market is open from 10am to 2pm each and every Saturday in the grounds of King House, Boyle. If you would like to enjoy the best locally grown fresh and organic produce, then a trip to Boyle Farmers' Market on Saturday should be on your agenda. There is a wide range of seasonal produce, including organic fruit and vegetables, homemade jams and marmalade, organic free range eggs, fruit juices, gluten free/ sour dough/ spelt bread and all kinds of delicious home bakes are available every week. Alongside the food stalls are a number of crafters selling their handmade wares, personalized candles and knitwear. So why not come along and have a chat with the stall holders and avail of their ideas. For further information please a call Una Bhan on 071 9663 033.
DOG OBEDIENCE CLASSES
Dog Training services provide private one to one classes as well as group classes. Group classes are held in Annaghmore, Colooney and Sligo Golf Academy, Ransborough. At the moment the following classes are running: Wednesday puppy obedience, junior obedience. Friday Puppy play dates Agility. Saturday Socialisation and obedience course adult dog obedience junior handler. Sunday, competition obedience and town walk.
For more information please visit the Facebook page or contact Calry Dogs on 087 2765606 or
BINGO IN BOYLE
Every Tuesday evening in St. Josephs Hall Boyle at 8.30pm until 10.30pm. €1000 Jackpot to be won every week.
CV & OFFICE SERVICES
Are you looking for a new job? Are you having difficulty putting together your CV? Would you like some help? Then why not call into the Úna Bhán office in the grounds of King House, Boyle, where we will be delighted to give you any help, advice or information we can. A good CV could make all the difference in getting your job application through to the interview stage. We have a template and sheet of helpful tips to guide you through the process. We will also type your CV if you cannot do this yourself. Or you may just want to call in for a chat about your CV. All information will be treated in the strictest of confidence. For more details, contact Úna Bhán Tourism on 071 9663033. We also offer office services such as Photo Copying, Scanning, Laminating, Typing, Faxing, Binding and Printing are carried out at the Una Bhan office in the grounds of King House, for further information please contact the office on 071 9663033.