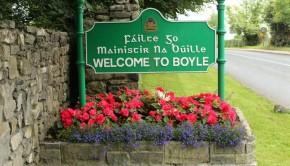 KING HOUSE EVENT
The Hermit Collective present "Poetry Day" in King House, Boyle on Thursday 28th April at 8pm. Music, art and poetry with Helen B Grehan, Brenda Wall Ryan, Gerry Boland and Siobhan Wilmott and others. The Hermit Collective are a wandering band of writers, painters, etchers, puppeteers, singers, accordion flute banjo guitar sitar saxophone and bodhran players, Viking potters, sculptors, film makers and more.
CYCLE AGAINST SUICIDE
Thanks to the people of Boyle who have offered a homestay for the cyclists when they make a Stopover in Carrick-on-Shannon on the 30th April! Leaving Complex at 10.30 am on May 1st! A 'homestay' means you collect your guest cyclist at Carrick Sports Complex at 5pm on the 30th, take him/her to your home, provide an evening meal, B & B and return to Complex at 9 am on Sunday 1st May! If you can provide a homestay, please log on to cycle againstsuicide.com
THE ANTON SAVAGE SHOW
The hugely popular Today FM, Anton Savage Show will broadcast live from Lough Key Forest Park on Friday 29th, 9am until 12pm. The guest list is now complete and will include some very well-known personalities. Full details on how to be an audience member will follow.
TAIZE PRAYER
There will be an hour of Taize Prayer in Galilee Community on Friday, 29th April from 9:00-10:00pm. The Galilee Community welcome visitors to view the Resurrection Garden installed in their chapel. Sisters of Mercy, Galilee Community, Tintagh, Boyle, Co Roscommon Phone: 071 966 4101 | Email: [email protected] | Website: www.galilee.ie
ARDCARNE REMEMBERS 1913-23
The Ardcarne Remembers Committee has organised commemorative weekend events to take place from Friday April 29th to Monday May 2nd in the Crossna Community Centre, Cleen Hall, Knockvicar.
CURLEW WALKERS
The next meeting of the Curlew Walkers club will take place on Sunday 8th May, meeting on the Crescent, Boyle at 9am or Leenan at 11am. The walk will take place at Devils Mother and will be a Climb/ Grade B+. Your leader for the day will be Zeta Griffin 086 3661 336. Please confirm times with leader or website prior to each walk www.walkingboyle.com.
COFFEE MORNING
Boyle Credit Union will be holding a Coffee Morning in aid of the RSPCA on Friday 13th May in the Credit Union, Green Street, Boyle from 11.30 until 2.30. All welcome.
FREGOLI THEATRE PRESENTS
"The Pleasure Ground" by Jarlath Tivnan is back in Boyle on Saturday 14th May for one night only. A wonderful strong play that will stay with you after the lights go down will be taking place in St Josephs Hall, Boyle at 8.30. Tickets are now on sale in Una Bhan Tourism and Taylors Jeweller.
CYCLING SPORTIVE
Details have been announced for the 2016 Lough Key Classic Cycling Sportive. The event will take place in Boyle on Sunday May 15th. Once again two routes will be on offer – 60k and 120k with a King of the Mountains optional extra that will take in Stauntons Brae on Kilronan Mountain.The previous two Classics have attracted large crowds and with the 2016 event moving to a Sunday, it is anticipated that there will be a big increase in entries. Further details available on curlieuwheelers.com and Curlieu Wheelers Facebook page
BRIGHT SPARKS QUIZ
Good Friday Quiz organising crew thank all who made the Bright Sparks Quiz-in aid of Boyle's Christmas Lights, such an enjoyable night. To all the teams who participated, and all those that couldn't attend but contributed so generously, to those who donated raffle prizes and to all who assisted in the organisation of the event, namely our Quiz Master, MC, Sheet Collectors & Correctors, Our Shop and Tea Ladies, our welcoming table, and our pre and post event ( set up and return) crew. €2500 was raised on the night. Thanks again to all who supported our Annual fundraiser.
BOYLE GOLF CLUB
Sunday 17th April saw the GOY Round 2 18 Hole Stroke won by Vincent Egan 65 nett, 2nd Seamus Gallagher 66, Gross Patrick Egan 75, 3rd David Wynne 67. Last Thurday 14th April saw the Mens Open Competition won by Patrick Egan 19 pts (c/b), 2nd Sean Heslin 19 pts and 3rd was Michael Reid 18 pts. Friday Evening's Scramble was won by Brendan Gaffney, Gerry O'Hara & Annette Bartlett.. A quiz and curry night has been arranged for Friday April 29th. Watch out for further details regarding that! Finally, a reminder in relation to membership fees."2016 Membership Fees are now due. Please forward to Geraldine McDermottroe, Membership Secretary, Carrick Road, Boyle. Members interested in paying by direct debit please call Michael on 086 2039182. Thank you to all who have paid membership to date.
BOYLE FARMERS MARKET
The Market is open from 10am to 2pm each and every Saturday in the grounds of King House, Boyle. If you would like to enjoy the best locally grown fresh and organic produce, then a trip to Boyle Farmers' Market on Saturday should be on your agenda. There is a wide range of seasonal produce, including organic fruit and vegetables, homemade jams and marmalade, organic free range eggs, fruit juices, gluten free/ sour dough/ spelt bread and all kinds of delicious home bakes are available every week. Alongside the food stalls are a number of crafters selling their handmade wares, personalized candles and knitwear. So why not come along and have a chat with the stall holders and avail of their ideas. For further information please a call Una Bhan on 071 9663 033.
CV & OFFICE SERVICES
Are you looking for a new job? Are you having difficulty putting together your CV? Would you like some help? Then why not call into the Úna Bhán office in the grounds of King House, Boyle, where we will be delighted to give you any help, advice or information we can. A good CV could make all the difference in getting your job application through to the interview stage. We have a template and sheet of helpful tips to guide you through the process. We will also type your CV if you cannot do this yourself. Or you may just want to call in for a chat about your CV. All information will be treated in the strictest of confidence. For more details, contact Úna Bhán Tourism on 071 9663033. We also offer office services such as Photo Copying, Scanning, Laminating, Typing, Faxing, Binding and Printing are carried out at the Una Bhan office in the grounds of King House, for further information please contact the office on 071 9663033.