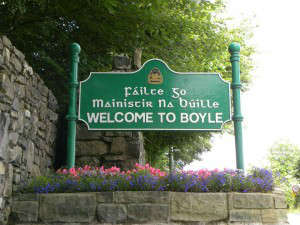 CookeryCourse
Cookery course will be held in St Joseph's Resource Centre in Boyle on Tuesday 26th of May, from 6:30pm – 9pm. It's all about easy–peasy and very yummy gluten, dairy and sugar free cooking and baking, with a focus on breakfast suggestions, snack ideas, desserts and bread making with a demonstration of a main meal that you can enjoy together with all the other samples you are going to taste. There will be loads and nobody will go home hungry! The evening will include recipes, as well as information and handouts on how to enjoy a healthy diet free of gluten, dairy and sugar. Places are limited so please book as soon as possible by calling  085 154 3354, Doris Rabe Nutritional Therapist & Cook"
Duck Race Fundraiser
Just a few days left until the Duck Race that will take place on the Boyle River on Saturday, May 30th commencing at the bridge on Bridge Street at 1pm. Ducks will cost €5 each  1st Prize, €500, 2nd Prize €200 and 3rd €100. Cards are being distributed around the town so please make sure you get your duck early! Your Support is most appreciated between 4pm & 6pm.Saturday, 4th July between 3pm & 5pm. All proceeds in aid of Boyle Courthouse Project.
Call for Creative Submissions
Calling all artists, photographers, designers and poets! Boyle Arts Festival invites you to enter two creative competitions in the run up to this summer's spectacular festival- The Open Art Exhibition and Poetry Competition. Providing a forum for artists to display their work, Boyle Arts Festival Open Art Exhibition has grown to attract entries from all over Ireland, the West being particularly strongly represented. The work is selected on merit and entries have been selected from part-time, full-time and occasional artists, giving a unique blend and standard of excellence. Entrants are judged for three overall prizes, as well as a prize for 'The Most Promising Artist Under 25′. The overall winner will be presented with the Sue Hill Perpetual Trophy. Entries will be accepted in any medium, to a maximum of 3 per person. If you would like to take part, works should be brought to the Church of Ireland School, Boyle (on the same road as the Garda Station and opposite the Family Life Centre) on: Friday, 3rd July between 4pm & 6pm.
Saturday 4th July between 3pm & 5pm. If you are more of a writer, Boyle Arts Festival Poetry Competition is the ideal opportunity to showcase your work and explore the world of words. You can enter as many poems as you like but all work must be the unpublished, original work of the author.  An Entry Form must accompany the work and this can acquired by emailing [email protected] or you can download it from our site. This year's competition will be judged by poet and writer, Joseph Woods who has judged numerous literary prizes including the Salmon Poetry Publication Prize, Irish Times/Poetry Now Prize, the International Strokestown Prize, Cúirt New Writing Prize and the Cork Literary Review Poetry Manuscript Competition. Full entry details for both competitions are available on our website www.boylearts.com. The nationally renowned Boyle Arts Festival will begin on Thursday, July 23rd and continue until Saturday August 1st. It promises a very exciting and diverse programme of events, including an eclectic mix of visual arts, music, drama, film, free family events, workshops, storytelling, readings and much more. For regular updates and competitions, check in with us on Facebook at and on Twitter at @boyle.arts.
Padre Pio Pilgrimage
The annual Padre Pio pilgrimage to Holy Cross Abbey, Co Tipperary will take place on Sunday 31st May. The pilgrimage will be led by the new Archbishop of Cashel & Emly, Dr. Kieran O'Reilly. A bus will leave The Crescent, Boyle at 8am sharp. For all enquiries please contact Moya on 071 966 2110
Ardcarne Community Childcare Services Ltd
A Family Fun Walk & Fete will be taking place on Monday 1st June (Bank Holiday Weekend) Meeting at Cootehall School at 12.30pm with a walk around Cootehall Village (approx 2km, suitable for all the family! Back to the School for refreshments and Fete with stalls, games and fun for all the family. Date for your Diary! Ladies night on Friday 26th June at 7.30pm in Tara Marina Restaurant & Bar, Knockvicar. Start with a glass of champagne on arrival followed by 3 course buffet meal and music with Carol O'Dowd. Tickets €20 & will be available soon.
King House Event
Revolted is a brace of solo plays by Donal O'Kelly to bark Bloomsday 2015. Joyced traces James Joyce's odyssey through Dublin up to his departure into exile. The performance earned Katie O'Kelly a "Best Solo Performance" in Edinburgh. Hairy Jaysus tells the story of Joyce's friend Sheehy-Skeffington, the forgotten executed man of 1916.  Sheehy-Skeffington was a pacifist and campaigner for votes for women. He was jailed under hard labour in June 1915, exactly a century ago for making forty speeches against recruitment to the British Army. Both shows together prompt the question – who was the more revolutionary in outlook – Sheehy-Skeffington or Joyce. Taking place on Thursday 11th June at 8pm in King House, Boyle. Tickets can be obtained in King House or for further information call 071 9663 242.
Registration for Toughest Muckers
Ireland's Toughest Muckers challenge in Lough Key Forest Park will take place on June 13th 2015.Online registration for the event is now open.The organisers hope to run two events per year. To register log on to www.toughmucker.ie
Boyle Golf Club
Well done to Jim Mooney who won the  PGA Tankard on Sunday 17th May with 41pts, 2nd Gary Carty 40pts, Gross Charlie O'Donnell, 3rd Ross Andrew 38pts. Charlie O'Donnell is the new leader in the Golfer of the Year Competition. Thursday 16th May saw the night Men's competition won by Niall Kearney 26pts, 2nd Owen Garvin 26pts, and 3rd John McGuinn 23pts. Fridays Scramble was won by Marie Gallagher, Jim Mooney, Michael Reid, & Michael Gilmartin, 2nd Niall Kearney, Criona O'Donnell & Paddy Nangle, 3rd Terry Canning, Michael Rush & Seamus Gallagher Competitions for this week are the Mens Competition on Thursday night, Friday is a nine hole scramble and next Sunday is an 18 Hole Stableford (Qualifier) The Club Foursomes semi-final pairings are Jim Mooney/Cillian Doyle V Jonathan Egan/Seamus Gallagher & Charlie O'Donnell/Ted Hestor V Michael Reid & Michael Gilmartin, Good luck to all the teams taking part. King Harmon. 1st round matches are to be completed by May 30th. In Ladies news well done to Michelle Quinn who won the PGA Tankard last Tuesday. Ladies Competitions this week are a nine hole on this Saturday May 23rd, draw moved to 1.00pm. There will be a beginners competition depending on numbers
Boyle Farmers Market
Every Saturday from 10am until 2pm, in the Grounds of King House, Boyle. The reasons to buy your food at the Boyle Farmers Market are endless, low food miles, seasonal produce and a wide range of produce in all weights and portion sizes. So come and see us this Saturday and help keep our culinary traditions alive! The Bridgestone Award winning Farmer's Market in Boyle provides an excellent range of local, wholesome and healthy produce. Boyle Market has available a large variety of freshly made gluten & wheat free breads, pastries and cakes that are very reasonably priced. Very competitively priced, locally grown and freshly picked fruit and vegetables, with a good selection of organic produce. Specialty honey, teas, jams and homemade gluten free quiche. Why not have a candle made for that special occasion, such as communion, christening or weddings. Gubeen salami, oatmeal and Olive Oil, fruit juices and home make fruit cakes. Please support your local Farmers Market held in the grounds of King House, Boyle every Saturday from 10am-2pm www.unabhan.ie for more details or call  071 9663033.
Bingo in Boyle
Every Tuesday evening in St. Josephs Hall Boyle at 8.30pm until 10.30pm. €1000 Jackpot to be won every week.