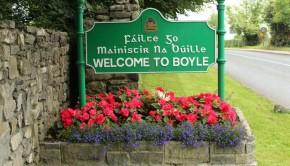 BOYLE ARTS FESTVAL
The Festival Booking Office is open next door to Marian's, Bridge St. Boyle. Drop in to pick up a programme or to find out about the other exciting events. The office is open every day (excluding Sundays) until Saturday 30th July. For more information, see our full programme or go to www.boylearts.com Tel. 071 9663085. Email [email protected] or follow us on Facebook, www.twitter.com/boyle_arts and Google+
OPEN ART EXHIBITION
Showcasing all styles, mediums and age groups. Boyle Arts Festival Open Submission Exhibition has grown from all over Ireland. The extremely popular and well attended Art Exhibition aims to provide a forum for artists who may find few opportunities to display their talent. The work is selected on merit and entries selected from part- time, full-time and occasional artists giving a unique blend and standard of excellence. Entrants are judged for three overall prizes with the overall winner presented with the Sue Hill Perpetual Trophy and a prize for "the Most Promising Artist under 25. Taking place in the Church of Ireland Parochial School up until Saturday 30th July from 10am until 6pm.
SHARON SHANNON & FRIENDS
Sharon the button accordion player from Co. Clare has recorded and toured with a who's who of the Irish and Global Music Industry. Among the many awards she has received include the Hot Press and Meteor Awards and also celebrates being the youngest ever recipient of the Meteor Lifetime Achievement Award. Sharon & Friends will be performing in the Church of Ireland on Tuesday 26th July at 8pm.
HISTORICAL WALK
Danny Tiernan will be taking you on a historical walking tour around Boyle on Saturday 30th July meeting at King House at 11am
AN EVENING OF POETRY & PROSE
Join the Moylurg writers as they give selected readings of poetry and prose. They will be joined by writer Ross Donlon who also judged this year's Boyle Arts Festival poetry competition with the winner being announced at this event. Taking place in King House on Saturday 30th at 5.30pm and is a free event.
BOYLE CAMERA CLUB
The Camera Club was the first fully designated Digital Camera Club in Ireland and currently has about 50 active members. The Club provides a forum to discuss photography and related topics of interest at all level. Beginners, Intermediate and Advanced, this exhibition consists of printed photographs and a slideshow which is taking place in the Boyle Library until Saturday 30th July.
BAF LUNCHTIME PERFORMANCE
Lizi Hannon, Lynda Moyse and Ceara Conlon will make a welcome return to the stage with a lunchtime performance in the Church of Ireland on Thursday July 28th. This is the second time the girls have performed at Boyle Arts Festival and anybody that saw them in 2014 will know that this event is not to be missed! Accompanying themselves on piano and guitar, they will once again delight their audience with a repertoire showcasing popular songs from all genres. For more information go to www.boylearts,com see Festival programme, or call to the BAF office on bridge street which is now open from Monday to Saturday from 11am until 6pm open from 10am until 6pm on the week of the Arts Festival.
JAMES WOODS DARTS COMPETITION
The James (Lal) Woods Memorial Darts Competition will take place on Friday 29th July in the Moylurg Inn. First prize €150 plus memorial cup (sponsored by the Woods family) and second prize €100 (sponsored by the Woods family). All proceeds in aid of Roscommon Mayo Hospice. This will be an 8pm start with boards open from 7.30pm. Entry fee will be €10 per player with raffle and spot prizes on the night. For further information call 086 7342251.
BOYLE GOLF CLUB
Club Matchplay: A reminder that quarter final matches of the King Harmon Cup are to be played by Saturday 30th July. Well done to Jonathan Egan who is the first player through to the semi-finals. Junior golf continues every Saturday Morning from 11am to 1pm for junior members. Membership enquires can be made to Michael Gilmartin on 0862039182.
SECRET GARDENS
Created by two artists in an intimate rural setting, this garden combines productivity, ornamental planting and permaculture. Winding grass paths lead to ponds, developing woodland and polytunnel, one jungle-themed, one for fruit and veg. With an eclectic mix of planting and sculpture, this 16 year old garden is still developing. Open11am until 5pm on Saturday 30th July, 21st August and 11 September. On R361 Boyle – Frenchpark, Right after Saddlers Inn. After approx 2.5km keep right on big bend, take 2nd lane on Right. Entrance just after first cottage. Saffron Thomas and Ian Stanley 086 869 1141 Ardsoran, Lisserlough, Boyle.
HOW TO WRITE YOUR NOVEL OR MEMOIR
attend a free two hour seminar conducted by American novelist and screenwriter Steven Lane Smith at King House, Boyle on Saturday 6th August at 2pm until 4pm. Bring a pen and your enthusiasm to learn more than 100 vital tips to help you organise, write, edit, publish and market your novel or memoir in a cordial setting surrounded by fellow first time authors.
SWIMMING LESSONS
Swimming lessons will be provided in Roscommon Leisure Centre this year for Boyle children from August 15th to 23rd. They will be conducted by the Irish Water Safety Association. Children aged between 7 and 13 years are eligible. Cost is €50 to include transport. Please contact Maureen McQuid on 086 3889907 or 071 9663057 email [email protected]
FAI SUMMER CAMP
This summer's FAI Summer Soccer Camp will take place in Celtic Park, Sligo Road, Boyle from August 8th to 12th. The camps cater for players of all abilities and participants are grouped according to ability and age to ensure that everyone gets the most out of being on a SportsDirect.com FAI Summer Soccer School. Camps run from 10.30am – 3pm from Monday to Friday. Beginners will learn the fundamental football skills needed to be a player and receive a fun and dynamic introduction to playing the beautiful game. More seasoned players will focus on more technical and skill-specific training and everyone will come together in the afternoon to participate in mini-leagues and small-sided games. The coaching programme for the week is fully aligned to our Player Development Plan and offers young players the opportunity to maximise their learning and development in a fun and safe environment whilst doing what every young football loves to do – SCORE GOALS!
BOYLE SUMMER SHOW
Calling all entrepreneurs, businesses or service providers …If you would like to display your goods or services at the show on August 21st and haven't contacted us already, contact Margaret on 086 – 3530190 to book your spot.
BOYLE GAA CLUB
Preparations are ongoing for our Monster Auction on 13th August, Some of the items to be auctioned include: furniture (3-piece suite, coffee tables, table and chairs), vouchers for Beauticians, Barbers, Hairdressers, Mens clothing, Hotel break, Car servicing, English higher level leaving cert grinds, signed Joe Canning Hurley, signed Roscommon Jersey, bags of turf, timber, pass for the races, bottles of spirits, 20 pints of beer, pass for Zip-it, yearly passes to Lough Key, Jewellery and voucher for Vets practice and a completed Will by Solicitor. If any business or individual would like to donate new/nearly new furniture, services or any item we could auction please ring or text Shane 086 880 3626 or Mary 086 821 1683.
COURTYARD MARKET
The Market is open from 10am to 2pm each and every Saturday in the grounds of King House, Boyle. If you would like to enjoy the best locally grown fresh and organic produce, then a trip to Boyle Farmers' Market on Saturday should be on your agenda. There is a wide range of seasonal produce, including organic fruit and vegetables, homemade jams and marmalade, organic free range eggs, fruit juices, gluten free/ sour dough/ spelt bread and all kinds of delicious home bakes are available every week. Alongside the food stalls are a number of crafters selling their handmade wares, personalized candles and knitwear. So why not come along and have a chat with the stall holders and avail of their ideas. For further information please a call Una Bhan on 071 9663 033.
CV & OFFICE SERVICES
Are you looking for a new job? Are you having difficulty putting together your CV? Would you like some help? Then why not call into the Úna Bhán office in the grounds of King House, Boyle, where we will be delighted to give you any help, advice or information we can. A good CV could make all the difference in getting your job application through to the interview stage. We have a template and sheet of helpful tips to guide you through the process. We will also type your CV if you cannot do this yourself. Or you may just want to call in for a chat about your CV. All information will be treated in the strictest of confidence. For more details, contact Úna Bhán Tourism on 071 9663033. We also offer office services such as Photo Copying, Scanning, Laminating, Typing, Faxing, Binding and Printing are carried out at the Una Bhan office in the grounds of King House, for further information please contact the office on 071 9663033.