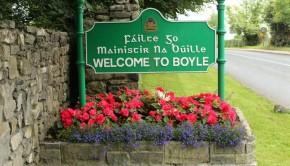 CHILDRENS CRAFT CLASSES
Fun Craft Workshops with Anna & Eva will take place on Tuesday 29th Wednesday 30th and Thursday 31st of March with something different made each day to take home (includes snack). Enquiries and bookings to Una Bhan, Grounds of King House, Boyle 071 966 3033
LIFE SAVER
Boyle Gardai are currently fitting a defibrillator in a weatherproof cover on the wall outside Boyle Garda Station, Military Road, Boyle. Boyle & District Angling Club purchased the Defibrillator and had the weatherproof box fitted with the help of the OPW. Signage and a list of contact numbers of Trained Personal will be put up in the coming week.
BOYLE CODER DOJO
Coder Dojo together with Foroige are delighted to welcome new and existing coders to register on Wednesday evening 30th March between 6pm and 7pm in Boyle Enterprise Centre, Quarry Lane, Boyle. Young People from 10 -16 years are eligible to join. This year we will be working with Scratch, Animation, and Science & Engineering. For further detail, call Noirin on 086-3880738 or email [email protected]
FOUNDATION COOKERY COURSE
A Free Foundation Cookery Course organised by Role Skillnet is taking place up until April 7th. The course is designed to prepare jobseekers for employment opportunities in the hospitality/nursing home and deli sectors. Places are also available for part-time workers on social welfare. Course locations are Abbey Community College and Boyle Enterprise Centre. For more information or to express interest please email [email protected] or call 071 9673440. Role Skillnet are based at Boyle Enterprise Centre and provide funding for training in small and medium sized businesses.
BOYLE ENTERPRISE TOWN
Gerry Whelehan, Branch Manager BOI, Boyle wrote: Bank of Ireland is delighted to announce that the 'Enterprise town initiative' will return to Boyle, following on from the success of 2015. A recent meeting was held in partnership with a local committee to discuss the various planned activities that will take place over Friday 1st April. The aim of the initiative is to promote and drive momentum for SMEs in the locality while showcasing all that the town has to offer.
CURLEW WALKERS
The next meeting of the Curlew Walkers club will take place on Sunday 3rd April, meeting on the Crescent, Boyle at 10am.The walk will take place at Creevy Pier (Donegal) Coastal and will be a Flat/ Grade B. Your leader for the day will be Lydia Fawls who can be contacted on 086 1544 418. Please confirm times with leader or website prior to each walk www.walkingboyle.com.
PILGRIMAGE TO KNOCK
The Apostolate of Eucharist Adoration invites all Parishioners on a special Year of Mercy Pilgrimage to Knock Shrine on Sunday 24th April. There is a full programme organised for Adults, Teens and Children. The launch of a National Crusade of Prayer for Vocations will take place at the 3pm Mass. The programme begins at 11.30. Bishop Kevin Doran is the chief celebrant and homilist Fr Declan Hurley Adm, Navan, will give a talk on "Gazing at the face of Mercy" at 1.30 in the Basilica.
TASTE OF SUCCESS
This year the taste of Success is going global with the Food Flight.
This year RTÉ and Lidl Ireland are launching a NEW way to enter the competition with 'The Food Flight'. In a nutshell, if you know of an Irish born person who is a born chef but – for whatever reason, is living abroad then 'tag' them on Facebook and get them to apply. We will fly ONE lucky person home from anywhere in the world – all expenses paid – to compete in the competition. So, you get a loved one home for a visit AND they might win 100,000 EURO – you can't say fairer than that! If you know someone who you think could win with one of their dishes – Tag them on the RTE One Facebook – https://www.facebook.com/RTEOne/?fref=nf or Twitter – @RTETasteSuccess – get them to apply.
BOYLE GOLF CLUB
The final round of the Spring League was held last weekend 19th/20th March. A strong surge by Team 8, consisting of Liam Whyte, Dave Purser & Marie Hanmore-Cawley was enough to see them take 1st place with 137 pts. In second was round 1 leader Sean Heslin, Liz Dwyer & Tommy King with a total score of 135 pts. In third position was Club Captain Ross Andrew along with Susan O'Mahoney & Gerry O'Hara who were one point further adrift. Big thanks to all who took part. Finally a message regarding membership fees – Please forward 2016 membership fees to membership secretary, Geraldine McDermottroe. Thanks to all who have paid to date. If members have not received renewal letter/email please call 086 2039182 or email [email protected].
CV & OFFICE SERVICES
Are you looking for a new job? Are you having difficulty putting together your CV? Would you like some help? Then why not call into the Úna Bhán office in the grounds of King House, Boyle, where we will be delighted to give you any help, advice or information we can. A good CV could make all the difference in getting your job application through to the interview stage. We have a template and sheet of helpful tips to guide you through the process. We will also type your CV if you cannot do this yourself. Or you may just want to call in for a chat about your CV. All information will be treated in the strictest of confidence. For more details, contact Úna Bhán Tourism on 071 9663033. We also offer office services such as Photo Copying, Scanning, Laminating, Typing, Faxing, Binding and Printing are carried out at the Una Bhan office in the grounds of King House, for further information please contact the office on 071 9663033.