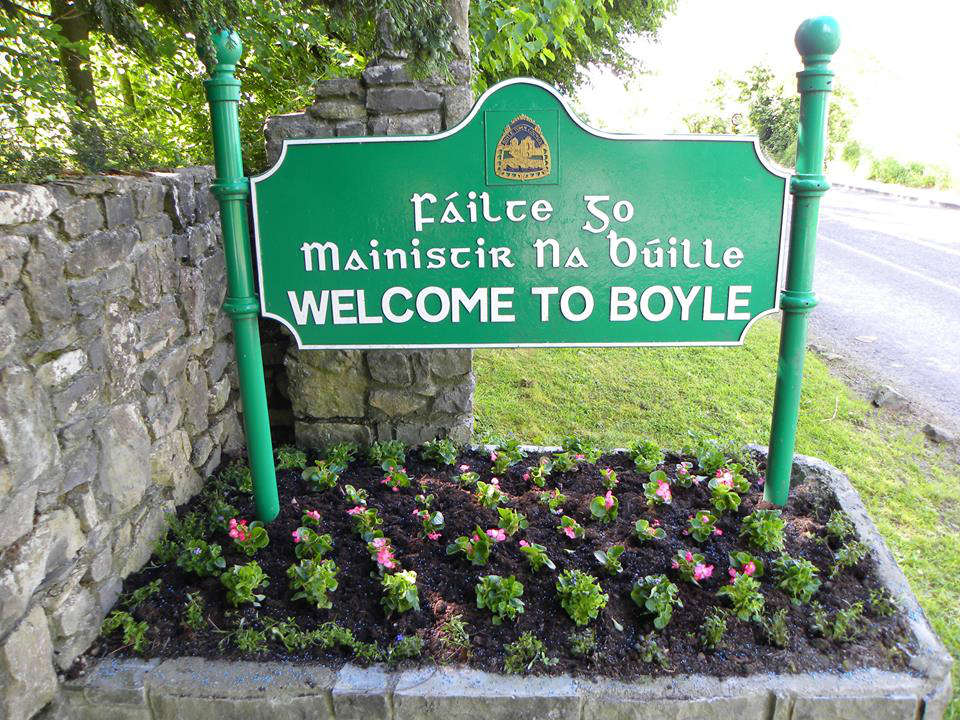 ARTS BOOKING OFFICE
The Boyle Arts Festival Office is open daily on Bridge Street, beside Marians Fashions; from 11am to 4pm. call for information and bookings: 071 966 3085.
WALKING ON RIPPLES 
This is the latest entry in the well-stocked category of fishing books in the great literary or 'romantic fishing' tradition. It's reflective, speculative and full of allegory, memory and metaphor. Making 'Walking on Ripples' different, however, is the fact that chapters are a mix of both fiction and non-fiction, and are unified by this great watery theme running throughout. Everything is linked, the real and the imagined. It's an evocative (and sometimes dark) sideways look at the world down the length of a fishing rod, with a frequent touch of humour thrown in. David Murphy was born in Cork but has lived north of Dublin for many years. This is his first work featuring non-fiction. Tuesday, 28th July at 4pm in Mattimoe's Bar, doors will open at 3.45 and is a free event. www.davidmurph.wordpress.com
PATRICK RAFTER PLAYS VIOLIN
Regarded as one of Ireland's most promising young musicians, Patrick has toured Europe, Asia and America as Concert Violinist, Chamber and Orchestral musician. Born into a musical family, Patrick received a full scholarship to the Royal Irish Academy of Music where he commenced studies with Eyal Kless. Patrick studied with Fionnuala Hunt for 5 years at RIAM. During his time with Fionnuala, he was the winner of all 3 senior competitions at the Feis Ceoil in Ireland aged just 17. This Performance will take place on Wednesday 29th July at 1pm in King House with doors opening at 12.40pm. Call for information and bookings: 071 966 3085.
NORTH WEST CURATORS IN CONVERSATION
Join in at the Herald building for a conversation with curators from contemporary art spaces within the Northwest region. Speakers include Megan Johnston (Director, The Model, Sligo), Sarah Searson (Director, The Dock, Carrick-on-Shannon) and Linda Shevlin (Curator in Residence, Roscommon Arts Centre). Find out how these venues programme their visual art galleries; pick up some tips on working with curators and getting your work noticed. Thursday 30th July in the Herald Building at 2pm until 4pm and is a free event.
PADDINGTON BEAR
Prepare for lots of marmalade sandwiches and mayhem as the enchanting tale of a little bear from Peru, lost at Paddington Station, comes to the big screen in King House on Friday 31st July, doors open at 2.45pm. A film for all the family!
BOYLE ABOVE AND BEYOND
Photographer and film maker Darren Purcell moved to Boyle in 2013 and was quickly bowled over by the beauty of the town and the warm, welcoming nature of its people.
'Boyle – Above & Beyond' is a short film exploring Boyle in a way never done before, with sweeping vistas and spectacular aerial viewpoints.  Saturday, 1st August at 4pm in King House (Doors 3.30pm) €5 www.visionary.ie
SUMMER READING BUZZ
Following the great success of the first two years of the summer reading challenge, the Boyle Library have joined up with a number of other local authorities to offer children the opportunity of taking part in the 2015 Summer Reading Buzz. The challenge will take place through the months of July and August. Children will register for the challenge and receive a loyalty card, and a small gift. With every book the child reads they will have their card stamped and once they have read six books they will receive a small prize, and on completing the challenge by reading ten books they will receive further prizes. When the child has completed the challenge and filled in their card (ten stamps = ten library books read) they will also receive a certificate at the end of the summer. Registration cards are available in the Boyle Library.
SECRET GARDENS
These hidden gardens, large/small and in some wonderful settings which offer inspiration, ideas and tranquillity – a perfect day out.  One such garden belongs to Saffron Thomas and Ian Stanley. The garden which has been created by two artists in an intimate rural setting combine's productivity, ornamental planting and permaculture. The garden opens to view from 11am until 5pm on Sunday 2nd August and 6th September. The garden can be found on the Boyle /Frenchpark Road, turn right at the Saddlers Inn, after approx 2.5km keep right on the bend, take 2nd lane on right and entrance just after first cottage.
THE MICHAEL COLEMAN STORY
This year is the 70th Anniversary of the death in New York of Michael Coleman, that renowned fiddle player from Knockgrania who emigrated to America one hundred and one years ago.  To fittingly mark these anniversaries, the weekly summer sessions in the Coleman Music Centre tells the story of Michael Coleman. (1891-1945) Michael Coleman himself, very well portrayed by Eamon McCoy resonates his life story. Show runs each Wednesday during July and August at 9pm. Booking at 0719182599 or www.colemanirishmusic.com
SUMMER SOCCER CAMP
The FAI Summer Soccer Camp is coming to Boyle this August. 5 days of top quality coaching will take place in Celtic Park, Boyle from August 10th to the 14th 2015. Camps are open to boys and girls aged between 6 and 14. They run from 10.30am until 3pm Monday to Friday. Cost is €65 with participants receiving a kit jersey, shorts, socks, backpack, football and certificate. Book online at summersoccerschools.ie or call 1890 653 653.
BOYLE GOLF CLUB
Thursday 16th July saw the night competition won by Lorcan Egan 27pts, 2nd Dave Purser 25pts, Friday 17th July Scramble was won by President Charlie O'Donnell, Geraldine McDermottroe & Michael Reid, 2nd Gerry Carty, Susan O'Mahoney & Cillian Doyle, 3rd Brendan Gaffney, Carmel Keenan & Mervyn Boles. Date for your diary is The Captains Weekend July 30th – August 2nd including Par Three Competition on Thursday, Captains Scramble on Friday and Captains Prize on August Sunday. Golf lessons continue this each Wednesday evening 6.30-7.30pm with PGA Professional Philip Murphy. The lesson run for five consecutive Wednesdays and are open to all golfers. Cost per lesson is €5.00 per person. Private lessons can be arranged by appointment. To book a place or for more information call 086 0682116.  Commiserations to our Sligo supporters following the defeat in the Connacht Final and good luck in the qualifiers.
BOYLE FARMERS MARKET
The Market is open from 10am to 2pm each and every Saturday in the grounds of King House, Boyle. If you would like to enjoy the best locally grown fresh and organic produce, then a trip to Boyle Farmers' Market on Saturday should be on your agenda. There is a wide range of seasonal produce, including organic fruit and vegetables, homemade jams and marmalade, organic free range eggs, fruit juices, gluten free/ sour dough/ spelt bread and all kinds of delicious home bakes are available every week. Alongside the food stalls are a number of crafters selling their handmade wares, personalized candles and knitwear. So why not come along and have a chat with the stall holders and avail of their ideas. For further information please a call Una Bhan on 071 9663 033.
BINGO IN BOYLE
Every Tuesday evening in St. Josephs Hall Boyle at 8.30pm until 10.30pm. €1000 Jackpot to be won every week.
CV & OFFICE SERVICES
Are you looking for a new job? Are you having difficulty putting together your CV? Would you like some help? Then why not call into the Úna Bhán office in the grounds of King House, Boyle, where we will be delighted to give you any help, advice or information we can. A good CV could make all the difference in getting your job application through to the interview stage. We have a template and sheet of helpful tips to guide you through the process. We will also type your CV if you cannot do this yourself. Or you may just want to call in for a chat about your CV. All information will be treated in the strictest of confidence. For more details, contact Úna Bhán Tourism on 071 9663033. We also offer office services such as Photo Copying, Scanning, Laminating, Typing, Faxing, Binding and Printing are carried out at the Una Bhan office in the grounds of King House, for further information please contact the office on 071 9663033.