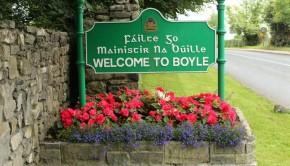 COFFEE MORNING AT TAYLORS GIFTWARE
A Coffee Morning will take place in Taylor's Interiors Giftware store, Bridge St. Boyle
Everyone is welcome to the morning which will take place on Friday March 4th commencing at 10.30am. All proceeds raised will go to the Irish Cancer Society.
RATES PUBLIC MEETING
 Most businesses have recently received correspondence from the Valuation Office in relation to the proposed rates revaluation in County Roscommon. Boyle Chamber of Commerce last week attended a meeting of Roscommon County Council addressed by Mr. Patrick Conroy from the Valuation Office in relation to this. Boyle Chamber will hold an informal public meeting next Tuesday, 1st March 2016 at 6:30pm in the Enterprise Centre to let people know more about the rates revaluation process and to discuss the issues arising for businesses. Anyone who will be affected by these changes are welcome to come along.
CIARAN EMMETT SESSIONS
On Friday 4th March King House Boyle will be holding a weekend launch and fundraising featuring: Charlie McGettigan, Mary &Tommy Finn, Frankie Simon, Brendan & Ollie Farley, Rosie Stewart, Paul & Brendan Emmett, Bernard Flaherty & Joe Kennedy among others. MC on the night will be Tony Conboy. Tickets are now on sale in Una Bhan Tourism, Grounds of King House, Boyle. On Saturday 5th March sessions at various venues around the town from 4pm, all musicians welcome. For further information visit www.realboyle.com all proceeds to Roscommon/Mayo Hospice & The Tommy Simon Fund.
CURLEW WALKERS
The next meeting of the Curlew Walkers club will take place on Sunday 6th March, meeting on the Crescent, Boyle at 9am.The walk will take place on Achill Island and will be a Climb/ Grade B + C. Your leader for the day will be Eileen Callaghan who can be contacted on 086 194 0651. Please confirm times with leader or website prior to each walk www.walkingboyle.com.
RAILWAY PRESERVATION SOCIETY OF IRELAND
The RPSI will run a Vintage Steam Train from Carrick to Boyle and return on Sunday 13th March. The train will be headed by Loco No.4 built in 1947 and acquired by the RPSI in 1971. The carriages were built by Cravens of Sheffield in the early 1960's and acquired by the Society in 2006 when the last of them came out of service.
Information: 11.00: Train will depart from Connolly Station for Carrick Tickets : 14.25: Depart from Carrick. Tickets for the Carrick / Boyle trip available in Mulveys, Main Street, Carrick. 5.25: Depart from Boyle.
ST PATRICKS DAY APPROACHES
The Boyle St Patricks Day Committee is in full swing, organising the Parade which will take Place on Thursday 17th March at 3pm starting from Mockmoyne, via Bridge Street to the Crescent. We are appealing to all Businesses, Clubs, and Associations and Societies to enter a Float this year and contribute to making it our Best ever parade. While entering a Float to the Parade is Free, any donation given will be greatly received. Looking forward to you all joining us, collecting in Mockmoyne from 2.15pm onwards.
FREE COOKERY COURSE
A Free Foundation Cookery Course organised by Role Skillnet will take place in Boyle from March 21st until April 7th. The course is designed to prepare jobseekers for employment opportunities in the hospitality/nursing home and deli sectors. Places are also available for part-time workers on social welfare. Course locations are Abbey Community College and Boyle Enterprise Centre. For more information or to express interest please email [email protected] or call 071 9673440. Role Skillnet are based at Boyle Enterprise Centre and provide funding for training in small and medium sized businesses.
BOYLE CELTIC SOCCER SISTERS
This Easter Boyle Celtic FC will host the FAI Soccer Sisters Camp. The camp is for girls of 7 to 12 years of age. It will take place at Boyle Celtic FC on the Monday and Tuesday 21st and 22nd March from 10am-2pm. Bookings can be made at https://payments.fai.ie/…/soccer-sisters-easter-camps-21-03… The camp will be run by fully qualified female coaches who are playing in the Women's National League. This is an ideal opportunity to introduce your daughter to the game or to help them to develop their skills further. Boyle Celtic have recently introduced U14 and U16 teams along with their U9 academy so it is hoped that initiatives such as the Soccer Sisters Camp can help the girls game to grow and prosper in the region.
BOYLE GOLF CLUB
On Sunday 24th February saw the18 hole stableford won by Sean Heslin, 39 pts; 2nd Patrick Egan, 38 pts; Gross Gary Carty, 30 pts (gross score) & 3rd was Charlie O'Donnell 36 pts. Last week's weekly 9 hole open competition was won by Tommy King, 21 pts; 2nd Charlie O'Donnell, 20 pts. We wish Captains Ross Andrew & Tish Perry every success for their year ahead.
MAKING BOYLE BEAUTIFUL
From seeds to flowers: Mandy Toolan of Boyle Tidy Towns committee is appealing to any flower lovers who may be growing their own flowers from seeds, and would like to donate some to enhance Boyle town, to get in touch with her call 086 081 1434 or e-mail on [email protected]
MARY Mc ALEESE COLLECTION
Former President Mc Aleese has kindly donated State gifts from her time as President of Ireland to the nation, through the Office of Public Works for the enjoyment of the people of Ireland. Roscommon C0 Council is delight to present the exhibition of these state gifts at the historic King House, Boyle. Co Roscommon which opens the first week of April, well worth a visit.
CV & OFFICE SERVICES
Are you looking for a new job? Are you having difficulty putting together your CV? Would you like some help? Then why not call into the Úna Bhán office in the grounds of King House, Boyle, where we will be delighted to give you any help, advice or information we can. A good CV could make all the difference in getting your job application through to the interview stage. We have a template and sheet of helpful tips to guide you through the process. We will also type your CV if you cannot do this yourself. Or you may just want to call in for a chat about your CV. All information will be treated in the strictest of confidence. For more details, contact Úna Bhán Tourism on 071 9663033. We also offer office services such as Photo Copying, Scanning, Laminating, Typing, Faxing, Binding and Printing are carried out at the Una Bhan office in the grounds of King House, for further information please contact the office on 071 9663033.