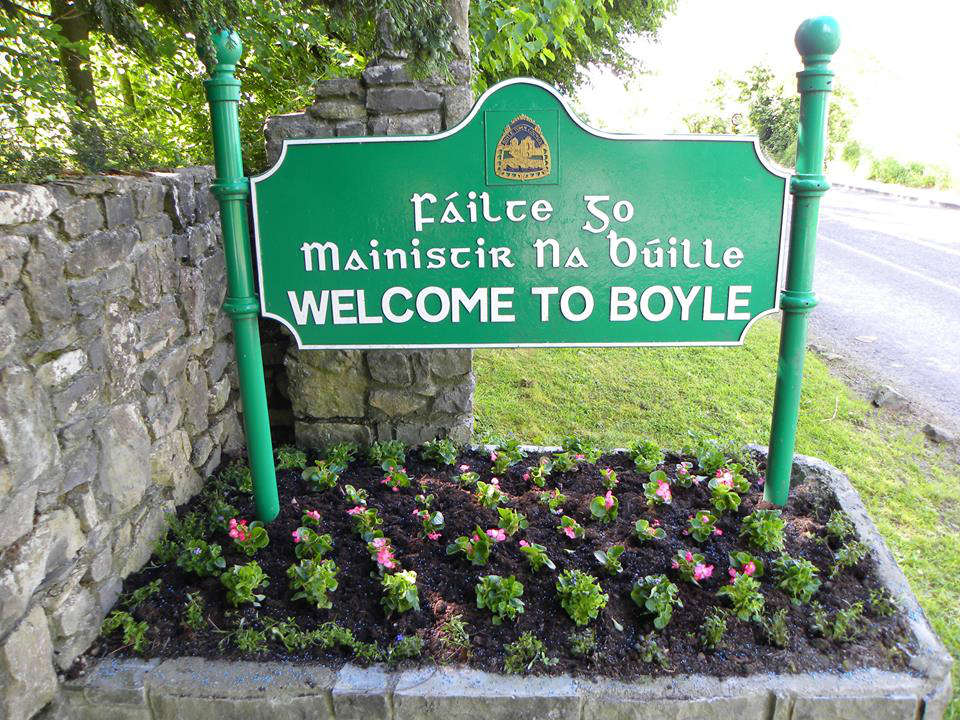 Collectors Required
The Irish Heart Foundation is the national charity fighting heart disease and stroke. Their annual church gate collection will be taking place August 8th and 9th and collectors are currently being sought for Boyle church, Arigna, Mantra, Kilmactranny, Ballinagare, Breedogue, Corrigeenroe, Creeve, Elphin, Half Parish and Keadue. If you wish to volunteer with the charity please contact Breffni on 0863806941 or [email protected].
 All Aboard
There is great excitement mounting as the 'Lough Key / Boyle Shuttle Bus' is ready to commence for the 2015 season on Wednesday 1st July. The Shuttle Bus will run 6 days a week, three times a day, Monday through to Saturday for the months of July and August. The fare is only €1 per adult and under 16's for 50 cent. The first bus of the season will depart from Boyle Town Clock, the Crescent, departing at 10.30am, Wednesday 1st July.
Departing from the Crescent at 10.30am 2.30pm and 6.30pm, from Military Road at 10.40am 2.40 and 6.40pm and from Lough Key Visitor Centre at 11am 3pm and 7pm.
Boyle Town and More are confident the shuttle bus will attract many of the 100,000 visitors to Lough Key to visit our town again this year. The support of the Businesses in town is greatly acknowledged as we have almost fifty subscribers to this initiative. The shuttle Bus pilot come to fruition in 2014 with over 400 passengers availing of the service and the confidence in running it again in 2015 was supported quickly by our Main Sponsor – Boyle Today.com which gave great impetus and a cash injection to the project.
An updated map brochure to accompany the Shuttle Bus will include all sponsors while highlighting the many reasons to take the bus to Boyle and all this detail can be found in Lough Key Forest & Activity Park on the rotating advertising screen in the Visitor Centre, which will be constantly updated. Boyle Town and More are confident that the Shuttle Bus this year will attract many of the visitors to Lough Key- to visit our town of Boyle. The support of all subscribers and our main Sponsor is greatly appreciated and we ask you to promote this service at every opportunity especially through social media.
Finally we invite you to join us at the Crescent Boyle on Wednesday 1st July at 10.30am for the 1st trip of the Season 2015 leaving Lough Key Forest Park to visit Boyle at 11am.
Coleman Music Centre
The 'Summer Seisiún' makes a welcome return to the Coleman Music Centre, Gurteen, commencing on Wednesday July 1st. The twice weekly shows are held on Wednesday and Saturday nights at 9pm during July and August. The Wednesday Night Seisiún tells the story of the world renowned fiddle player, Michael Coleman (1891-1945). This musical dramatisation brings to life his background and the characters in the local community who inspired and developed his gift for music and follows his journey to the revolutionary recording studios of 1920s and 30s New York. The star studded cast includes, Eamon McCoy portraying Michael Coleman, Junior Davey – fear an tí and bodhrán, Declan Folan – fiddle, Michael Hurley – flute, PJ Hernon – button accordion, Fiona Doherty – fiddle, Adrienne Lee – fiddle, Niamh McGloin – harp and accordion, Cliodhna Henry – vocals, flute and keyboard and dancers Sandra & Laura Ganley. The Saturday Night Seisiún is an informal Junior Music Session. It is a great opportunity for young musicians to play with other musicians in a relaxed informal music setting. Fiona Doherty and Coleman Music Centre musicians will be there to host the session's each week. Fáilte roimh gach duine! This is open to all and Admission is free.The atmosphere is cordial and friendly and visitors have an opportunity to meet up during the interval over a complimentary cup of tea/coffee. Seisiún' is not just a concert but also a unique traditional cultural experience enabling visitors from home and abroad to enjoy a taste of the real Ireland! Enquiries – 0719182599 or www.colemanirishmusic.com
Roscommon Tourism Showcase
Visitors to the Abbey Hotel, Roscommon on Sunday the 5th July at 3pm are in with a chance to win an overnight stay with dinner and breakfast from Kilronan Castle Estate and Spa, dinner for two at the award-winning Cedar Restaurant at Athlone Springs, free flights from Ireland West Airport Knock, family passes to Arigna Mining Experience, Glendeer Pet Farm and Strokestown Park, a Combination Pass to Lough Key Forest and Activity Park and much more.Fun for all the family is promised at the event with a chance to meet Martin & Patrick from the award winning Moone Boy TV series. Glendeer Pet Farm with have a selection of adorable animals on display. Other attractions will include a Climbing Wall, Exhibitions and Demonstrations from locally produced food, craft, attractions and accommodation providers. A chance to sample local Roscommon Food will also be on offer, along with tasters of our locally brewed beers; the 'Sheep Stealer' and 'Buck It', with demonstrations from Black Donkey Brewery on the day.According to Valerie Stenson, Manager of Arigna Mining Experience and committee member of Roscommon Community Tourism Network (RCTN), "we have so much to offer our visitors; you can soak in the scenery on a boat trip in Lough Ree or a walk on the Miner's Way and Historical Trail, fill your day with fun and adventure at Lough Key Forest Park or tour our historic houses and museums. There really is something for everyone and 'Showcase Roscommon' is a great chance to highlight this."
Roscommon Community Tourism Network is a not-for-profit community organisation with an impressive list of achievements over the past three years, including branded brochures, discount booklets, www.roscommon.ie, social media pages, promotional events and 11 tourism videos which are available online. The group has received support from Roscommon LEADER Partnership and Roscommon County Council and over 250 tourism businesses are benefitting from their activities. Plans for the future include a new suite of brochures, packaged offerings for tourists and increased online marketing activities. "We have found that working together to promote our county is much more economical and efficient than each business trying to do it on their own", said Patricia Golden, manager of Una Bhan Tourism and member of Roscommon Community Tourism Network. Anyone who wishes to take part in the Showcase event or learn more can contact Una on 090 66 30252 or email [email protected]. Note for Editors: Roscommon Community Tourism Network Ltd is a not-for-profit community organisation with the objective of promoting tourism and tourism related businesses in the Roscommon area. The group was formed in 2010 in response to the Roscommon Tourism Strategy. Network members include the tourism industry and community representatives. 
Secret Gardens
These hidden gardens, large/small and in some wonderful settings which offer inspiration, ideas and tranquillity – a perfect day out.  One such garden belongs to Saffron Thomas and Ian Stanley. The garden which has been created by two artists in an intimate rural setting combine's productivity, ornamental planting and permaculture. The garden opens to view from 11am until 5pm on Sunday 12th / 26th July 2nd August and 6th September. The garden can be found on the Boyle /Frenchpark Road, turn right at the Saddlers Inn, after approx 2.5km keep right on the bend, take 2nd lane on right and entrance just after first cottage.
King House Event
Presenting, Indigestion by Seamus O'Rourke on Friday 10th July at 8pm. Following on his successful performance of The Sand Park in King House, Seamus O'Rourke is back with his new one man show. A man from West Cavan relays the story of his life in a story of hilarious situations, hostile confrontations, accidental love and most of all Hope. This is Seamus O'Rourke doing what he does best…simple storytelling.
Disco Time
Boyle Horse & Summer Show will hold their 80s style disco in Dalys Storehouse on Saturday July 11th a great night is guaranteed!  The Summer Show will take place on Sunday August 23rd on grounds opposite Boyle Celtic.
Curlew Warrior
Sunday July 12th, 11am: This annual 10k Walk, Run or Hike will take place on Sunday 12th July at 11am with all proceeds to MS Roscommon. Starting at Boyle Credit Union and finishing at Boyle River. Registration will commence at Credit Union, Car Park. Prizes for 1st female, 1st male, 1st team and best period or fancy dress.  Refreshments and lots of spot prizes. For Further Information, register on runireland.ie or contact Tony Byrne 086 232 4020, [email protected] 071 966 4702
Summer Camp
There will be a multi activity summer camp taking place in Ballinameen from Monday 13th July to Friday 17th July, with discounts for families. There are many activities planned including: Gaelic, Soccer, Tag Rugby, Rounders, Athletics, Orienteering, Art and Crafts etc. A great week's entertainment is guaranteed! For further information please call or text Ruth on 086 1055659 to confirm your child's place.
The Matchmaker
Starring television favourite Mary McEvoy and actor and comedian Jon Kenny, The Matchmaker is based on the novella "Letters of a County Matchmaker" by John B. Keane, one of Ireland's most celebrated writers.The play follows the efforts of Dicky Mick Dicky O Connor to make matches for the lonely and lovelorn from all parts of the country.At the centre of this celebrated production is John B Keane's marvellous and mischievous wit coupled by his unparalleled way with words. John B. Keane takes us back to a simpler time, when even phones were few and far between and the only web was one left behind by spiders. The show is directed by Michael Scott and not suitable for audiences under 16 years. Taking place in St Josephs Hall on Saturday 25th July, this is one not to be missed.
Angling Diary Date
The Paddy Sharkey Memorial Perpetual Lough Gara Cup Open Pike Angling Competition (boat fishing) will take place on Sunday 26th July. Fishing from 11am until 6pm. Entries will be taken at Templeronan Pier. Presentation in The Moylurg at 8:30pm. Refreshments served at the Lakeshore throughout the day. This is a Strict Catch and Release Policy. For further information Contact Jane at 086 8301261.
Summer soccer camp at Boyle Celtic
The FAI Summer Soccer Camp is coming to Boyle this August. 5 days of top quality coaching will take place in Celtic Park, Boyle from August 10th to the 14th 2015. Camps are open to boys and girls aged between 6 and 14. They run from 10.30am until 3pm Monday to Friday. Cost is €65 with participants receiving a kit jersey, shorts, socks, backpack, football and certificate. Book online at summersoccerschools.ie or call 1890 653 653
Call for Creative Submissions
Calling all artists, photographers, designers and poets! Boyle Arts Festival invites you to enter two creative competitions in the run up to this summer's spectacular festival- The Open Art Exhibition and Poetry Competition. Full entry details for both competitions are available on our website www.boylearts.com. The nationally renowned Boyle Arts Festival will begin on Thursday, July 23rd and continue until Saturday August 1st. It promises a very exciting and diverse programme of events, including an eclectic mix of visual arts, music, drama, film, free family events, workshops, storytelling, readings and much more. For regular updates and competitions, check in with us on Facebook at and on Twitter at @boyle.arts  The pace will be very leisurely and totally focussed on the social aspect of cycling.We will cover whatever distance you are comfortable with and stop for tea/coffee and refreshments during or after the spin.Current members will accompany you every step of the way.If you were thinking of getting back on your bike this year, these Social Sunday spins are for you.
Boyle Golf Club
There was a large turnout for Charlie O'Donnell's Presidents Prize on Sunday 21st June with Martin Wynne winning his first "Major" with a score of 95.5. At the presentation Club President Charlie O'Donnell thanked everybody who took part and said it was a great honour to serve as President. The full list of winners is as follows…..1st Martin Wynne, 2nd Cian Smith, 27 Gross Patrick Egan, 3rd Seamus Gallagher, 18 Nett Sean.  McLoughlin, Categories 0-13 Gerry Carty, 14-18 Owen Garvin, 19-28 Shane Loftus, 1st Nine Sean Heslin, 2nd Nine Pat Brogan, 3rd Nine John McGuinn, Past President Pat Conroy, , Senior, Terry Bright. Student Niall Kearney. Visitor Colm Connolly (Ballymote). Ladies Winners 1st, Michelle Quinn 2nd Liz Dwyer, Gross Tish Perry, 3rd Claire Cryan. Thursday 18th June saw the night Mens Competition won by Liam Whyte 28pts, 2nd Pat Conroy 27pts, 3rd Jonathan Egan. Friday's Presidents Scramble was won by Liz Dwyer, Paddy McLoughlin, John Cryan & Seamus Gallagher 2nd Brendan Gaffney, Mary McKeon & Paddy Egan, 3rd Susan O'Mahoney, Carmel Keenan, Vincent Egan & Noel Tobin. Open week commences on Monday July 6th with the Ladies and Gents nine hole with Ladies Day commencing on Tuesday 8th. A full programme is on the notice board and on the website. Please encourage friends and colleagues from the club or other clubs to take part. Food will be available each day. Golf lessons continue on Saturday mornings at 11.00am for Boys and Girls
Boyle Farmers Market
The Market is open from 10am to 2pm each and every Saturday in the grounds of King House, Boyle. If you would like to enjoy the best locally grown fresh and organic produce, then a trip to Boyle Farmers' Market on Saturday should be on your agenda. There is a wide range of seasonal produce, including organic fruit and vegetables, homemade jams and marmalade, organic free range eggs, fruit juices, gluten free/ sour dough/ spelt bread and all kinds of delicious home bakes are available every week. Alongside the food stalls are a number of crafters selling their handmade wares, personalized candles and knitwear. So why not come along and have a chat with the stall holders and avail of their ideas. For further information please a call Una Bhan on 071 9663 033.
Bingo in Boyle
Every Tuesday evening in St. Josephs Hall Boyle at 8.30pm until 10.30pm. €1000 Jackpot to be won every week.
CV and Office Service
Are you looking for a new job? Are you having difficulty putting together your CV? Would you like some help? Then why not call into the Úna Bhán office in the grounds of King House, Boyle, where we will be delighted to give you any help, advice or information we can. A good CV could make all the difference in getting your job application through to the interview stage. We have a template and sheet of helpful tips to guide you through the process. We will also type your CV if you cannot do this yourself. Or you may just want to call in for a chat about your CV. All information will be treated in the strictest of confidence. For more details, contact Úna Bhán Tourism on 071 9663033. We also offer office services such as Photo Copying, Scanning, Laminating, Typing, Faxing, Binding and Printing are carried out at the Una Bhan office in the grounds of King House, for further information please contact the office on 071 9663033.