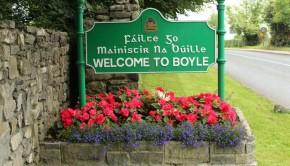 Craft & entertainment workshops
Úna Bhán Tourism are holding children's craft and entertainment workshops in Boyle Library on Wednesday 2nd Thursday 3rd and Friday 4th November from 2pm until 4,30pm. The workshops will cost €10.00 per day or €25.00 if your child is doing all 3 workshops. Children from 6 years to 12 years are all welcome. Anna and Eva will be showing the children the art of craft making and other entertainment. Snacks will be provided for the children and are included in the price. Book now, spaces going quick. Call 071-9663033. Meeting in Una Bhan Craft Shop at 1.50 pm in the Grounds of King House, Boyle.
Ardcarne Christmas shop opening
Enjoy the Grand Opening of the Christmas Shop at Ardcarne Garden Centre, Boyle and Roscommon Town on Friday 4th November from 2pm until 8pm. Come along and soak up the atmosphere and experience the best in all things Christmas. Enjoy a glass of complementary mulled wine and nibbles, meet family and friends and help support your local Roscommon Mayo Hospice. Musical entertainment from 5pm until 8pm at Ardcarne Garden Café, Boyle, serving delicious home cooked food. So make sure you get along to Ardcarne Garden Centre, Boyle and also Roscommon Town, Friday 4th November from 2-8pm and experience this delightful Christmas occasion for all the family.
Supper Social
Boyle Church of Ireland will be holding their Annual Supper Social in the Saddlers Inn on Friday 4th November, music will be performed by Sean Brennan, with doors opening at 9pm.
Curlew Walkers Club
The next meeting of the Curlew Walkers club will take place on Sunday 6th November and will meet on the Crescent Boyle at 9am. This will be a flat climb B+C and will be a walk for Charity at Glenfarne Your leader for the day will be Frances Mc Donagh 087 6787257. Please confirm times with leader or website prior to each walk www.walkingboyle.com.
African Fashion Week in Boyle
The Africa History Month Ireland is here again in the month of November as we celebrate African Caribbean in Diaspora here in Ireland. The African Fashion Week Ireland 2016 will kick start on the 12th November, 2016 in King House, Main Street Boyle. This year's fashion week show will showcase the best of African Caribbean through fashion as powerful, focused, determined, thriving, stylish, modern and in control. The Designers at AFWI fashion showcase will include both emerging and established brands across ready-to-wear, accessories and footwear. The show will continue to build its platform as an authority in the fashion industry; the African Fashion Week Ireland will be attracting an audience of UK and international press and buyers at the King House, Boyle.
Hairspray Tickets Now Available
With just three weeks to go until opening night, Boyle Musical Society is delighted to announce that tickets for their eagerly anticipated new show, 'Hairspray', are now on sale. Tickets can be booked or purchased from the BMS ticket office, which is situated beside Marian's on Bridge Street. The office will remain open until 2:30pm. Don't miss this unique opportunity to get hold of some of the best seats in the house! A detailed seating plan will soon be available on www.boylemusicalsociety.com Tickets can also be booked by telephone on the BMS Ticketline, 085 2756426. This line will be open during booking office hours only. We also accept credit card bookings.
'Hairspray' will open on Wednesday 16th November and continue until Sunday, November 20th in St. Joseph's Hall, Boyle at 8pm nightly. For more information please go to www.boylemusicalsociety.com of follow on Facebook.
Run Walk n Roll
Over 300 people participated in the 21st annual Run for cancer Research Boyle. Once again it was a huge success with young and old battling it out to beat their own personal best in a crisp cold autumn wind. Everybody was out for fun and raising funds for Cancer Research. A big thank you to all those who helped out in any way. First male home Finley Daly and First female Aisling Feely.
Parkrun in Boyle
The weekly 5k parkrun takes place in Boyle's Lough Key Forest on Saturday morning. There are now parkrun events each Saturday and Sunday in countries all around the world. Each event is based in a unique location like a park, beach or promenade. All events are organised by a group of dedicated volunteers. The Boyle event will take place every Saturday morning at 9.30am in Lough Key Forest Park.
Courtyard Market
The Market is open from 10am to 2pm each and every Saturday in the grounds of King House, Boyle. If you would like to enjoy the best locally grown fresh and organic produce, then a trip to Boyle Courtyard Market on Saturday should be on your agenda. There is a wide range of seasonal produce, including organic fruit and vegetables, homemade jams and marmalade, organic free range eggs, fruit juices, gluten free/ sour dough/ spelt bread and all kinds of delicious home bakes are available every week. Alongside the food stalls are a number of crafters selling their handmade wares, personalized candles and knitwear. So why not come along and have a chat with the stall holders and avail of their ideas. For further information please call Una Bhan on 071 9663 033.
Society of St. Vincent de Paul Boyle
If you need help with bills, with education expenses or simply need to speak to someone outside the family or friends about any difficulties you are facing or wish to make a donation -contact St. Vincent de Paul Society, Boyle telephone or text 087 9292627 Email: [email protected] All calls, texts and help provided are CONFIDENTIAL
CV & Office Services
Are you looking for a new job? Are you having difficulty putting together your CV? Would you like some help? Then why not call into the Úna Bhán office in the grounds of King House, Boyle, where we will be delighted to give you any help, advice or information we can. A good CV could make all the difference in getting your job application through to the interview stage. We have a template and sheet of helpful tips to guide you through the process. We will also type your CV if you cannot do this yourself. Or you may just want to call in for a chat about your CV. All information will be treated in the strictest of confidence. For more details, contact Úna Bhán Tourism on 071 9663033. We also offer office services such as Photo Copying, Scanning, Laminating, Typing, Faxing, Binding and Printing are carried out at the Una Bhan office in the grounds of King House, for further information please contact the office on 071 966 3033.