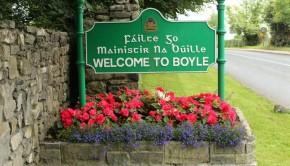 BOYLE OPEN ART EXHIBITION
Attention all artists, local, new, those from further afield and those under 25 – it is time to be thinking of your entry to the Boyle Open Art Exhibition. The exhibition runs this year from Friday 22nd July until Saturday 30th July. We were delighted that last year's exhibition was well supported again, as always. We anticipate another excellent show for 2016. Entries will be accepted in any medium, to a maximum of 3 per person. Entry Forms and Condition of Entry can be received by calling into Úna Bhán Centre, Grounds of King House, email – [email protected] or call 071 96 63033.
MARIE HEADS TO BELARUS
Ardcarne Garden Centre's 30 year anniversary coincides with the 30 year anniversary of the Chernobyl nuclear disaster. Marie O'Conghaile and other Irish volunteers have taken up a challenge at the Gorodishche orphanage in Belarus; she will bring 10 orphan children, all with either physical or intellectual disability, on a holiday to the Belarussian capital Minsk… In fact, in 3 month's time, Marie will be on her 6th mission to the Gorodishche Orphanage, where Burren Chernobyl – a charity based in Ennistymon, Co. Clare – has been a constant and regular supporter over the past 20 years. Burren Chernobyl has contributed major support in the form of modernising the orphanage, providing care equipment and generally improving the lot of the orphans through the volunteer programme. "Most of the orphans have never been outside the orphanage" says Marie. "Most of them have no family or no visitors, so the one week's holiday in Minsk is a major highlight in their lives. These children just want to be like other children"
The children range from 4 years up to 18 years old. Their disabilities mean they cannot survive without constant care. Many Irish people — and some from Co. Roscommon — spend a week or so in the orphanage each year, giving extra care to the children.
A fund-raising BBQ will take place on Saturday 7th May next at 7pm as part of the 30 year anniversary of Ardcarne Garden Centre, and all the proceeds will be given to Marie to fund the holiday for the orphans. It is extra special, this year, because 2016 is also the 30th anniversary of the nuclear disaster in Chernobyl. Summer BBQ & Music Fundraising Event at Ardcarne Garden Café, Saturday 7th May from 7pm. ALL proceeds to the Burren Chernobyl Children's Charity. Bring your own beer or wine. Tickets cost €25 and are available from Ardcarne Garden Centre. Booking Essential. Tel: 07196 67091
CURLEW WALKING WALK
The next meeting of the Curlew Walkers club will take place on Sunday 8th May, meeting on the Crescent, Boyle at 9am or Leenan at 11am. The walk will take place at Devils Mother and will be a Climb/ Grade B+. Your leader for the day will be Zeta Griffin 086 3661 336. Please confirm times with leader or website prior to each walk www.walkingboyle.com.
LAOCHRA star for King House show
Fresh from her celebrated performance in Laochra spectacular in Croke Park, singer Lisa Lambe heads to Boyle next month for another stirring 1916 commemoration. Laochra, which followed the Allianz Football League Final, thrilled fans of all counties and colours, bringing together more than 3,500 performers. It was Lambe, however, the former Celtic Woman star, who brought the crowd to its feet with her memorable rendition of The Foggy Dew. Lisa now heads to historic King House in Boyle, to star with Simon Morgan in the western premiere of Myles Dungan's new 1916 show – The Count, The Countess & The Tommy. Friday 13th May is the date set for the first-ever west of Ireland performance of the show, which centres on the life and music of the celebrated Irish tenor Count John McCormack, and features some of the best-known songs of a hundred years ago. The show is a centrepiece of broadcaster Myles Dungan's Paths to Freedom roadshow project, a unique package of lectures, presentations and shows remembering the Rising, one hundred years on. Tickets for both events are free, but booking is essential.
COFFEE MORNING
Boyle Credit Union will be holding a Coffee Morning in aid of the RSPCA on Friday 13th May in the Credit Union, Green Street, Boyle from 11.30 until 2.30. All welcome.
FREGOLI THEATRE PRESENTS
"The Pleasure Ground" by Jarlath Tivnan is back in Boyle on Saturday 14th May for one night only. A wonderful strong play that will stay with you after the lights go down will be taking place in St Josephs Hall, Boyle at 8.30. Tickets are now on sale in Una Bhan Tourism and Taylors Jeweller.
CYCLING SPORTIVE
Details have been announced for the 2016 Lough Key Classic Cycling Sportive. The event will take place in Boyle on Sunday May 15th. Once again two routes will be on offer – 60k and 120k with a King of the Mountains optional extra that will take in Stauntons Brae on Kilronan Mountain.The previous two Classics have attracted large crowds and with the 2016 event moving to a Sunday, it is anticipated that there will be a big increase in entries. Further details are available on curlieuwheelers.com and Curlieu Wheelers Facebook page
BOYLE FARMERS MARKET
The Market is open from 10am to 2pm each and every Saturday in the grounds of King House, Boyle. If you would like to enjoy the best locally grown fresh and organic produce, then a trip to Boyle Farmers' Market on Saturday should be on your agenda. There is a wide range of seasonal produce, including organic fruit and vegetables, homemade jams and marmalade, organic free range eggs, fruit juices, gluten free/ sour dough/ spelt bread and all kinds of delicious home bakes are available every week. Alongside the food stalls are a number of crafters selling their handmade wares, personalized candles and knitwear. So why not come along and have a chat with the stall holders and avail of their ideas. For further information please a call Una Bhan on 071 9663 033.
BOYLE GOLF CLUB
On Sunday 24th April saw the annual Voucher Competition take place. Well done to Sean Heslin who won the men's voucher with a score of 63 nett off a 10 handicap, in 2nd was Niall Kearney 65, Gross Brendan Gaffney (8 Over Par), 3rd Sean McLoughlin 66. In the Ladies Lucky Strike competition, first place went to Paula Cull, 2nd Tish Perry, Gross Peggy Feely, 3rd Annette Bartlett. Other results from last week include the Men's Open on Thursday last which was won by Michael Gilmartin 20pts, 2nd Michael Rush 19pts, 3rd Michael Reid 19pts. Friday Evening's Scramble was won by Terry Bright, Susan O'Mahaney & Tommy King. Aisling Gaughran won the Ladies White Elephant 9 Hole Stableford last Tuesday with 19 points. In second place was Marie Hanmore-Cawley with 18 points. The March/April draws took place in the clubhouse on Sunday evening. March results: Winner – Liam Whyte €70, Runners up Ross Andrew & Carmel Conlon €40. April Results: Winner -Liam Whyte €70, Runners up Mary/Denis O'Donnell & Mary O'Hara €40. Congrats to all the winners and thanks to all who took part.
CV & OFFICE SERVICES
Are you looking for a new job? Are you having difficulty putting together your CV? Would you like some help? Then why not call into the Úna Bhán office in the grounds of King House, Boyle, where we will be delighted to give you any help, advice or information we can. A good CV could make all the difference in getting your job application through to the interview stage. We have a template and sheet of helpful tips to guide you through the process. We will also type your CV if you cannot do this yourself. Or you may just want to call in for a chat about your CV. All information will be treated in the strictest of confidence. For more details, contact Úna Bhán Tourism on 071 9663033. We also offer office services such as Photo Copying, Scanning, Laminating, Typing, Faxing, Binding and Printing are carried out at the Una Bhan office in the grounds of King House, for further information please contact the office on 071 9663033.