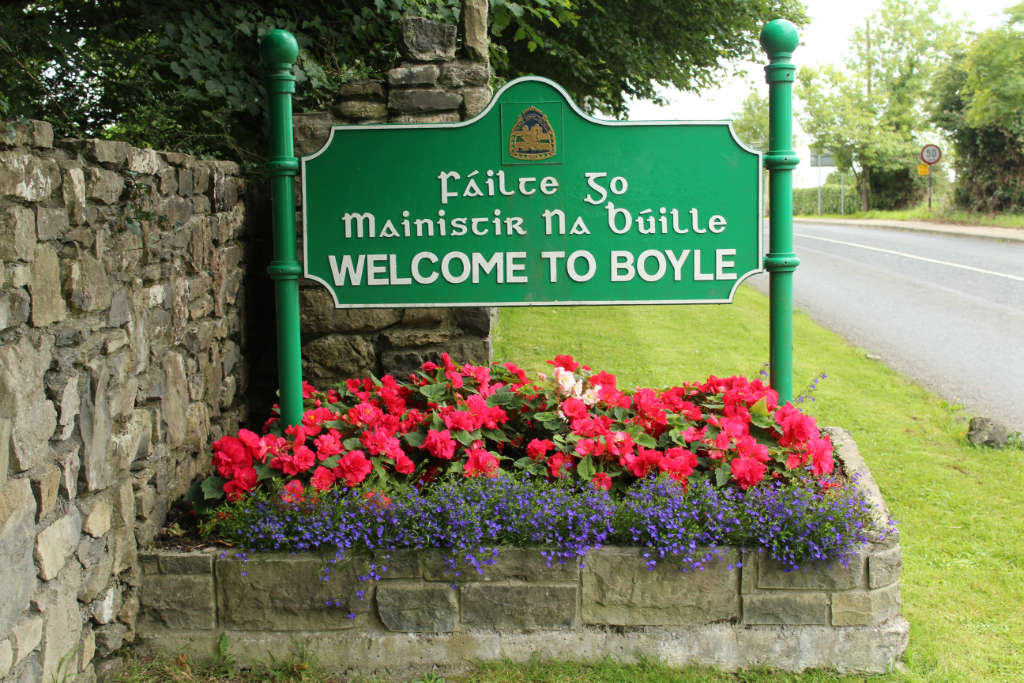 Post Leaving Cert Courses
Abbey Community College are now taking applications for their FETAC Level 5 Certificate in Business Studies. Application forms can be downloaded from www.abbeycc.ie or by calling to the school reception. The course commences on Tuesday 8th September. The course is suitable for students who have recently completed their Leaving Certificate or those who wish to return to the workplace. Grants are available for students. For more information please contact 071 966 4646
Man. Utd supporters club meeting
The Manchester United Supporters Club county Roscommon branch will hold a Membership Meeting on Thursday September 10th. It will commence at 9.30pm in The Patrick's Well, Boyle. New Members are welcome. This is the final opportunity this season to register through your local branch.
Lough Key Tri
The annual Lough Key Sprint Triathlon will take place this year on Sunday September 6th. One of the final races of the this year's Vodafone National Series the sprint distance event has a 750m swim over to the scenic Castle Island and back, a 23km bike leg around the lake followed by a 5km run through the new and improved park paths. Lough Key has consistently proved to be one of the more popular Triathlon events on the calendar and has always managed to attract a quality field with names such as Gavin Noble, Kevin Thornton, Jennifer O'Connell and Laura Tighe topping the results in recent years.
This year's event is sponsored once again by Waterways Ireland and in addition to our substantial prize pot and well renowned goodie bags we have impressive trophies for the fastest male and female bike splits. New to Lough Key this year will be two new perpetual trophies for the fastest swim splits in memory of club member John Cloughley who passed away earlier this year. Having seen the almost finished trophies we can guarantee that these will be well sought after trophies for years to come! So whether you are a top class triathlete bidding to get your name on one of our high quality bespoke marble trophies for posterity or a beginner looking for a great venue and friendly welcome come to Lough Key on Sunday 6th for a great day's racing. Entry is strictly limited to 500 on the day so make sure to get your entry in early. It's also an ideal warm up for the Sprint Triathlon National Championships taking place 3 weeks later in Clogherhead. Full details can be found on the club website www.loughkeytri.com or the Club's Facebook page.
Spiritual Adventure
A spiritual adventure will take place in the Family Life Centre, Boyle on Thursday 10th September from 3pm until 4.30pm. Come and experience the beauty of your heart through Relaxation and Meditation. For further details contact Clair Callery on 087 976 0493 or visit www.heartfulness.org
Cannonball Run in the Boyle area
Car enthusiasts are in for treat in Boyle on Friday September 11th when the seventh Cannonball Run travels past the town on the N4. The three day Cannonball Run is the largest organised road trip in Europe and the most exciting motoring and social event of the year. The trip typically features 170 cars including the world's top makes: McLaren, Lamborghini, Ferrari, Aston Martin, Porsche, Masseratti, Rolls Royce and Bentley. Cannonball Ireland has raised over 700,000 euro for Irish Children Charities. This year, Make A Wish Ireland will be Cannonball Ireland charity. It is a spectacle to behold as the cars and their colourful drivers make their way around Ireland. Friday 11th will see the cars travel from Dublin to Sligo. Further details on www.cannonball.ie
Angling Competition
Fishing for the Martin Mitchell Charity Cup will be taking place on Lough Key on Sunday 13th September from 11am until 5pm. This is a Boat Competition with all entry fees being passed onto a charity, plus the club contribution.
PPN Meeting
The Roscommon Public Participation Network hereby announces a Network Plenary meeting and committee selection process, to be held on September 14th, 2015 at 7.30pm in the Kilbride Community Centre, Four Mile House, Roscommon and cordially invites all community groups to attend.
Opportunities Galore
Roscommon Learning Links Boyle run full Time Level 4 and Level 5 Major Awards in Information Technology from their Training Rooms in Elphin Steet. These are Local Training Initiatives funded by the GRETB-Galway Roscommon Education and Training Programmes. All Courses offer QQI Certification allowing students' progress to further Education if they wish, or gain certification in Office Applications –an essential requirement for all most all administrative type roles. While Siobhan Gallagher –Centre Co-ordinator has acknowledged the difficulty over the last number of years for students gaining employment, both she and Martina have seen a marked increase in progression since January 2015. 18 students have finished their Training since April 2015 almost 60% of those have opted to go to University or Further Education to achieve Higher Certificates at Level 6 or Degree Programmes while 35% have taken up full-time employment. Their jobs include Tourism, Services Sector, Hospitality, Auctioneering and Construction. Anyone who is currently unemployed and in receipt of a Social Welfare payment can be waitlisted for these Courses. They Run Full-time Monday to Thursday with a half day on Friday. Anyone who is at a crossroads trying to decide where to next could do worse than pop in to Roscommon Learning Links to chat further about the Training Courses available. To anyone who may be disappointed with Leaving Results and in a quandary about what to do, once they are registered with social Welfare they too can join the programme where up to 400 points can be achieved on a Level Programme. Places will be available in September so if interested or you wish to find out more, call either Martina /Siobhan on 071 9664510 or drop in to their offices (next door to Trojan) any morning. Healthcare Modules are also being ran from the Centre commencing September 2015, and are advised, if interested to attend a GRETB Information evening in the Abbey Hotel Roscommon on Tuesday 1st September at 7pm, while if it's Childcare you might be interested in, an Information session is being held in Hannons Hotel Roscommon on Thursday 3rd September at 8pm. For further detail on Healthcare or Childcare modules call GRETB Roscommon on 090 6634189. A series of Computer Benefit Classes have just been completed at the Centre funded by Irish Rural Links where 20 participants have gained tuition and skill in Internet & Email. These classes were free and offered to those with little or no IT knowledge. It is hoped that these classes will be offered again in the Autumn. The Job Club are also scheduling a 4 week Programme running from the Centre (mornings only) so it's all go at Roscommon Learning Links and the place to be this Autumn.
Boyle Farmers Market
The Market is open from 10am to 2pm each and every Saturday in the grounds of King House, Boyle. If you would like to enjoy the best locally grown fresh and organic produce, then a trip to Boyle Farmers' Market on Saturday should be on your agenda. There is a wide range of seasonal produce, including organic fruit and vegetables, homemade jams and marmalade, organic free range eggs, fruit juices, gluten free/ sour dough/ spelt bread and all kinds of delicious home bakes are available every week. Alongside the food stalls are a number of crafters selling their handmade wares, personalized candles and knitwear. So why not come along and have a chat with the stall holders and avail of their ideas. For further information please a call Una Bhan on 071 9663 033.
Boyle Golf Club
On Sunday 23rd August the 18 hole was cancelled due to bad weather and will be re-arranged. Thursday 20th August saw the night competition won by Lorcan Egan 19pts, 2nd Charlie O'Donnell 18pts, and 3rd Jonathan Egan 18pts. Friday 21st saw the  Scramble won by Patrick Egan, Susan O'Mahoney, Paddy McLoughlin & Lewis Shaw, 2nd Brendan Gaffney, Gerry O'Hara & Peter Leydon, 3rd Michael Reid, Eithne Gaffney & Cillian Doyle. Saturday 22nd August "Last Man Standing" was won by John McGuinn (20th), 2nd Cillian Doyle (19th), 3rd Cian Smith (19th. "Last Lady Standing was won by Sandra McCrann (17th), 2nd Moira Egan (17th). Well done to Niall Kearney who won his King Harmon semi-final against Seamus Gallagher and is through to the final against Lionel Lynn. The Captains Prize to the juniors was won by Ciara Rooney and Seth Meredith. Other prize-winners were Enda Carr, Niamh Brogan, Sean Brogan Niall O'Donnell, Lorcan Connolly, Maeve Brogan, Mathew Lawlor, Garett Mullen, Grainne Rooney, Brian O'Connor, Kevin Beirne, Thomas Guckian, Christopher Lavin, Shane Lavin, Daniel Casey At the presentation Sandra McCrann & Michael Rush thanked all the Juniors and parents who took part and thanked Brendan, Moira, Paddy and all who helped with the coaching on Saturday mornings. Ciara Rooney and Seth Meredith, on behalf of the prize-winners thanked all the coaches during the season and thanked Susan for arranging the competition.
Dog Obedience Class
Dog Training services provide private one to one classes as well as group classes. Group classes are held in Annaghmore, Colooney and Sligo Golf Academy, Ransborough. At the moment the following classes are running: Wednesday puppy obedience, junior obedience. Friday Puppy play dates Agility. Saturday Socialisation and obedience course adult dog obedience junior handler. Sunday, competition obedience and town walk. For more information please visit the Facebook page or contact Calry Dogs on 087 2765606 or [email protected].
Bingo in Boyle
Every Tuesday evening in St. Josephs Hall Boyle at 8.30pm until 10.30pm. €1000 Jackpot to be won every week.
CV & Office Service
Are you looking for a new job? Are you having difficulty putting together your CV? Would you like some help? Then why not call into the Úna Bhán office in the grounds of King House, Boyle, where we will be delighted to give you any help, advice or information we can. A good CV could make all the difference in getting your job application through to the interview stage. We have a template and sheet of helpful tips to guide you through the process. We will also type your CV if you cannot do this yourself. Or you may just want to call in for a chat about your CV. All information will be treated in the strictest of confidence. For more details, contact Úna Bhán Tourism on 071 9663033. We also offer office services such as Photo Copying, Scanning, Laminating, Typing, Faxing, Binding and Printing are carried out at the Una Bhan office in the grounds of King House, for further information please contact the office on 071 9663033.