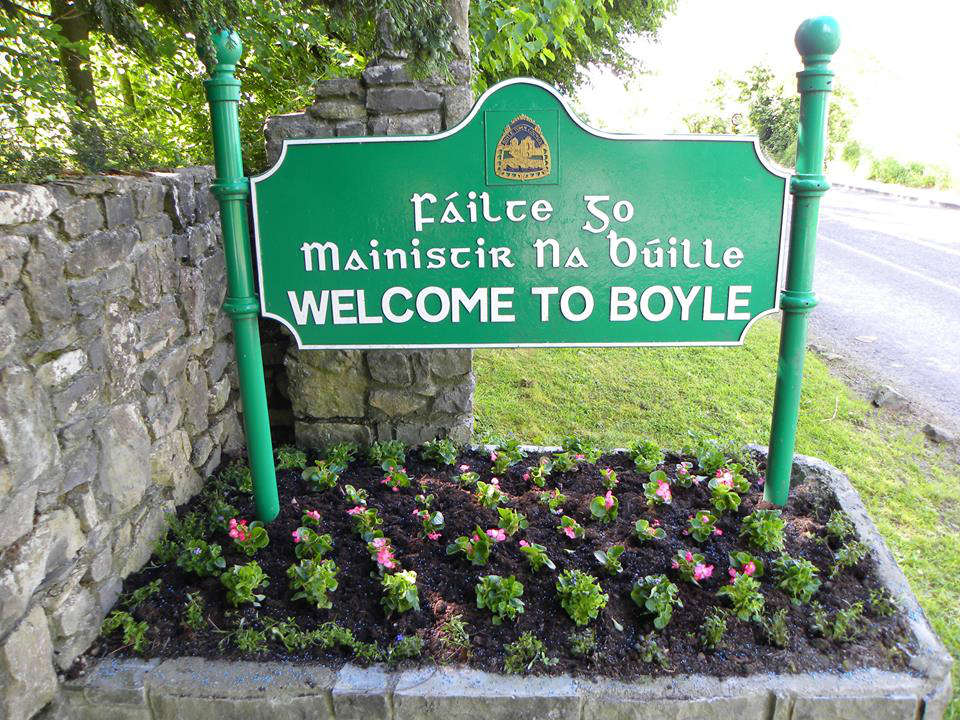 TRAD MUSIC
Martin Donohue with Sean O Se and the Nyahs. Fleadh Fever spills over into Roscommon when singer Sean O Se, "An Po car Buile" song fame and accordionist Martin Donohoe "The Cavanman" join forces with Nyam guests Seamus Fay Lilter and the Donohoe Family. A night of songs sung in both Irish and English, yarns and storytelling, lilting and good old style traditional Irish music. King House, Boyle on Friday 7th August at 8pm. For further information call 071 966 3242 or 0906 625 824.
SUMMER READING BUZZ
Following the great success of the first two years of the summer reading challenge, the Boyle Library have joined up with a number of other local authorities to offer children the opportunity of taking part in the 2015 Summer Reading Buzz. The challenge will take place through the months of July and August. Children will register for the challenge and receive a loyalty card, and a small gift. With every book the child reads they will have their card stamped and once they have read six books they will receive a small prize, and on completing the challenge by reading ten books they will receive further prizes. When the child has completed the challenge and filled in their card (ten stamps = ten library books read) they will also receive a certificate at the end of the summer. Registration cards are available in the Boyle Library.
The Michael Coleman Story
This year is the 70th Anniversary of the death in New York of Michael Coleman, that renowned fiddle player from Knockgrania who emigrated to America one hundred and one years ago. To fittingly mark these anniversaries, the weekly summer sessions in the Coleman Music Centre tells the story of Michael Coleman. (1891-1945) Michael Coleman himself, very well portrayed by Eamon McCoy resonates his life story. Show runs each Wednesday during August at 9pm. Booking at 0719182599 or www.colemanirishmusic.com
SUMMER CAMP AT BOYLE CELTIC
The FAI Summer Soccer Camp is coming to Boyle this August. 5 days of top quality coaching will take place in Celtic Park, Boyle from August 10th to the 14th 2015. Camps are open to boys and girls aged between 6 and 14. They run from 10.30am until 3pm Monday to Friday. Cost is €65 with participants receiving a kit jersey, shorts, socks, backpack, football and certificate. Book online at summersoccerschools.ie or call 1890 653 653.
BOYLE CAMERA CLUB
Founded in 2007, Boyle Camera Club is one of the most active and innovative clubs west of the Shannon and were the Irish Photographic Federation National Shield Winners in 2013. Members have attained citations and numerous national awards for their work in recent years. Open to new members from beginners to advanced and meet the second Tuesday of each month at St. Joseph's Resource Centre in Boyle. Presently on Summer Holidays, the next meeting is on Tuesday 8th September. Look forward to seeing you!
BOYLE GOLF CLUB
Thursday 23rd July saw the night Mens Competition won by Pat Conroy 28pts, 2nd Lorcan Egan 27pts, and 3rd Michael Gilmartin 27pts. Friday 24th July saw the Scramble won by Marie Gallagher, Liam Whyte & John McGuinn, 2nd Carmel Keenan, Lionel Lynn & Charlie O'Donnell, 3rd Pat Conroy, Michael Simon & Seamus Gallagher. Saturday 25th July the Arts Festival Open was won by John McGuinn (40pts), 2nd Paddy McLoughlin (40pts), Gross Owen Garvin, 3rd Michael Simon (39pts) Thanks to all who took part and thanks to the Arts Festival Committee for holding the event. Golf lessons continue each Wednesday until August 19th and are open to all golfers. Cost per lesson is €5.00 per person. Private lessons can be arranged by appointment. To book a place, or further information call 086 0682116. In King Harmon news good luck to all the quarter finalists, the full line up is Seamus Gallagher V Shane O'Dowd, Charlie O'Donnell V Niall Kearney, Lionel Lynn V Patrick Egan and Willie Tiernan V Brendan Gaffney
BOYLE FARMERS MARKET
The Market is open from 10am to 2pm each and every Saturday in the grounds of King House, Boyle. If you would like to enjoy the best locally grown fresh and organic produce, then a trip to Boyle Farmers' Market on Saturday should be on your agenda. There is a wide range of seasonal produce, including organic fruit and vegetables, homemade jams and marmalade, organic free range eggs, fruit juices, gluten free/ sour dough/ spelt bread and all kinds of delicious home bakes are available every week. Alongside the food stalls are a number of crafters selling their handmade wares, personalized candles and knitwear. So why not come along and have a chat with the stall holders and avail of their ideas. For further information please a call Una Bhan on 071 9663 033.
BINGO IN BOYLE
Every Tuesday evening in St. Josephs Hall Boyle at 8.30pm until 10.30pm. €1000 Jackpot to be won every week.
CV & OFFICE SERVICES
Are you looking for a new job? Are you having difficulty putting together your CV? Would you like some help? Then why not call into the Úna Bhán office in the grounds of King House, Boyle, where we will be delighted to give you any help, advice or information we can. A good CV could make all the difference in getting your job application through to the interview stage. We have a template and sheet of helpful tips to guide you through the process. We will also type your CV if you cannot do this yourself. Or you may just want to call in for a chat about your CV. All information will be treated in the strictest of confidence. For more details, contact Úna Bhán Tourism on 071 9663033. We also offer office services such as Photo Copying, Scanning, Laminating, Typing, Faxing, Binding and Printing are carried out at the Una Bhan office in the grounds of King House, for further information please contact the office on 071 9663033.