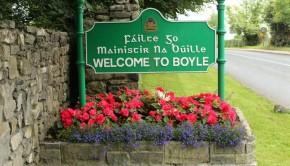 BOYLE TIDY TOWNS
A meeting will be held on Tuesday 10th May at 8pm in the Enterprise Centre, Boyle. All are welcome to organise clean ups and planting for the town in preparation for the tourist season and Tidy Town Competition. All participation would be appreciated.
BMS MEETING
Boyle Musical Society will hold their Annual General Meeting on Wednesday May 11th at 8pm, in Dodd's Crescent Bar. If anybody is wondering what is planned to follow up last year's spectacular show then come along, because, hopefully details of this year's show will be announced during the meeting. All past, present and future members are welcome to attend. That means everybody!
BAF ART 2016
Attention all artists, local, new, those from further afield and those under 25 – it is time to be thinking of your entry to the Boyle Open Art Exhibition. The exhibition runs this year from Friday 22nd July until Saturday 30th July. We were delighted that last year's exhibition was well supported again, as always. We anticipate another excellent show for 2016. Entries will be accepted in any medium, to a maximum of 3 per person. Entry Forms and Condition of Entry can be received by calling into Úna Bhán Centre, Grounds of King House, email – [email protected] or call 071 96 63033.
LAOCHRA STAR FOR KING HOUSE
Fresh from her celebrated performance in Laochra spectacular in Croke Park, singer Lisa Lambe heads to Boyle next month for another stirring 1916 commemoration. Laochra, which followed the Allianz Football League Final, thrilled fans of all counties and colours, bringing together more than 3,500 performers. It was Lambe, however, the former Celtic Woman star, who brought the crowd to its feet with her memorable rendition of The Foggy Dew. Lisa now heads to historic King House in Boyle, to star with Simon Morgan in the western premiere of Myles Dungan's new 1916 show – The Count, The Countess & The Tommy. Friday 13th May is the date set for the first-ever west of Ireland performance of the show, which centres on the life and music of the celebrated Irish tenor Count John McCormack, and features some of the best-known songs of a hundred years ago. The show is a centrepiece of broadcaster Myles Dungan's Paths to Freedom roadshow project, a unique package of lectures, presentations and shows remembering the Rising, one hundred years on. Tickets for both events are free, but booking is essential.
COFFEE MORNING
Boyle Credit Union will be holding a Coffee Morning in aid of the RSPCA on Friday 13th May in the Credit Union, Green Street, Boyle from 11.30 until 2.30. All welcome.
FREGOLI THEATRE PRESENTS
"The Pleasure Ground" by Jarlath Tivnan is back in Boyle on Saturday 14th May for one night only. A wonderful strong play that will stay with you after the lights go down will be taking place in St Josephs Hall, Boyle at 8.30. Tickets are now on sale in Una Bhan Tourism and Taylors Jeweller.
FREE DEMONSTRATION
Discover the secrets to planting a summer container and which plants to use for the best display. Ardcarne Garden Centre, Boyle Saturday 14th May 11.30 until 12.30.
CYCLING SPORTIVE
Details have been announced for the 2016 Lough Key Classic Cycling Sportive. The event will take place in Boyle on Sunday May 15th. Once again two routes will be on offer – 60k and 120k with a King of the Mountains optional extra that will take in Stauntons Brae on Kilronan Mountain.The previous two Classics have attracted large crowds and with the 2016 event moving to a Sunday, it is anticipated that there will be a big increase in entries. Further are available on curlieuwheelers.com and Curlieu Wheelers Facebook page
CURLEW WALKERS
The next meeting of the Curlew Walkers club will take place on Sunday 22nd May, meeting on the Crescent, Boyle at 9am. The walk will take place at Eagles Rock and will be a Climb/ Grade A + B. Your leader for the day will be Pamela Barnes 087 2027 513. Please confirm times with leader or website prior to each walk www.walkingboyle.com.
BOYLE HOLIDAY GROUP
The group will be travelling to Bantry, Co Cork on a five day holiday tour from 13th until 17th June staying in the Four Star Maritime Hotel, Bantry. There are still some places available, all ages welcome. For further information, contact Edward on 086 2215 654 or Mary on 086 1298 355.
BOYLE FARMERS MARKET
The Market is open from 10am to 2pm each and every Saturday in the grounds of King House, Boyle. If you would like to enjoy the best locally grown fresh and organic produce, then a trip to Boyle Farmers' Market on Saturday should be on your agenda. There is a wide range of seasonal produce, including organic fruit and vegetables, homemade jams and marmalade, organic free range eggs, fruit juices, gluten free/ sour dough/ spelt bread and all kinds of delicious home bakes are available every week. Alongside the food stalls are a number of crafters selling their handmade wares, personalized candles and knitwear. So why not come along and have a chat with the stall holders and avail of their ideas. For further information please a call Una Bhan on 071 9663 033.
BOYLE GOLF CLUB
The first major of the year took place on the weekend of 30th April/1stMay. It is one which is unique in the golfing calendar as both ladies and gents compete for the top prize. After 27 holes, Seamus Gallagher emerged the victor by 2 shots with a total score of 96 having qualified on 65 nett. This is Seamus' second major in the space of two years, having claimed the 2014 Captain's Prize. The full list of winners as follows: 1st Overall Seamus Gallagher; Ladies 1st Liz Dwyer; Men's 1st (Excluding Overall) Pat Conroy; Ladies 2nd Regina McLoughlin; Men's 2nd Liam Whyte; Ladies Gross Claire Cryan; Men's Gross Gary Carty; Ladies 3rd Sandra McCrann; Men's 3rd Michael Rush; Category 0-18 Michael Simon; Category 19-24 Paul Connolly; Category 25-36 Aisling Gaughran; 1st Nine Vincent Egan; 2nd Nine Cillian Doyle; 3rd Nine Shane Loftus; Nearest the Pin Aisling Gaughran; Longest Drive Lewis Shaw. The weekend opened on a positive note with the successful running of our Quiz and Curry Night on Friday. The winning team was comprised of Aileen Madden, Claire Cryan, Aisling Gaughran & Lizzie O'Sullivan. In second place were Tommy King, Liam Mullaney, Michael Rush & Gary Carty. Thanks to Susan and Brendan who coordinated proceedings and to Mary who provided the catering. Golf lessons for juniors will resume on the morning of Saturday May 14th. Arrangements are also being made for the recommencement of a weekly golf class for adults. More details to follow.
CV & OFFICE SERVICES
Are you looking for a new job? Are you having difficulty putting together your CV? Would you like some help? Then why not call into the Úna Bhán office in the grounds of King House, Boyle, where we will be delighted to give you any help, advice or information we can. A good CV could make all the difference in getting your job application through to the interview stage. We have a template and sheet of helpful tips to guide you through the process. We will also type your CV if you cannot do this yourself. Or you may just want to call in for a chat about your CV. All information will be treated in the strictest of confidence. For more details, contact Úna Bhán Tourism on 071 9663033. We also offer office services such as Photo Copying, Scanning, Laminating, Typing, Faxing, Binding and Printing are carried out at the Una Bhan office in the grounds of King House, for further information please contact the office on 071 9663033.