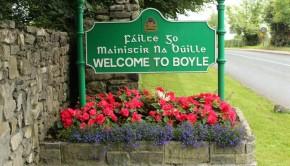 Boyle Tidy Towns
A meeting will be held on Wednesday 3rd May at 8pm in the Enterprise Centre. Hope that everyone appreciated the flowers in the town over the last year and one of the main aims of the meeting is to set up a gardening/flower group.  If you have a few hours spare over the summer and have an interest in gardening we would really love your involvement.  Many hands make light work!!
Darkness Into Light
On 6th of May, light will spread across the world, in over 150 venues on 4 continents. The vision at Pieta House is to create a world where suicide, self-harm and stigma have been replaced by hope, self-care and acceptance. Darkness into Light is vital for our fundraising, for raising awareness and for bringing people together as we do everything we can to bring about a suicide-free world. Meeting at 4.15am at St Joseph's Hall Boyle.
Annual Sponsored Walk
St. Joseph's Boys National School, Abbeytown, Boyle will hold their Annual Sponsored Walk on Sunday 7th May at 3pm. Meeting in the school at 2.45pm with the walk starting at 3pm.  Everybody welcome to come along. Light refreshments will be served afterwards in the school hall.

Mid week cycle
Curlieu Wheelers mid-week spins have commenced and will be held every Wednesday departing from the Crescent at the later time of 7pm. An evening spin will also take place on Friday's at 7pm with the main weekend cycle on Sunday's at 9pm. the Lough Key Classic will take place on Sunday May 14th.
Curlew Walkers Club
The next meeting of the Curlew Walkers club will be taking place on Sunday 14th /15th May. This will be a weekend away in Innisboffin with your leaders Naomi McBride 087 6743 693 and Eileen Callaghan 086 1940 651. Please confirm times with leader or website prior to each walk www.walkingboyle.com.
Lough Key Challenge
The Challenge will be taking place on Sunday 14th May starting and finishing in Boyle. The115k will start at 9am and the 10am start for the 33/70k.Enjoy the beauty of Lough Key Country and take in the views in this challenging event. Further news coming soon on www.curlieuwheelers.com
Courtyard Market
The market is now open for Organic Fruit and Vegetables, Organic Eggs, Olive Oil, Achill Sea Salt, Bread, Grow Truck Vegetarian Meals, Juices, Award winning Cakes, Jams, Tarts, Honey, Hand Knits and Plants and Herbs. The market will be open from 10am until 2pm each and every Saturday.
Irelands Toughest Muckers
Registration is now open for Ireland's Toughest Muckers challenge which will take place once again in Lough Key Forest Park on Saturday June 10th. The 10k obstacle challenge will have a number of new features this year. A "Little Muckers" course is added this year for participants under 16 years of age with all monies raised from this section going to a nominated children's charity. This is the fifth year for Toughest Muckers to be held in Boyle and early indications are that it will be a sell-out event. And remember, your entry gets you free beer, food and entertainment at the finish line! To register for this event go to irelandstoughestmuckers.ie
Boyle Arts Festival 2017
Once again, Boyle is the place to be this summer, with appearances by Anúna, Declan O'Rourke, Miriam O'Callaghan, Eddi Reader, Brian Kennedy, Rackhouse Pilfer, Regina Nathan, The Celtic Tenors, Michael McHale, The Inishowen Gospel Choir, Jon Kenny and Mary McEvoy all lined up for the 28th annual Boyle Arts Festival, which will take place from Thursday 20th July to Sunday 30th July. More details of very exciting and diverse events will soon be announced when the official programme is launched, in June. The Festival calendar is already bursting at the seams with almost fifty events, including an eclectic mix of visual arts, music, drama, film, comedy, workshops, storytelling, children's events, poetry, readings and much more! If you are planning a visit to Boyle this summer, then make it late July, so you can enjoy as much of BAF 2017 as possible! Tickets for a selection of events will soon be available to purchase on www.eventbrite.ie. A big thanks Roscommon Co. Council for the use of the beautifully restored King House which as always, houses the centrepiece of Boyle Arts Festival – the main Visual Exhibition, once again curated by Paul McKenna. The theme this year is 'Facing West' and the exhibition features 95 of the very best artists from the West of Ireland. Several other exhibitions, including the highly acclaimed Local Artists exhibition, will take place during the Festival and details will be available in the programme. For more information on Boyle Arts Festival 2017 please go to www.boylearts.com and www.eventbrite.ie or email [email protected] Telephone 0719663085. Follow us on Facebook. Boyle Arts Festival is supported by The Arts Council.
Society of St. Vincent de Paul Boyle
If you need help with bills, with education expenses or simply need to speak to someone outside the family or friends about any difficulties you are facing or wish to make a donation -contact St. Vincent de Paul Society, Boyle telephone or text 087 9292627 Email: [email protected] All calls, texts and help provided are CONFIDENTIAL.
CV & Office Services
Are you looking for a new job? Are you having difficulty putting together your CV? Would you like some help? Then why not call into the Úna Bhán office in the grounds of King House, Boyle, where we will be delighted to give you any help, advice or information we can. A good CV could make all the difference in getting your job application through to the interview stage. We have a template and sheet of helpful tips to guide you through the process. We will also type your CV if you cannot do this yourself. Or you may just want to call in for a chat about your CV. All information will be treated in the strictest of confidence. For more details, contact Úna Bhán Tourism on 071 9663033. We also offer office services such as Photo Copying, Scanning, Laminating, Typing, Faxing, Binding and Printing are carried out at the Una Bhan office in the grounds of King House, for further information please contact the office on 071 966 3033.