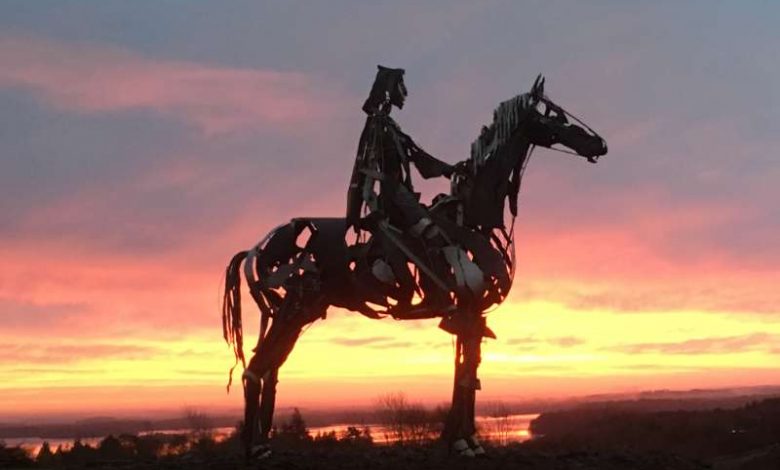 DEAR SANTA
Have you got a little someone who would like to receive a personal letter from the man in red himself this December? Una Bhan Craft Shop has established a direct line to Santa Claus and has arranged for him to reply to children's letters. Your child can write their letter to Santa and post it in the 'Special Santa Box' in the Una Bhan Craft Shop, €5 per child (to cover admin charges – no stamp required!), then leave the rest to us. Make sure your child includes their full name, address, age and special requests for Christmas and include a mention of any brothers, sisters or special friends so the reply can be really personal. We will make sure that Santa gets to read each letter and write a personal letter back, which will be posted directly to the child. Santa's Letter Service will up until Wednesday 18th December.
WIN A CHRISTMAS HAMPER
Receive a raffle ticket when you make a purchase over €5 at the Boyle Courtyard Market during the month of December to be included in a FREE Christmas Hamper Draw, which will take place on the last market before Christmas which will be on Saturday 21st of December at 12noon.
BOYLE COURTYARD MARKET
Enter Boyle Market pride ourselves on the quality of locally sourced produce available to our customers. Open every Saturday in the grounds of King House Boyle between 10am and 2pm. Come and sample our new addition to the Market Johnny's hot delicious steak and onion Yorkshire wraps while shopping for local fresh vegetables, breads, eggs, free range pork & lamb, pastries & cakes, juices and much more – you support is always appreciated. Please note the last market before Christmas in Boyle will take place on Saturday 21st 
CHRISTMAS CLOSING TIMES
Úna Bhán Tourism & Craft Shop management and staff wish the community a very enjoyable Christmas and a healthy new year ahead. The Tourism Centre & Craft Shop will close at 3pm on Tues 24th Dec and reopen at 10am on Sat 4th Jan with the first Courtyard Market of the new year. We are open on Fri 3rd January 2020 for staff planning.
BOYLE CHRISTMAS LIGHTS DRAW
Countdown to Boyle Christmas Lights €1500 Cash Draw which will take place on Friday 20th December. Lines are €2 each or 3 for €5. All businesses in Boyle have Raffle cards so be in with be in with a chance to win and support Boyle Christmas Lights. This is the only fundraiser for the lights, a Chamber lead initiative with a great team of volunteers that ensure Boyle is looking its' best during the Festive Season. Boyle Christmas Lights crew thank you for supporting the Draw.
CHRISTMAS EXPERIENCE
A festive evening will take place in Cleen Hall, Knockvicar on Sunday 19th December at 7pm. On the night the performing choirs will be: The Serendipity Singers & The Nightingals, Soloist / Conductor is Ilse Lubbers and on piano Anne Kielty. Admission €10 including festive drinks and treats.
2020 FUNDING FOR COMMUNITITIES, WATER AND WILDLIFE
The Community Water Development Fund 2020 was launched at the inaugural 'Rivers Trusts and Catchment Partnerships Conference' in the Hudson Bay Hotel, Athlone on Saturday 30th November 2019. The fund is open to all community and voluntary groups who want to get involved in the protection and restoration of a healthy water environment in their local area. The fund is also open to Rivers Trusts and Catchment Partnerships. There is a growing move towards the formation such groups in Ireland, whereby local groups are becoming more actively involved in the management of a local water body and the wider catchment area.  Improvements in the water environment delivers multiple benefits for health and well-being, wildlife and the local economy. The Community Water Development Fund is administered by the Local Authority Waters Programme on behalf of the Department of Housing, Planning and Local Government. The closing date for applications submitted by post or email is Friday, 7th February 2020 at 5.00 pm.  A new development for 2020 provides for online applications via www.lawaters.ie The deadline for online applications is extended to Tuesday, 11th February 2020 at 8.00 pm. To encourage applications via the new online facility a draw will take place, for online applicants only, with one lucky group receiving a prize of €500. Examples of the types of projects include: Capital projects, such as: river and lake restoration; habitat conservation and restoration; natural flood mitigation measures / Public awareness and education; local events such as biodiversity days; surveys, training and workshops; ecology surveys; etc. / Local amenity benefits, such as: beach clean-ups; improving amenity areas; bird watching facilities. Grants awarded will range from up to €5,000; up to €10,000 and up to €25,000. The total fund is capped at €225,000 for 2020. The online application process can be accessed at www.lawaters.ie Application Form and Guidance Notes in respect of the Community Water Development Fund 2020 are available to download in pdf format at www.lawaters.ie  or by contacting the Local Authority Waters Programme at 0761 06 6230 or email to [email protected]
A CHRISTMAS CAROL
Charles Dickens 'A Christmas Carol' will be performed in Cleen Hall, Knockvicar, Boyle on December 28th and 29th. The show, which is adapted and directed by Gary Lydon, will commence on Saturday 28th at 8pm and Sunday 29th at 3pm and 8pm. This is Gary's first stage adaptation and is a modern re-working with audience participation and live acoustic music, suitable for all ages. The cast includes Gary Lydon, James and Sean-Luke Doherty O'Brien, Lauren Beirne and Eoin Connelly. Admission: Adults €10, Child €5 and Family €25. Tickets available on Eventbrite or on the door.
LITTLE CHRISTMAS 
The 6th Women's Little Christmas Black Dress Ladies Lunch takes place on Sun 5th January 2020 in the beautiful setting of Kilronan Castle. North West Simon Community would greatly appreciate your support by joining them at this event. MC on the day will be RTE North West Correspondent Eileen Magnier. Guest speaker will be Joanne Sweeney with a further speaker TBC. The event starts at 1pm with a complimentary pre dinner drink and canapés in the Dungeon Bar with a pianist, followed by a three course exquisite lunch at 2pm in the magnificent ballroom at Kilronan Castle. Guests will get a chance to browse around various stands after the meal. Dress code is black dress with a prize for the best splash of yellow (The Simon Community colours) just to make the event interesting! Judging will be by Mike McCarthy and Paul Carroll who have an award winning blog on fashion, beauty, lifestyle and news worthy stories. Tickets cost €45 to include wine with proceeds going to North West Simon Community, the local homeless charity.
LOVE IN THE COUNTRYSIDE!
Do you live in rural Ireland? Are you Single? Would you like to meet that someone special? The makers of Gogglebox, Ireland's Got Talent and Fittest families to name just a few now want to help rural Ireland find love. We are trying to develop a new dating series much like the BBC2 one 'Love in the Countyside'. We understand those living and working in the countryside can often find it hard to meet someone special and someone that fits into their lifestyle. This brand new dating series wants to help rural singletons from across Ireland find their perfect partner. We want to match some rural romantics up with potential dates – dates that are willing to swap their city life for a more rural way. We want to help the hard working men and women of the agricultural industry, find true love.  If you are interested in applying for the show contact Leah Wallace on 087 230 1210, [email protected] 
BOYLE FAMILY RESOURCE CENTRE
Boyle Family Resource Centre CLG contact details. website: www.boylefrc.ie. We are also on twitter: www.twitter.com/FLCBoyle.  Email: [email protected] – Counselling Service: [email protected] Telephone: 0719663000. Charity No: 20153519. If you would like to be added to our mailing list, please let us know. Booking essential for all groups, courses and workshops.  Our drop-in room is open Monday to Friday from 9am-1pm & 2pm-5pm. We have Tea/Coffee making facilities, Library, Comfortable Chairs, Computer & Wi-Fi access, information leaflets, a listening ear when needed. The Centre will close for Christmas on Friday 20th December at 12.30pm re-opening on Tuesday 7th January, 2020 at 9am. We are closed on Monday 6th January for Staff Planning Day.
RAINBOWS / SPECTRUM PROGRAMME 
A group for children/teenagers who have lost a parent or significant other through death, separation or divorce.  Introduction night for parents Wednesday 22nd January from7pm-8pm in Boyle Family Resource Centre. For more information, please contact the Centre on 0719663000
BOYLE FOOD PARTNERSHIP
Community FEAD and Food Cloud. If you and/or your family need food, we distribute food through these programmes at Boyle Family Resource Centre (FRC).  Please text the word FOOD + your first name to 0860496467 to receive details. Last day for distribution before Christmas is Wednesday 18th December 2.30-3.30pm.
FAMILY SUPPORT DROP IN CLINIC
A drop in confidential space for parents and families to call in and receive support and a listening ear about issues and concerns about you and/or your children. Wednesday mornings during primary school term 9.30am-12pm.  An interagency project together with Boyle FRC, Foroige & Tusla. Boyle Family Resource Centre 0719663000.  
CLOTHING BANK
Clothing Bank for your Winter Clear out. There is a clothing bank outside Boyle Family Resource Centre which accepts old clothes and bed linen, handbags, and shoes that are sent for recycling. Your support and donations are very much appreciated as this helps raise funds towards the Centres programmes and community work. NO DUVETS AND PILLOWS AS THEY WILL NOT BE ACCEPTED BY THE RECYCLING COMPANY. Thank you.
What is Counselling & Psychotherapy
Counselling & Psychotherapy is for anybody.  Sometimes life can be difficult for us, it can be unmanageable and challenging. Counselling can be a great support or resource at times of crisis or difficulty in our lives.  It involves meeting with a trained Professional Therapist in a safe confidential setting allowing you to talk about and explore life's challenges in a non-judgemental space. Appointments are available Monday to Friday, day and evening. Therapeutic Support for Families, Adolescents, Couples and Individuals. The cost is on a sliding scale and is negotiable. Please contact Marie on 0719663000 or Maura on 0719663841 in Boyle Family Resource Centre. All our programmes and services are confidential and professional. The Centre will close for Christmas on Friday 20th December at 12.30pm re-opening on Tuesday 7th January, 2020 at 9am.
ROSCOMMON SUICIDE BEREAVEMENT LIAISON SERVICE
Roscommon Suicide Bereavement Liaison Service is a free & confidential service that provides assistance & support to families & individuals grieving the death of a loved one by suicide.  Contact: Tiffany Jennings Walsh, Suicide Bereavement Liaison Officer on 0857407856 or Boyle Family Resource Centre (FRC) on 0719663000. This service is funded by the HSE National Office for Suicide Prevention.    
BABY AND TODDLER GROUP
Baby & toddler groups can be a great way of meeting other people with children the same age as yours in our community.  It is open to childminders, grandparents and other guardians, babies, waddlers and toddlers are welcome. Every Tuesday and Thursday morning from 10am–12.30pm in Boyle Family Resource Centre (FRC) 0719663000.  Cost: Donation. The Centre will be closed from Friday 20th December at 12.30pm until Tuesday 7th January 2020 at 9am.