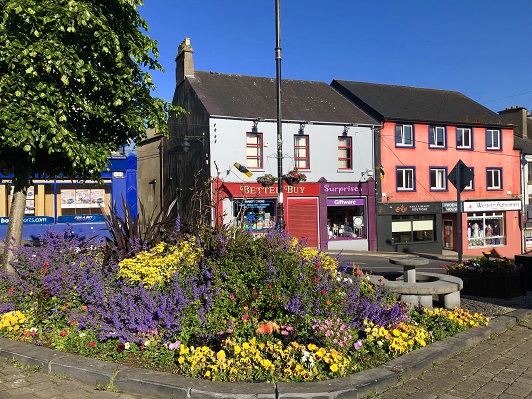 CURLEW WALKERS
The next walk will take place on Sunday 26 th January, meeting on the Crescent, Boyle at 10am. The walk
will be Glenade to Eagles Rock, it is a Grade B+ Climb / Flat walk (4 to 6 hours duration, Good level of
fitness required). The walk leader is Naomi McBride 087 674 3693.
SPAYING AND NEUTERING PROGRAMME FOR DOGS 2020
A spaying/neutering programme plus microchipping and registration for dogs in County Roscommon. A
50% discount on spaying and neutering plus microchip and registration at certain vets only. A high demand
is expected for this so please make sure you supply the required information. The criteria for this is quite
strict and this is how you do it.
1. Make the appointment with the Participating vets, listed below.
2. Contact us on 087 050 5594 with the Name of Vet and Date of appointment, your Name; phone Number
and Eircode, proof of address may be required.
3. We will then contact the vet with the 50% discount code once all required information received.
4. The discount code will only cover what we have agreed; any extras will be your own responsibility.
5. If we do not receive the required information, you may end up paying the full price at the vets.
For the Micro Chipping, you will need to bring to the vets your proof of ID and proof of address.
Vets taking part in this are as follows: Green Vets in Boyle: 071 966 2049 / All Creatures Vets, Roscommon
Town: 090 662 6898 / Cloverhill Vets – Lisagallon: 090 666 5555 / Emlagh Lodge Vets – Elphin: 071 963
0786. Alongside this, we will also be running the €10.00 Community spaying and neutering programme for
cats. The same criteria apply. The programme will run whilst the funding lasts and may be withdrawn
without notice. This is supported by the Department of Agriculture 2020 Animal Welfare Grant.
DARKNESS INTO LIGHT
Saturday May 9th 2020 has been announced as the date for the annual Darkness into Light walk in Boyle.
Commencing at 4.15am from the Crescent, participants will get together to walk from the darkness of night
into the light of morning to help in the global fight against suicide and self-harm. Symbolically the walk
represents the therapeutic counselling journey. It sparks conversation about the importance of mental health
and wellbeing in all our lives. The entry fees raised around the world allow Pieta House and our
international charity partners to continue to deliver our vital services.
CURLIEU WHEELERS LOUGH KEY CLASSIC
Date for your diary – The annual Curlieu Wheelers Lough Key Classic cycling sportive will be held in Boyle
on Sunday May 10th.
BOYLE CHAMBER LOTTO
Boyle Chamber of Commerce will be re-launching its Chamber Lotto in a new format in February. The new
Lotto will carry over the existing jackpot of €3970.00. Thank you to all who have supported the Chamber
Lotto over many years. The funds raised have helped many projects in the town including Boyle Tidy
Towns, Boyle Musical Society, the Courthouse, Boyle Enterprise Centre, Local Fishing Competitions,
Boyle Arts Festival, Christmas Lights and the St Patrick's Day Parade. The Chamber Lotto looks forward to
being back very soon with a new and exciting formats. Lotto can be played on-line on
https://www.boyletm.com/lotto/
SLIMMING WORLD
Slimming World meet in the Spool Factory Event Centre on St. Patrick's Street in Boyle every Thursday at
5.30pm and 7.30pm FOR 2020. If you are looking to lose weight, come along to the group and find out how
you can fill up on your favourite foods and lose weight without ever having to feel deprived. New members
are always welcome. Call Tracy 086 3891600 for more details.
MACDERMOT CLAN GATHERING
There is presently a MacDermot Clan Gathering being arranged for to take place from July 28 to to 31st this
year. If you are interested or would like further information please contact [email protected]
BOYLE FAMILY RESOURCE CENTRE
Boyle Family Resource Centre CLG contact details. website: www.boylefrc.ie. We are also on twitter:
www.twitter.com/FLCBoyle. Email: [email protected] – Counselling Service: [email protected]
Telephone: 0719663000. Charity No: 20153519. If you would like to be added to our mailing list, please let
us know. Booking essential for all groups, courses and workshops. Our drop-in room is open Monday to Friday from 9am-1pm & 2pm-5pm. We have Tea/Coffee making facilities, Library, Comfortable Chairs,
Computer & Wi-Fi access, information leaflets, a listening ear when needed.
NEW FOR 2020
Is it time to make time for you? Are you interested in learning something new? Have you skills or talents
you will like to share with other? If so come along to the Boyle Womens group information morning on
Monday January 13th at 10.30a.m and every Monday. Or just pop in for a cuppa and a chat.
RAINBOWS / SPECTRUM PROGRAMME
A group for children/teenagers who have lost a parent or significant other through death, separation or
divorce. Introduction night for parents Wednesday 22nd January from 7pm-8pm in Boyle Family Resource
Centre. For more information, please contact the Centre on 0719663000
BOYLE FOOD PARTNERSHIP
Community FEAD and Food Cloud. If you and/or your family need food, we distribute food through these
programmes at Boyle Family Resource Centre (FRC). Please text the word FOOD + your first name to
0860496467 to receive details. Last day for distribution before Christmas is Wednesday 18th December
2.30-3.30pm.
FAMILY SUPPORT DROP IN CLINIC
A drop in confidential space for parents and families to call in and receive support and a listening ear about
issues and concerns about you and/or your children. Wednesday mornings during primary school term
9.30am-12pm. An interagency project together with Boyle FRC, Foroige & Tusla. Boyle Family Resource
Centre 0719663000.
CLOTHING BANK
Clothing Bank for your Winter Clear out. There is a clothing bank outside Boyle Family Resource Centre
which accepts old clothes and bed linen, handbags, and shoes that are sent for recycling. Your support and
donations are very much appreciated as this helps raise funds towards the Centres programmes and
community work. NO DUVETS AND PILLOWS AS THEY WILL NOT BE ACCEPTED BY THE
RECYCLING COMPANY.
ROSCOMMON SUICIDE BREAVEMENT LIAISON SERVICE
Roscommon Suicide Bereavement Liaison Service is a free & confidential service that provides assistance & support to families & individuals grieving the death of a loved one by suicide. Contact: Tiffany Jennings
Walsh, Suicide Bereavement Liaison Officer on 0857407856 or Boyle Family Resource Centre (FRC) on
0719663000. This service is funded by the HSE National Office for Suicide Prevention.
What is Counselling & Psychotherapy? Counselling & Psychotherapy is for anybody. Sometimes life can be difficult for us, it can be unmanageable and challenging. Counselling can be a great support or resource at times of crisis or difficulty in our lives. It involves meeting with a trained Professional Therapist in a safe
confidential setting allowing you to talk about and explore life's challenges in a non-judgemental space.
Appointments are available Monday to Friday, day and evening. Therapeutic Support for Families,
Adolescents, Couples and Individuals. The cost is on a sliding scale and is negotiable. Please contact Marie
on 0719663000 or Maura on 0719663841 in Boyle Family Resource Centre. All our programmes and
services are confidential and professional.
ROSCOMMON SUICIDE BEREAVEMENT LIAISON SERVICE
Roscommon Suicide Bereavement Liaison Service is a free & confidential service that provides assistance & support to families & individuals grieving the death of a loved one by suicide. Contact: Tiffany Jennings
Walsh, Suicide Bereavement Liaison Officer on 0857407856 or Boyle Family Resource Centre (FRC) on
0719663000. This service is funded by the HSE National Office for Suicide Prevention.
BABY AND TODDLER GROUP
Baby & toddler groups can be a great way of meeting other people with children the same age as yours in
our community. It is open to childminders, grandparents and other guardians, babies, waddlers and toddlers
are welcome. Every Tuesday and Thursday morning from 10am–12.30pm in Boyle Family Resource Centre
(FRC) 0719663000. Cost: Donation. The Centre will be closed from Friday 20th December at 12.30pm
until Tuesday 7th January 2020 at 9am.
ALCOHOL ANONYMOUS
There are two AA meetings held in Boyle every week for those struggling with alcohol use in their lives.
• Family Resource Centre on Monday at 8.30pm
• St. Joseph's Hall on Thursday at 12.00pm.
This is the time of year when people can realise that alcohol is playing too big a part in their lives but feel unable to do anything about it. There is help, beginning with attending your local AA meeting. Alcoholics
Anonymous is a fellowship of men and women who share their experience, strength and hope with each
other that they may solve their common problem and help others to recover from alcoholism. The only
requirement for membership is a desire to stop drinking.