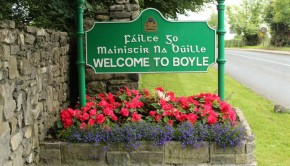 CALLING CHEFS AND COOKS
Failte Ireland are inviting all tourism businesses to attend Taste of Place – a 2-day programme developed specifically to assist catering teams to enhance local and seasonal menu offerings and one that supports those that are committed to sourcing food and drink that is grown and produced in Ireland. Network and learn from some of the best chefs in the industry in one of four locations. Who should attend? Chefs and Cooks responsible for food preparation and presentation, menu development and food and drink ordering. (Max 3 attendees per business). Note: You must be a registered trade portal user to sign up for this programme. Learn more about the Taste of Place Programme https://bit.ly/2mfIFI5. Course takes place on 8th and 9th of October in Athlone Institute of Technology with Chef Gary O Hanlon
BASIC FIRST AID WITH ABSOLUTE SAFETY
Friday October 4th 9.30am-5pm in Boyle Family Resource Centre 0719663000.  Booking essential. Cost: €60. Paediatric First Aid with Absolute Safety on Thursday October 17th 9.30am-4.30pm in Boyle Family Resource Centre 0719663000.  Booking essential. Cost: €40
RUN WALK N ROLL
The annual run walk n roll event in aid of Cancer Research will take place in Boyle on Sunday 13th October. 
PILGRIMAGE TO THE HOLY LAND
A special Christian Solidarity Pilgrimage to the Holy Land lead by Bishop Kevin Doran will take place from February 16, 2020 for eight nights, visiting Bethlehem, Nazareth, Jerusalem and the other sites associated with the life of Jesus. The trip will be a unique opportunity to experience the Holy Land with experienced guides. Price is €1,540 per person sharing which includes dinner, bed and breakfast for eight nights, all coach transfers and admission to all sites. To reserve your place, please call Marian Pilgrimages on 01 878 8159 or email [email protected]
GLAMOUR & GLITZ
Marians Fashion Show in King House Boyle With Mandy Maher and Catwalk Modelling Agency. Drinks reception 8pm proceeds Mayo Roscommon Hospice. Tickets €25 available from Marians, Bridge St, Boyle 071 9662031
OPEN MIC
Calling all musicians, poets and singers, starting from Sunday 6th Oct King House Tea Rooms will be launching an open mic session from 12 -2, so if you have a talent get in contact! Contact Dorothy on 0876430326
LONG TABLE DINNER EXPERIENCES
As part of Una Bhan Tourism's collaboration with Failte Ireland's Taste the Island initiative, we are facilitating two exciting Long Table Dinner Experiences.  The first of which will take place on Sunday October 20th in the home of Justina & Liam Gavin, owners of Drumanilra Organic Farm.  The event will include an exclusive tour of the Organic Farm, followed by a delicious six course taster menu. The menu will be prepared and presented by Mary & Jorn of Lovely Leitrim Barge using the farm's organic ingredients and produce. The second event is a Georgian Dinner Experience in Frybrook House with Christmas cheer on Friday 28th November.  Dinner will be prepared and presented in the house by David Porter, the Executive Head Chef from Kilronan Castle.  This occasion will include drink's reception, music of the time, storytelling and much more. It promises to be a sumptuous experience, reminiscent of days gone by. These are one off events and therefore tickets will be limited. Further details will be available soon. If you would like to register your interest for either of these event, please email [email protected].
KING HOUSE CHRISTMAS CRAFT FAIR 2019
This year's Christmas Craft Fair will be held on the 6th and 7th of December – Friday night 6th December 5pm to 9pm and all day Saturday 7th December 10am to 6pm. We would like to invite crafters that can supply handcrafted items such as, Christmas themed goods, e.g. tableware/placemats/hanging ornaments/decorative bottles/knitted jumpers/scarves/hats/ personalised plaques/celtic crosses/county name plaques/handcrafted jewellery, Christmas candles/floral Christmas arrangements/hand creams/lipbalms etc. On the opening night, King House will have a free glass of mulled wine for our visitors to the craft fair. Crafters can apply for an application/booking form to:
[email protected] or Phone 071/9664232 or call to the reception during opening hours. The closing date for completed application forms is Friday 18th October 2019. 
VOLUNTEERS WANTED
Volunteers required to work afternoons in Western Alzheimer's Charity Shop, Boyle. For further information, contact Fiona on 087 687 3283.
SIARSCÉAL FESTIVAL 
Literary festival inspired by the culture and heritage of County Roscommon, in the heart of Ireland, takes place11th -12th  October, in Roscommon County Library HQ in Roscommon Town. For more details contact : [email protected]. Website: www.SiarSceal.com
BOYLE FAMILY RESOURCE CENTRE
If you would like to be added to our mailing list, please let us know. Booking essential for all groups, courses and workshops.  Our drop-in room is open Monday to Friday from 9am-1pm & 2pm-5pm. We have Tea/Coffee making facilities, Library, Comfortable Chairs, Computer & Wi-Fi access, information leaflets, a listening ear when needed, email: [email protected] – Counselling Service: [email protected] Telephone: 0719663000.
BOYLE FOOD PARTNERSHIP 
Community FEAD and Food Cloud. If you and/or your family need food, we distribute food through these programmes at Boyle Family Resource Centre (FRC).  Please text the word FOOD + your first name to 0860496467 to receive details. Distribution times are: Monday 2.30pm-4pm or Wednesday 2.30pm-3.30pm or Friday 3pm-4.30pm. 
WIDOW & WIDOWERS SUPPORT GROUP
Support for those grieving the death of their spouse. Thursday 10th October from 7.30pm-9pm and monthly thereafter in Boyle Family Resource Centre.  Cost: €3/Donation. No booking necessary. 
SPANISH CLASS WITH LAURA 
Thursday's at 11am in Boyle Family Resource Centre 0719663000.  Cost is €40 for 6 weeks. Booking essential. To register your interest for a lunch time class from 12.30pm-1.30pm please contact the Centre. 
MUSIC & ITALIAN WITH MARIE HANMORE CAWLEY
Share learning with people of all ages and abilities.  Learn new skills from the mix of Music and Italian. So, come along and learn with us every Wednesday's morning from 10.30am-12.30pm in Boyle Family Resource Centre.  Cost: €3/donation.
BEGINNERS PILATES WITH OLIVER NEVIN
Tuesday's at 10.30am in Boyle Family Resource Centre.  To book a place please contact Boyle Family Resource Centre on 0719663000.  Cost: €10 per session or €50 for 6 sessions.
YOGA WITH LIZ DWYER
Wednesday mornings from 11am-12pm in Boyle Family Resource Centre. Cost: €10 per session or €50 for 6 sessions.
FAMILY SUPPORT DROP IN CLINIC 
A drop in confidential space for parents and families to call in and receive support and a listening ear about issues and concerns about you and/or your children. Wednesday mornings during primary school term 9.30am-12pm.  An interagency project together with Boyle FRC, Foroige & Tusla. Boyle Family Resource Centre 0719663000.  
CLOTHING BANK FOR YOUR AUTUMN CLEAR OUT
There is a clothing bank outside Boyle Family Resource Centre which accepts old clothes and bed linen, handbags, and shoes that are sent for recycling. Your support and donations are very much appreciated as this helps raise funds towards the Centres programmes and community work. NO DUVETS AND PILLOWS AS THEY WILL NOT BE ACCEPTED BY THE RECYCLING COMPANY. Thank you.
WHAT IS COUNSELLING & PSYCHOTHERAPY
Counselling & Psychotherapy is for anybody.  Sometimes life can be difficult for us, it can be unmanageable and challenging. Counselling can be a great support or resource at times of crisis or difficulty in our lives.  It involves meeting with a trained Professional Therapist in a safe confidential setting allowing you to talk about and explore life's challenges in a non-judgemental space. Appointments are available Monday to Friday, day and evening. Therapeutic Support for Families, Adolescents, Couples and Individuals. The cost is on a sliding scale and is negotiable. Please contact Marie on 0719663000 or Maura on 0719663841 in Boyle Family Resource Centre. All our programmes and services are confidential and professional.
ROSCOMMON SUICIDE BEREAVEMENT LIAISON SERVICE
Roscommon Suicide Bereavement Liaison Service is a free & confidential service that provides assistance & support to families & individuals grieving the death of a loved one by suicide.  Contact: Tiffany Jennings Walsh, Suicide Bereavement Liaison Officer on 0857407856 or Boyle Family Resource Centre (FRC) on 0719663000. This service is funded by the HSE National Office for Suicide Prevention.    
BABY AND TODDLER GROUP
Baby & toddler groups can be a great way of meeting other people with children the same age as yours in our community.  It is open to childminders, grandparents and other guardians, babies, waddlers and toddlers are welcome. Every Tuesday and Thursday morning from 10am–12.30pm in Boyle Family Resource Centre (FRC) 0719663000.  Cost: Donation. Bazz Art, Thursday 10th October 10am-11am sharp. Cost included in Baby & Toddler Group.
BEREAVEMENT SUPPORT
Support for those grieving the loss of a loved one.  Tuesday 1st October for 6 weeks at 8pm in Boyle Family Resource Centre 0719663000.  Cost: €3/donation. Booking essential.
SAFETALK
SafeTALK 'suicide alertness for everyone' is a half day training programme that prepares participants to identify persons with thoughts of suicide and connect them to suicide first aid resources.  These specific skills are called suicide alertness and are taught with the expectation that the person learning them will use them to help reduce suicide risk in their communities. Participants learn how to provide practical help to persons with thoughts of suicide in only a few hours.  Wednesday 9th October from 2pm-5pm in Boyle Family Resource Centre.  Cost: FREE. Booking essential. To book a place on our Suicide Prevention Training Programmes (ASIST, Safe TALK, STORM ®or Understanding Self-harm) in Galway, Mayo and Roscommon please go to this link. https://bookwhen.com/srotraininggmr#focus=ev-s447-20190902093000 
CV & OFFICE SERVICES
Are you looking for a new job? Are you having difficulty putting together your CV? Would you like some help? Then why not call into the Úna Bhán office in the grounds of King House, Boyle, where we will be delighted to give you any help, advice or information we can. A good CV could make all the difference in getting your job application through to the interview stage. We have a template and sheet of helpful tips to guide you through the process. We will also type your CV if you cannot do this yourself. Or you may just want to call in for a chat about your CV. All information will be treated in the strictest of confidence. For more details, contact Úna Bhán Tourism on 071 966 3033. We also offer office services such as Photocopying, Scanning, Laminating, Typing, Faxing, Binding and Printing.