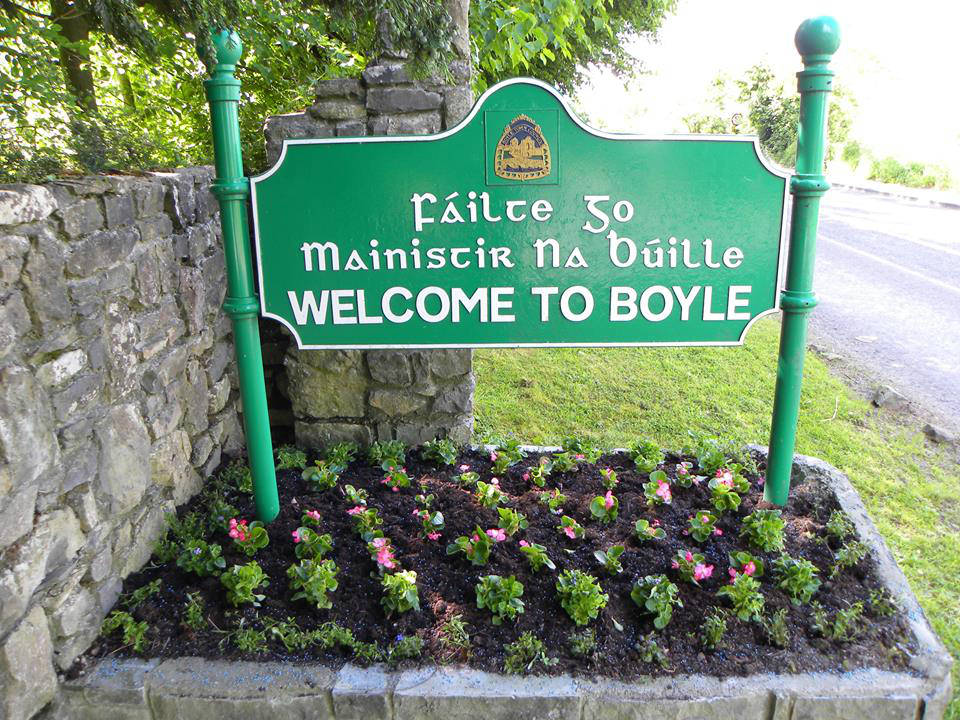 FRYBROOK HOUSE GEORGIAN CHRISTMAS DINNER EXPERIENCE
On Friday November 29th, inspired by Taste The Island, the proud new owners of Frybrook House, Boyle will once again open the doors of this much loved historic residence. Guests will be treated to a magnificent sumptuous Georgian Christmas Dinner Experience prepared by the Executive Head Chef of Kilronan Castle, David Porter. This experience was inspired and coordinated by Úna Bhán Tourism. The seven-course, five-star menu will be a true reflection of the region and era, with all seasonal produce sourced locally. Also on this magical night guests will enjoy a drinks reception, pre and post-dinner entertainment. Spaces are very limited for this event, if interested contact Úna Bhán Tourism on 0719663033 or email [email protected] to be included in a draw which will take place on Tuesday, November 12th. Tickets for this event are €135.00 including Dinner, Drinks & Entertainment. 
SISTER ACT
Boyle Musical 'Sister Act'will be staged in St. Joseph's Hall, Boyle from Wednesday, November 20th to Saturday, November 23rd and the performances will be at 8pm nightly. Tickets are priced at €18, with a special opening night concession of €15. €12 tickets will be available for children, students and senior citizens, for Wednesday and Thursday night's performances. Tickets can be purchased from our Booking Office which is located once again at the Úna Bhán Craft Shop in the grounds of King House. The office will be open from 10am to 4pm every day, excluding Sundays. Please note that tickets will be available for all performances but there is no pre-booking of allocated seats for Wednesday's show. Tickets can also be booked by telephone on 071 9663033. This line will be open during booking office hours only, every day excluding Sundays, until November 23rd. We accept credit card bookings. Tickets will also be available at the door of the Hall, each night. A detailed seating plan is available on www.boylemusicalsociety.com.This will be Boyle Musical Society's 36th annual musical show and the local cast features 42 new and familiar faces. They have been rehearsing since early September and together with the production team and committee, they are confident that this show will be a spectacular and memorable musical treat for all the family. For more information, please go to www.boylemusicalsociety.com  or follow us on Facebook.
FREE AGFOOD COURSES FOR FARMING COMMUNITY
Free Computer Course available from Úna Bhán Tourism in Boyle. Courses include how to manage your herd online / Complete your annual audit in 15 minutes / Send and receive emails / Use the internet in a safe & secure way / Pay bills online / Online banking / How to make calls for free and lots more. Next course starts on 19th November and spaces are filling fast. Please contact Nigel on (071) 966 3033 for more details or to book your place. 
SOCIAL DANCE CLASSES
Classes take place in Tawnytaskin Community Centre and continue on Nov 14th, 21st and 28th from 7.30pm to 9.00pm with Nicola and cost €3 per person per class.
FUNDRAISER IN BALLINAFAD CHURCH
Concert event on Friday 15th November from 8pm to 10pm in Ballinafad Church. Music on the night will be from Kieran Quinn, Gerry Grennan (Guitar and Vocals) and Brendan Emmett (Mandolin) and some surprise local guests.  For Tickets to this unique musical extravaganza please call 087 8210566 and/or 087 2036083
COURSE VACANCIES
Boyle Training Options/GRETB have upcoming vacancies for their Tourism Customer Care and IT Skills course that provides certified QQI training in Communications, Computer Applications, Information Technology Skills, Teamworking, Work Experience, Mathematics, Digital Media Technology, Workplace Safety, Web Design, Tourism Customer Care, CV and Interview Preparation. Training allowances apply for people who are in receipt of social welfare payments, for example: Learners aged under 26 may receive a training allowance of €203 per week for the duration of the course, The Childcare Education and Training Support Programme provide free childcare to course participants, Jobseeker Benefit recipients may be able to extend their payment by as much as 11 months.The course is free to undertake and it is not necessary to be in receipt of a social welfare payment in order to participate. If you have any enquiries or wish to join us please call into our office on Elphin Street (Beside the IT Trojan building), Email [email protected] or ring us on 086 0148270 and ask for Ursula
BOYLE FAMILY RESOURCE CENTRE 
If you would like to be added to our mailing list, please let us know. Booking essential for all groups, courses and workshops.  Our drop-in room is open Monday to Friday from 9am-1pm & 2pm-5pm. We have Tea/Coffee making facilities, Library, Comfortable Chairs, Computer & Wi-Fi access, information leaflets, a listening ear when needed.
BASIC FIRST AID COURSE
Basic First Aid Course with Absolute Safety on Friday 6th December from 9.30 am-5pm in Boyle Family Resource Centre 0719663000.  Booking essential. Cost: €60
BOYLE FOOD PARTNERSHIP 
Community FEAD and Food Cloud. If you and/or your family need food, we distribute food through these programmes at Boyle Family Resource Centre (FRC).  Please text the word FOOD + your first name to 0860496467 to receive details.
WIDOW & WIDOWERS SUPPORT GROUP
Support for those grieving the death of their spouse. Thursday 14th November from 7.30 pm-9pm and monthly thereafter in Boyle Family Resource Centre.  Cost: €3/Donation. No booking necessary.
SERVICE OF REMEMBRANCE
Remember your loved one at this special annual service.  You are welcome to bring a photo or a small memento on the evening. Friday, November 15th at 8 pm in Boyle Family Resource Centre. All welcome. 
SPANISH CLASS WITH LAURA 
Thursday's at 11am in Boyle Family Resource Centre 0719663000.  Cost is €40 for 6 weeks. Booking essential. To register your interest for a lunchtime class from 12.30pm-1.30pm please contact the Centre. 
IRISH CLASSES
Irish Classes with Mícheál Ó'Tuathaill. Complete Beginners Irish – Wednesday 7 pm-8 pm/ Beginning Irish Again – Tuesday 7 pm-8.30 pm /Improvers Irish – Thursday's 7 pm-8.30 pm. All classes are for 10 weeks.  Cost: €80. To book your place please contact Boyle Family Resource Centre on 0719663000.
BEGINNERS PLATES 
Beginners Pilates with Oliver Nevin. Tuesday mornings at 10.30 am in Boyle Family Resource Centre.  Cost: €10 per session.
YOGA
Yoga with Liz Dwyer ON Wednesday mornings from 11am-12pm in Boyle Family Resource Centre. Cost: €10 per session.
ENGLISH CLASSES 
English Language Class with Michael O'Toole, those whose English is not their first language. Tuesday's 12 pm-1 pm in Boyle Family Resource Centre 0719663000.  Cost: €3/Donation.
ANGLU KALBOS KLASE
Anglų kalbos kursai skirti tiems, kurių anglų kalba nėra jų pirmoji kalba. Antradienį, 12–13 val., Boyle" šeimos išteklių centre 0719663000.
Lekcja języka angielskiego
Lekcje języka angielskiego są dla tych, których angielski nie jest ich pierwszym językiem. We wtorek od 12:00 do 13:00 w Boyle Family Resource Center 0719663000.
Limba engleză. Cursurile de limba engleză sunt pentru cei a căror engleză nu este prima lor limbă. Marți ora 12:00 – 1 pm în Boyle Family Resource Center 0719663000.
CLOTHING BANK
Clothing Bank for your Winter Clear out. There is a clothing bank outside Boyle Family Resource Centre which accepts old clothes and bed linen, handbags, and shoes that are sent for recycling. Your support and donations are very much appreciated as this helps raise funds towards the Centres programmes and community work. NO DUVETS AND PILLOWS AS THEY WILL NOT BE ACCEPTED BY THE RECYCLING COMPANY. Thank you.
COUNSELLING & PSYCHOTHERAPY
Counselling & Psychotherapy is for anybody.  Sometimes life can be difficult for us, it can be unmanageable and challenging. Counselling can be a great support or resource at times of crisis or difficulty in our lives.  It involves meeting with a trained Professional Therapist in a safe confidential setting allowing you to talk about and explore life's challenges in a non-judgemental space. Appointments are available Monday to Friday, day and evening. Therapeutic Support for Families, Adolescents, Couples and Individuals. The cost is on a sliding scale and is negotiable.
Please contact Marie on 0719663000 or Maura on 0719663841 in Boyle Family Resource Centre. All our programmes and services are confidential and professional.
BEREAVEMENT
Roscommon Suicide Bereavement Liaison Service is a free & confidential service that provides assistance & support to families & individuals grieving the death of a loved one by suicide.  Contact: Tiffany Jennings Walsh, Suicide Bereavement Liaison Officer on 0857407856 or Boyle Family Resource Centre (FRC) on 0719663000. This service is funded by the HSE National Office for Suicide Prevention.    
BABY & TODDLER GROUP
Baby & toddler groups can be a great way of meeting other people with children the same age as yours in our community.  It is open to childminders, grandparents and other guardians, babies, waddlers and toddlers are welcome. Every Tuesday and Thursday morning from 10 am–12.30 pm in Boyle Family Resource Centre (FRC) 0719663000.  Cost: Donation. Bazz Art, Thursday, November 14th 10 am-11 am sharp. Cost included in Baby & Toddler Group.
BREASTFEEDING SUPPORT
A space where you and your baby will receive lots of support, a warm welcome & a cuppa!  Older siblings are very welcome to come along as are expectant mothers. Friday 29th November from 10 am-11.30 am.  Cost: €2 or donation.