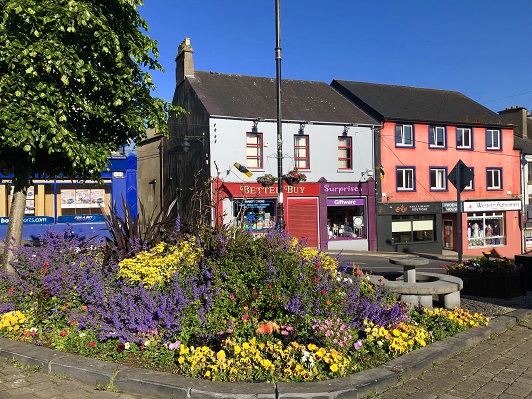 SAINT PATRICK'S PARADE
It's that time of year again where we are in the middle of organising the St. Patrick's Day parade. In order to make the Parade a success as many business and clubs invited to enter floats or participate with a walking group to showcase everything great about our town and community. Please return the entry forms to the businesses listed to help make this day a success. Entry Forms from Committee members D.Dooly, L.Egan, D.Shannon, A.Sharkey, M.Downes, S.Rushe, C.Moss and D.O'Daly.
CURLEW WALKERS
The next walk will take place on Sunday 23rd Feb, meeting on the Crescent, Boyle at 10am. The walk will be Lough Arrow, it is a Grade B+ Climb walk (4 to 6-hour duration, Good level of fitness required). The walk leader is Henk Meijnhart 087 273 3373.
FUNDRAISER IN AID OF AUTISM
A fundraising event with music by The Antics, La Gracia and special guest will take place in Dalys on Feb 29th from 9pm. Raffle on the night supported by local businesses, all donations greatly appreciated.
RATHCROGHAN VISITOR CENTRE
Archaeology Above & Below, Ireland's only annual community archaeology conference, is now in its seventh year and will take place in Rathcroghan Visitor Centre, Tulsk on Saturday 28th / Sunday 29th March. The purpose of this conference is to create a forum for discussion between communities and individuals who wish to interpret the story of the landscapes that we inhabit. This is achieved by a series of talks, and workshops detailing the aims, techniques and results of community-led research throughout Ireland and further afield. For the last six years, we have sought to inspire an interest in and love for the disciplines of history and archaeology, a curiosity in the unknown, and a willingness to uncover the gaps that appear in our knowledge of our past. Each year, we provide a different theme from which our speakers approach their talk, so that we are constantly re-evaluating and questioning what we know with fresh ideas and a new perspective. www.rathcroghanconference.com Phone: (071)9639268
UP TO €22,500 AVAILABLE FROM GMIT NEW FRONTIERS BUSINESS START-UP PROGRAMME – APPLICATIONS ARE OPEN!
New Frontiers is Ireland's national entrepreneur development programme, delivered locally by Galway Mayo Institute of Technology Innovation Hubs and funded by Enterprise Ireland. Ideally applicants should:
Have an innovative idea
Be capable of building a new company
Create employment
Generate sales revenue
Have export potential
The 2020 programme is now open to new applicants. Apply early as places are limited. First preference places will be offered to those who return their applications by Thursday, March 12th.
The programme will commence on Saturday, March 28th. For more information or to apply for this exciting business opportunity, visit www.gmit.ie/newfrontiers
DIVINE MERCY CONFERENCE
There will be a bus going to the Divine Mercy Conference in the RDS, Dublin on Sat 22nd Feb, leaving the Church Car Park in Roscommon Town at 7am sharp. Contact Marian on 086 8068 259.
PLAYING FOR HEALTH
A talk on the importance of play for children. Ignite and rekindle your enthusiasm for play to benefit you your children and your family. Presented by Karen Stewart a child and adolescent psychotherapist with a speciality in play therapy. Boyle Library Thursday 27th February from 6.30pm to 8pm. Booking is essential. Call Boyle Library on 071 9662800 or email [email protected].
BOYLE HOLIDAY GROUP 2020
The group are travelling to Galway and Connemara from Monday 15th to Friday 19th of June 2020. The group will be staying at the Connemara Coast Hotel in Furbo Co. Galway. Anyone interested please contact Mary Regan on 0861298355
BOYLE FAMILY RESOURCE CENTRE
Boyle Family Resource Centre CLG contact details. website: www.boylefrc.ie. We are also on twitter: www.twitter.com/FLCBoyle.  Email: [email protected] – Counselling Service: [email protected] Telephone: 0719663000. Charity No: 20153519.  If you would like to be added to our mailing list, please let us know. Booking essential for all groups, courses and workshops.  Our drop-in room is open Monday to Friday from 9am-1pm & 2pm-5pm.  We have Tea/Coffee making facilities, Library, Comfortable Chairs, Computer & Wi-Fi access, information leaflets, a listening ear when needed.
WOMEN'S GROUP
Boyle Family Resource Centre have a women's group every Monday Morning from 10am to 12pm. Our next meeting is Monday February 17th. Everyone is welcome and a great space to meet New and Old friends.
BOYLE FOOD PARTNERSHIP
Community FEAD and Food Cloud. If you and/or your family need food, we distribute food through these programmes at Boyle Family Resource Centre (FRC).  Please text the word FOOD + your first name to 0860496467 to receive details.
FAMILY SUPPORT DROP IN CLINIC
A drop in confidential space for parents and families to call in and receive support and a listening ear about issues and concerns about you and/or your children. Wednesday mornings during primary school term 9.30am-12pm.  An interagency project together with Boyle FRC, Foroige & Tusla. Boyle Family Resource Centre 0719663000.
COUNSELLING & PSYCHOTHERAPY
What is Counselling & Psychotherapy? Counselling & Psychotherapy is for anybody.  Sometimes life can be difficult for us, it can be unmanageable and challenging. Counselling can be a great support or resource at times of crisis or difficulty in our lives.  It involves meeting with a trained Professional Therapist in a safe confidential setting allowing you to talk about and explore life's challenges in a non-judgemental space.  Appointments are available Monday to Friday, day and evening. Therapeutic Support for Families, Adolescents, Couples and Individuals. The cost is on a sliding scale and is negotiable. Please contact Marie on 0719663000 or Maura on 0719663841 in Boyle Family Resource Centre. All our programmes and services are confidential and professional.
BEREAVEMENT SERVICE
Support for those grieving the loss of a loved one. Tuesday 25th February at 8pm for 6 weeks in Boyle Family Resource Centre 0719663000. Cost: €3/Donation. Booking essential.
WIDOW AND WIDOWERS SUPPORT GROUP
Support for those grieving the death of their spouse. Thursday February 13th & every second Thursday of the month from 7:30pm-9pm in Boyle Family Resource Centre 0719663000. Cost: €3/Donation.
BABY AND TODDLER GROUP
Baby & toddler groups can be a great way of meeting other people with children the same age as yours in our community.  It is open to childminders, grandparents and other guardians, babies, waddlers and toddlers are welcome. Every Tuesday and Thursday morning from 10am–12.30pm in Boyle Family Resource Centre (FRC) 0719663000.  Cost: Donation.  Bazz Art: second Thursday of each month starting on 13th February 10am-11am sharp.  Cost included in Baby and Toddler Group.
BASIC FIRST AID WITH ABSOLUTE SAFETY
Friday March 20th from 9.30am-5pm in Boyle Family Resource Centre 0719663000.  Booking essential.  Cost: €80
IRISH CLASSES
Irish Classes with Mícheál Ó'Tuathaill. Complete Beginners Irish on Wednesdays from 7pm-8.30pm. Beginning Irish Again on Tuesdays from 7pm-8.30pm. Improvers Irish on Thursdays from 7pm-8.30pm. All classes are for 10 weeks.  Cost: €80.  Booking is essential. To book your place please contact Boyle Family Resource Centre on 0719663000.
PILATES
Pilates with Oliver Nevin * Limited Availability* Booking Essential. Advanced Tuesday mornings at 9.30am. Cost: €10 per session. Boyle Family Resource Centre on 0719663000. Beginners Tuesday mornings at 10.30am. Cost: €10 per session.
YOGA WITH LIZ
Yoga with Liz Dwyer. Wednesday mornings from 11am-12pm in Boyle Family Resource Centre. Cost: €10 per session.
GO FOR LIFE
2 Yoga Classes and 2 Pilates Classes: Free for over 55's and €5 for under 55 years of age.  Dates to be confirmed.  For more information, please contact Boyle Family Resource Centre on 0719663000.