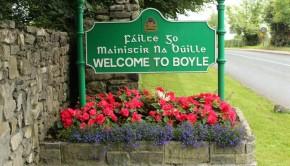 ARCHAEOLOGY BUS TOUR
To celebrate National Heritage Week, Úna Bhán Tourism Co-operative and Ballaghaderreen Lake and Legends invite you to join us on archaeology Bus Tour on Saturday 26th August, leaving from King House, Boyle at 12pm. Visiting Drumanone Dolmen, Moygara Castle, Clogher Stone Fort, The Four Altars and Urlaur Abbey. To book a place call Úna Bhán Tourism on 071 – 96 63033
MOBILE UNIT IN BOYLE
The Marie Keating Foundation mobile unit & nurse will once again visit the Family Resource Centre, Boyle on Tuesday September 12th from 10.30am to 3pm. The Foundation Mobile Information Units are staffed by a specialist nurse and visit community groups, workplaces, organisations and public places to bring cancer information straight into the heart of communities nationwide.
LOUGH KEY TRIATHLON 2017
Lough Key Triathlon takes place on Sunday 3rd September – for anyone who has never done their race before have you ever wondered what to expect? They have a stunning Forest Park setting in heart of the North West of Ireland – 30 mins from Sligo, 1hrs 30 from Galway, 2 hours from Dublin and just over 2 hours from Belfast. They pride themselves on doing something different each year as regards their famous goodie bags and this year is no different – they have just taken delivery of 300 'goodies' and they can guarantee entrants will not be disappointed. Make sure to get your entries in via www.triathlonireland.com
DIGITAL SKILLS FOR BOYLE CITIZENS
A new Digital Skills for Citizens course starts on Monday September 4th in Boyle. Booking is essential for this five week course which will run from 7pm-9pm in Boyle Family Resource Centre. For more information please contact the Centre on 071 966 3000. This free programme is funded through the Department of Communications, Climate Action and Environment (DCCAE).
BEE KEEPING AT ARDCARNE GARDEN CENTRE
An Introduction to Bee Keeping will take place in Ardcarne Garden Centre on Saturday 26th August. This free customer event will get underway in the Boyle store at 11.30am and conclude at 12.30pm. Join Eamonn Tubman, chairman of Digges Beekeepers Association for an introduction on how to keep bees. All are welcome
JOINT TICKETING FOR BOYLE ATTRACTIONS
A Boyle Town Team promoted joint ticketing initiative is now available in four of the area's top attractions. Visitors to King House, Lough Key Forest Park, Boyle Abbey and Arigna Mining Experience can avail of a discount if they purchase another ticket for any of the other attractions. It is hoped to have Boyle Model Railway added to the ticketing system when it is up and running. The idea was first mooted by Boyle Town Team to Roscommon County Council earlier this year. With the assistance of Martin Lydon and Mary Mullins from Roscommon Co Co and the management of the four venues, the joint ticketing initiative is now live.
BOYLE BRANCH LIBRARY
Emigration from Boyle with a happy ending! Hear grandnephew Vincent Delaney tell the story of Thomas Higgins, born near Boyle in the 1840's who emigrated to the United States and in later years wrote down recollections of his life. This will be taking place in the Library on Tuesday 22nd August at 6.30 pm until 7.30 pm.  Boyle Library will also host an exhibition of letters and images relating to Thomas Higgins and his amazing life. This exhibition will take place Library hours from the 15th 26th August.
HELLO DELIA MURPHY
Enjoy and afternoon of the story and songs of Delia Murphy, performed by her niece Carmen Cullen with music by Gerry Anderson. Delia was a singer and collector of Irish ballads who recorded several records from the 1930's to the 1960's. During World War Two she assisted Monsignor Hugh O'Flaherty (the Vatican pimpernel) to hide Jews and escaped Allied soldiers from the Nazis. This event will take place in Boyle Library on Wednesday 23rd August at 2.30pm until 4.30pm.
COURTYARD MARKET
To celebrate Heritage Week the Courtyard Market which takes place every Saturday in the grounds of King House, Boyle will be hosting the following events: Vintage Motorbikes and High Nellie Bike display on Saturday 19th August alongside: 'How to Build a Bug Hotel' 10am, Basket Weaving Demonstrations with Victor and live music by Stereo Bytes at 11am. On Saturday 26th August also celebrating Heritage Week: Vintage Motorbikes and High Nellie Bike display 10am with Food demonstrations, 'How to Build a Bug Hotel' 10am Basket Weaving Demonstrations with Victor, 11am Live music by 'The Hermit Collective' 11am FREE Children's tour of King House 'Through the Eyes of a Child' conducted by Anna for children aged 6 to 12 (pre-booking essential as limited numbers). At 12 noon Hair braiding by Anna and food of Bye-gone years' in King House Tea Rooms with a Vintage Theme.
DIG IT ARCHAEOLOGY FOR KIDS
"Dig It" is a fun educational, hands on archaeology experience for ages 3years plus where they will carry out a 'mini excavation' with the promise of hidden treasure using safe, child friendly tools. Warning – children can get a littler dirty as this is an outdoor event so please wear suitable clothing and footwear. Children must be accompanied by an adult at all times. This event will take place on Saturday 26th August from 11am until 5pm.
BOYLE FAMILY RESOURCE
Get ready for Spring/Summer by doing a clear-out. There is a clothing bank outside the Boyle Family Resource Centre (Family Life Centre) which accepts old clothes, bed linen, handbags and shoes that are sent for recycling. Your support and donations are very much appreciated as this helps raise funds towards the Centres programmes and community work. No Duvets and Pillows and as they cannot be recycled.
CV & OFFICE SERVICES
Are you looking for a new job? Are you having difficulty putting together your CV? Would you like some help? Then why not call into the Úna Bhán office in the grounds of King House, Boyle, where we will be delighted to give you any help, advice or information we can. A good CV could make all the difference in getting your job application through to the interview stage. We have a template and sheet of helpful tips to guide you through the process. We will also type your CV if you cannot do this yourself. Or you may just want to call in for a chat about your CV. All information will be treated in the strictest of confidence. For more details, contact Úna Bhán Tourism on 071 9663033. We also offer office services such as Photo Copying, Scanning, Laminating, Typing, Faxing, Binding and Printing are carried out at the Una Bhan office in the grounds of  King House, for further information please contact the office on 071 966 3033.