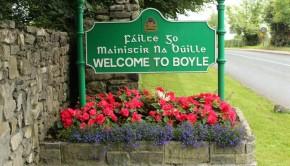 Foundation Cookery Course
A Foundation Cookery Course has commenced in Abbey Community College, Boyle and will continue until April 27th. Course modules include foundation cookery training, first aid, food hygiene, customer service and interview/communication skills. The course is geared for people seeking employment opportunities in the hospitality, nursing home and deli sectors. Employers interested in providing work experience can contact 071 9673440. The course is organised and funded by Boyle based training network, Role Skillnet. The network provides funding for training in small and medium sized businesses.
Childrens Craft Workshop
Una Bhan Tourism Boyle will be holding their Craft Workshop on Tuesday 18th through to Friday 21st April. All children over the age of 5 are most welcome. For further information call 071 9930 33.
Thank You to Sisters of Mercy
The Parish Pastoral Council have organised a celebration of Thanksgiving to acknowledge the work of the Sisters of Mercy here in Boyle on Saturday 22nd April.
Mass will take place at 7.30pm in St. Joseph's Church and a Parish Gathering in St. Joseph's Hall afterwards. Everyone is invited to attend.
Curlew Walkers Club
The next meeting of the Curlew Walkers club will be taking place on Sunday 23rd April. Meeting on the Crescent, Boyle at 9am. This will be a Climb/Grade A at Slieve Bloom. Your leader for the day will be Henk Meijnhardt. Please confirm times with leader or website prior to each walk www.walkingboyle.com.
Skillnet Training Courses
Basic Excel training will take place on Tuesday April 25th and Social Media for Business taking place on Tuesday May 5th. Training is free for Jobseekers and Participants of Social Employment Schemes. For more information or to book places, call 071 9673440 or email [email protected] Role Skillnet support and fund training for businesses and for jobseekers.

Annual Sponsored Walk
St. Joseph's Boys National School, Abbeytown, Boyle will hold their Annual Sponsored Walk on Sunday 7th May at 3pm. Meeting in the school at 2.45pm with the walk starting at 3pm.  Everybody welcome to come along. Light refreshments will be served afterwards in the school hall.

Darkness into Light 2017
This is the Pieta House signature Awareness and fundraising event. The event will begin in darkness at 4.15am on Saturday morning, 6th May 2017, and end as the sun begins to rise. Supported by Electric Ireland, this event will take place in over 110 locations in Ireland and across the world. More information to follow nearer the date of this event.
Lough Key Classic
The Lough Key Classic Cycling Sportive will be taking place on Sunday 14th May starting and finishing in Boyle. The 115k will start at 9am and the 10am start for the 33/70k. Enjoy the beauty of Lough Key Country and take in the views in this challenging event. Further news coming soon on www.curlieuwheelers.com
Courtyard Market
The market is now open for Organic Fruit and Vegetables, Organic Eggs, Olive Oil, Achill Sea Salt, Breads, Cakes and Tarts. The market will be open from 10am until 2pm each and every Saturday.

Ireland's Toughest Muckers
Ireland's Toughest Muckers is a 10km obstacle challenge set in the stunning location of Lough Key Forest Park in Boyle. This challenge is tough, dirty, sweaty, wet, adrenaline packed but most of all it is fun. There will be natural and manmade obstacles that you may need help to complete but it is all part of the challenge, and just when you think you can't take anymore there is a surprise in store (let's just say you better get on that stepper). This course is designed by firemen who got silver medals in the world police and fire games last year, so you can expect it to be full of exciting and tricky obstacles. Event schedule and times: Saturday 19th July. Registration begins at 10am on the morning and the race starts at 12.00. There is ample parking in the forest park. Waivers will need to be signed on the day. It is advisable to wear training gear for the race but remember to bring a change of clothes to enjoy the festivities afterwards.

Society of St. Vincent de Paul Boyle
If you need help with bills, with education expenses or simply need to speak to someone outside the family or friends about any difficulties you are facing or wish to make a donation -contact St. Vincent de Paul Society, Boyle telephone or text 087 9292627 Email: [email protected] All calls, texts and help provided are CONFIDENTIAL
CV & Office Services
Are you looking for a new job? Are you having difficulty putting together your CV? Would you like some help? Then why not call into the Úna Bhán office in the grounds of King House, Boyle, where we will be delighted to give you any help, advice or information we can. A good CV could make all the difference in getting your job application through to the interview stage. We have a template and sheet of helpful tips to guide you through the process. We will also type your CV if you cannot do this yourself. Or you may just want to call in for a chat about your CV. All information will be treated in the strictest of confidence. For more details, contact Úna Bhán Tourism on 071 9663033. We also offer office services such as Photo Copying, Scanning, Laminating, Typing, Faxing, Binding and Printing are carried out at the Una Bhan office in the grounds of King House, for further information please contact the office on 071 966 3033.