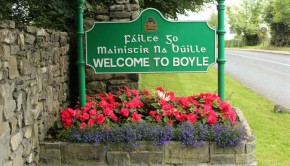 DAFFODIL DAY 2018
The organisers of Daffodil Day 2018 wish to compliment  the following who helped in various ways to make the collection a success. They would like to thank The Businesses, Nursing Homes, the Yoga Class, the staff and pupils of Abbey Community College who allowed the collection to take place either in or at their premises. Also the kind people who provided the collectors with Tea and Coffee throughout the day. We also thank the local Media outlets and St Joseph's Parish Newsletter for the publicity they afforded this collection. Finally, and most importantly we wish to thank you the members of the public who once again contributed so generously to this most worthy cause. The total amount collected for 2018, amounted to €6,648. Mile Buiochas.
NATIONAL TRANSPORT AUTHORITY
The Boyle to Lough Key Forest Park Service from King House Bus Stop is now up and running until 31st October 2018.  The Lough Key Forest Park Service links visitors to the park seven days per week, providing four return scheduled services daily. It also serves Boyle Marina.
CURLEW WALKERS CLUB
The next meeting of the Curlew Walkers will be taking  place on Sunday 5th April, meeting on the Crescent at 10am. Your leader for the day on the day will be Pam Barnes 087 202 7513. This will be a Climb/ Flat Grade A/C, Nephin/knockvicar bog walk. Please confirm times with leader or website prior to each walk www.walkingboyle.com.
MONTY & MICHELLE MEMORIAL GIG
A Fundraising concert remembering Michelle and Monty Montgomery will take place in St. Joseph's Hall on Saturday April 7th from 8.30pm,Artists performing will include: Helen Grehan, Frankie Simon, Michael Harrington, Brendan Howley, Bernard Flaherty, John Costello, Derek Caldbeck, Brendan Maloney, Brendan McGee, Matt Burke, Seamie Simon, Dodd's Traditional Session Group, Billy McAuley (Mullingar), David Byrne,Francie Lenehan, Johnny McGlynn, Donal O'Connor, Sean Nicholson,George Mullaney, Pat Hever, Seamie Carr and more BYOB (Bring Your Own Bottle).Admission optional with proceeds in aid of North-West and Mayo /
Roscommon Hospice.
CASTLECOOTE HOUSE MYTHS & HISTORY                                               
Castlecoote House is hosting a second series of Myth & History Series of talks. The next one will take place on Thursday 12th April this called a Jew in the Margins: Paul of Tarsus the "Founder "of Christianity. Talk will be given by Dr Luke Macnamara. Lectures begin at 10.45am for further information email [email protected]  
LOUGH KEY TRI A TRI SOLD OUT
Lough Key Triathlon Club Beginners Try a Tri will take place on Sunday 8th April in Carrick on Shannon. This event, which is now sold out, is a pool based beginners triathlon, of 10 lengths of the pool followed by a 13km cycle and then a 4km run. You may also wish to take part in some other events later in the year including Swim Lough Rynn in July and Lough Key Triathlon in September. The club will have a small number of event t-shirts available for purchase on the day for a nominal fee and these will be sold on a first come first served basis at registration.
FAMILY PICNIC DAY IN FOREST PARK
Bishop Kevin Doran is inviting families across the 37 parishes of the Diocese of Elphin to a family picnic fun day in Lough Key Forest Park, Boyle on Sunday 22nd April 2018. The celebration is part of diocesan preparations for the World Meeting of Families which will take place in August 2018. Speaking at the event launch at the Forest Park on Saturday, Bishop Kevin said, "this is a celebration of family in an atmosphere of fun, sharing and friendship. Families of other religious traditions and of none are our neighbours and friends and I want them to feel most welcome on this family day.  The day will begin at 1pm and continue until 6pm with an official opening at 2.30pm. There will be face painting, dance workshops and outdoor games to play. Musicians, singers and choirs will share their gifts and create a family atmosphere. Families may choose to do some of the walks around the park and gain some insight into the history of Lough Key Forest Park. An opportunity will also be available to explore the beauty of creation and consider how we can care for our common home. Families can discover the Family Cube, a resource to help families on their journey of faith and love. Admission to the event is free, with free parking.  Families are encouraged to bring their own picnic or avail of Lough Key's on-site catering. BBQ's are permitted. Families are also invited to bring a bit of extra food for a sharing table. A programme of events for the day will be available shortly.
KING HOUSE TO HOST VÓTÁIL 100
"Vótáil 100 – Votes for Women" Will be held in King House this April. Boyle has been chosen to host the event due to its connection with Margaret Cousins, she was an  educationist, suffragist and theosophist who established the All India Women's Conference. Margaret was born on 7th November 1878 and lived on the Crescent in Boyle, There will be  a wide panel of speakers including Senator Ivana Bacik, Mary McAuliffe (UCD), Claire McGing (Maynooth University) and Sandra Collins (Director National Library of Ireland). Maire Egan Paul and Keith Monro will talk about 'Margaret Cousins and the Irish Women's Franchise League'. This is a full day conference will be held on Wednesday April 25th, starting at 9am to 5pm. For further information or to book contact Mary Mullins 090 66 37321 or 090 37243 email [email protected]                                                                                                                                                                                  
BOYLE HOLIDAY GROUP
The holiday group will travel to North Donegal on Monday 4th June until Friday 8th June, staying at the Mount Errigal Hotel, Letterkenny. Enquiries to Mary Regan 0861298355 or 0719663544.
DATE FOR YOUR DIARY
Darkness into Light is an Annual 5k Walk/Run in aid of Pieta House. On Saturday the 12th of May a community will come together at St Joseph's Hall and walk in support of positive mental health. This is a truly unique experience made by YOU. Family, friends and friends you haven't met yet gathering in support of those who may be struggling or those we have lost. Together we stand together as a community and shine a beacon of light and hope. This will be Boyle's second year to host the world wide event.
COURTYARD MARKET
The Market takes place every Saturday in the Grounds of King House, Boyle from 10am until 2pm. If you would like to enjoy the best locally grown fresh and organic produce, then a trip to the Courtyard Market should be on your agenda. There is a wide range of seasonal produce, Vegetarian hot meals to eat here or take home as well as organic fruit and vegetables, t Park on Sunday 22nd April their handmade wares. So why not come along and have a chat with the stall holders and avail of their ideas. For further information, please call Una Bhan on 071 9663 033
CV & OFFICE SERVICES
Are you looking for a new job? Are you having difficulty putting together your CV? Would you like some help? Then why not call into the Úna Bhán office in the grounds of King House, Boyle, where we will be delighted to give you any help, advice or information we can. A good CV could make all the difference in getting your job application through to the interview stage. We have a template and sheet of helpful tips to guide you through the process. We will also type your CV if you cannot do this yourself. Or you may just want to call in for a chat about your CV. All information will be treated in the strictest of confidence. For more details, contact Úna Bhán Tourism on 071 9663033. We also offer office services such as Photo Copying, Scanning, Laminating, Typing, Faxing, Binding and Printing are carried out at the Una Bhan office in the grounds of King House, for further information please contact the office on 071 966 3033.