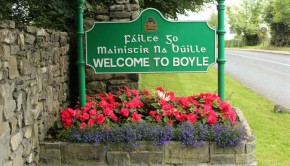 BOYLE MUSICAL SOCIETY
The  BMS have been nominated by AIMS for an award for Best Visual). This nomination recognises the expertise of everyone in our Society, but in particular Mandy Toolan for Costumes, Teresa Ward for Hair, Kate Conneely for Make-up and Patricia Golden for Props. Together with the lighting proficiency of Nigel & Tom Cleary and the expert direction of our Production Team this nomination is so well deserved. The venue of St Joseph's Church greatly enhanced the Visuals and once again a sincere thanks to Fr Gerry and the Pastoral Council for allowing us stage our 2017 show in our Parish Church. The Winner will be announced at the AIMS AWARDS Banquet in Killarney on 16th June. The other nominees in this category are Portlaoise Musical Society and Waterford Musical Society.
LIGHTS FOR PLEASURE GROUNDS
Five new solar powered light are to be installed in the Pleasure Grounds in Boyle in the next number of weeks. The lights have zero running or electrical costs. The project was identified and led by Boyle Town Team who are working in association with Roscommon County Council towards installation. Funding was obtained by the Team by way of a grant from the RAPID fund. This was complimented by additional funds from a charity car wash undertaken by Boyle Fire Service. It is hoped the lights, which will be installed in key areas of the grounds, will add to the security of the area. The Pleasure Grounds is a key part of the Boyle 2040 plan. The Plan is currently being finalised and further details of this and a number of other exciting Town Team projects will be announced in the coming weeks."
SPECIAL MERIT AWARD FOR ABBEY GIRLS
Congratulations to Boyle, Abbey College girls Heidi Caldbeck, Sarah Conheady, Caoimhe Cregg, Amanda Wynne and Kate Murphy and their project 'Save our Seas' on winning the 10 year Anniversary Special Merit award at today's 'One Good Idea' final in Dublin Castle.
SOCIAL DANCE CLASSES
Social Dance Classes in Tawnytaskin Community Centre on Wednesday nights at 8.30pm. Teaching of Jive, Slow-Waltz, Old time Waltz, Quick-Step, and Fox-Trot. All Welcome no Partners required. For more details contact Colette 087 266 6423
I.C.A – TEA TASTING NIGHT
Boyle and District I.C.A will have guest speaker Doris Rabe (Irish Tea company) on Tuesday 29th May and will provide a tea tasting night including a talk about nutrition and her website www.goodhealthclinic.ie, Doris is also a beekeeper and producer of honey so it will be an interesting night. There will be a small fee to cover costs. Find out more about Boyle and District I.C.A. by contacting Eimear Browne on 087 977 7036..
BLOOD DONATION CLINIC
Save a life – give blood on Thursday 31st May 4.30 until 8pm in St Josephs Hall, Boyle. I in 4 people need blood but only 1 in 33 give blood….do you.
A NIGHT AT THE RACES
This Novelty Race event promises to be a great night's entertainment in addition to raising funds for the club. It will take place in Mattimoe's Bar commencing at 9.30pm on Sunday June 3rd. There are still some horses remaining for sponsorship at €20 each. Contact any committee member if interested. Sponsorship includes horse, jockey, colours, race card, entry to the parade ring and form advice.
CURLEW WALKERS CLUB
The next meeting of the Curlew Walkers will be on Saturday/Sunday 9th/10th June meeting on the Crescent, Boyle at  9am. This will be a Clonbur walk and is a climb, grade B. Leader for the day will be Eugene Griffin 086 256 0400. Please confirm times with leader or website prior to each walk www.walkingboyle.com
LOUGH KEY AQUATHON
The Lough Key Aquathon will take place this year on Wednesday June 13th will consist of 750m swim and a 5k run. Commencing at 7.30pm in Lough Key Forest Park, the Aquathon is part of the Midlands Series. More information on closer to the event.
CANCER SOCIETY FUNDRAISING NIGHT
A fundraising night for the Irish Cancer Society will take place in the Patrick's Well on June 22nd and The Moylurg on July 6th. The event is in aid of Boyle man Paul Condon's sponsored parachute jump which will take place on Sunday July 22nd. Limerick by birth but Boyle by nuture, Paul has been 25 years in his adopted town and has raised over €25,000 to date for the Irish Cancer Society through a number of fundraising ventures.
OPEN ARTS FESTIVAL
Boyle Art Exibition are accepting Art submissions on Friday July 6th and 7th July from 4pm until 6pm at the Parochial School, Military Road, Boyle. Guidelines and form. For further information email [email protected]  or Una Bhan Tourism, Grounds of King House, Boyle 071 9663 033.
BAF'18
Tickets are now on sale for two great performances during Boyle Arts Festival. The Rob Strong & Don Baker Band will play in Daly's Storehouse on July 21st. On Monday July 23rd, Luka Bloom will make a very special intimate appearance, in the Church of Ireland.
Tickets for both and many other performances during BAF'18 are now available on www.boylearts.com
COURTYARD MARKET
The Market takes place every Saturday in the Grounds of King House, Boyle from 10am until 2pm. If you would like to enjoy the best locally grown fresh and organic produce, then a trip to the Courtyard Market should be on your agenda. There is a wide range of seasonal produce,
CV & OFFICE SERVICES
Are you looking for a new job? Are you having difficulty putting together your CV? Would you like some help? Then why not call into the Úna Bhán office in the grounds of King House, Boyle, where we will be delighted to give you any help, advice or information we can. A good CV could make all the difference in getting your job application through to the interview stage. We have a template and sheet of helpful tips to guide you through the process. We will also type your CV if you cannot do this yourself. Or you may just want to call in for a chat about your CV. All information will be treated in the strictest of confidence. For more details, contact Úna Bhán Tourism on 071 9663033. We also offer office services such as Photo Copying, Scanning, Laminating, Typing, Faxing, Binding and Printing are carried out at the Una Bhan office in the grounds of King House, for further information