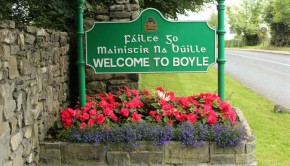 CURLEW WALKERS CLUB
The next meeting of the Curlew Walkers will be on Thursday 21st June meeting at MacDermott's at 7pm. This will  be at Bricklieves "Sunset Walk" and picnic grade C. Leader for the day will be Philip James 086 3353 000. Please confirm times with leader or website prior to each walk www.walkingboyle.com
CANCER SOCIETY FUNDRAISING NIGHT
A fundraising night for the Irish Cancer Society will take place in the Patrick's Well on June 22nd and The Moylurg on July 6th. The event is in aid of Boyle man Paul Condon's sponsored parachute jump which will take place on Sunday July 22nd. Limerick by birth but Boyle by nature, Paul has been 25 years in his adopted town and has raised over €25,000 to date for the Irish Cancer Society through a number of fundraising ventures.
PSYCHIC MEDIUM READINGS IN BOYLE
Appointments are now being accepted for Psychic Medium readings in Boyle on Friday June 22nd. The Medium works with Angel and Spirit energy to allow you to heal within. If you are looking for guidance in life, confirmation that you are going in the right direction, then Spae Wytch Medium Healer Lucy can help. Lucy is available for one to one readings and healing. Skype readings are also available for those who are not local. Lucy will attend at The Spool Factory in Boyle this Friday May 25th. Please call 0896038531 for an appointment.
CUSTOMER SERVICE COURSE FOR SEASONAL STAFF
A Customer Service Training Course organised by Role Skillnet will take place at Boyle Enterprise Centre on Monday June 25th from 9.30 until 1.00. The course is aimed at businesses employing seasonal staff. Course content includes, Customer Service Transaction Model, Understanding Customers, Going the extra mile, Building rapport, Communication skills, First Impressions and Handling challenging situations. For more information or to book places please email [email protected] Role Skillnet are based at Boyle Enterprise Centre and provide funding and support for training in private businesses.
SUMMER SHOWCASE 2018
Thomas Sprat presents DAS the Dance, Act, Sing Academy on Saturday 23rd July in St Joseph's Hall. Special guest including Karen Tynan, the Fatale Follies and more. For bookings tel 087 6079539 or email [email protected]
BOYLE ARTS FESTIVAL
This is a reminder to all artists, local, new, those from further afield, and those under 25, that it is time to be thinking of your entry to the 2018 Boyle Arts Festival Open Art Exhibition. The exhibition this year will run from 10am Friday 20th July until 4pm Saturday 28th July. We were delighted that last year's exhibition was as well supported as previous years. We anticipate another excellent show for 2018, exhibits for which will be selected by an anonymous panel. Handing-in of entries will take place in the Church of Ireland Parochial School, Military Road, Boyle (opposite Family Life Centre) on Friday 6th July from 4pm To 6pm and Saturday 7th July from 4pm To 6pm. Entries will be accepted in any medium, to a maximum of 3 per person. The Entry Form and Full Terms and Conditions of Entry are attached below. For any queries about the exhibition please contact Patricia at 071 96 63033 between 9am and 5pm.
BOYLE GOLF CLUB
Open Week at Boyle Golf Club runs this year from Monday 2nd to Friday 6th July.
BAF 2018
There are almost fifty events to choose from in the ten-day calendar of art, music, drama, film, comedy, spoken word, children's events, workshops and literature. The official Boyle Arts Festival programme for 2018 will be launched in a few weeks' time and the Festival office will open its doors on Monday, July 9th. You can still beat the rush though, by visiting www.boylearts.com  and viewing all of the artists there. Tickets for most of the events are now available to purchase. You can do this by going to our website and following the links to buy tickets, under each artist profile. Some of our headline music artists this year include Wyvern Lingo, Celine Byrne, Luka Bloom, Ham Sandwich, New Airs, Mundy, The Don Baker & Rob Strong Band, Sean Keane, Harlequin Opera Company, Altan,  James Carty, Leonie McDonagh, Bernadine Casserly, Seamie O'Dowd, Kieran Quinn and Mongrel State to name a few….. the list really does go on and we can promise you an unforgettable and entertaining experience at this year's Festival! Huge thanks to all the local sponsors, who continue to support us so generously. Boyle Arts Festival will open on July 19th and continue until July 28th.  For more information on Boyle Arts Festival 2018 please go to www.boylearts.com www.eventbrite.ie or email [email protected]
ROCK THE CLOCK
This year's 'Rock the Clock' Festival will take place over the August Bank Holiday weekend. Organised by Mattimoe's Bar and the Moylurg Inn, three days of fun and entertainment are planned in Boyle. The weekend kicks off on Friday August 3rd with Lip Sync Battle followed by The Legends live in St. Joseph's Hall. On Saturday 4tth August, there will be a 5 a side Football Tournament followed by live music with Audio Pilot and a Fireworks Display outside Mattiome's on Bridge Street. Finally, on Sunday 5th August a Family Fun Day, Duck Race and Tug O' War will take place followed by live music with The Antics outside the Moylurg Inn. Further details on Boyletoday.com closer to the weekend.
ESTABLISHING MENS BASKETBALL TEAM
Boyle basketball club are trying to establish if there is any interest in establishing a men's team in Boyle for next season. Presently there are a number of men interested in a team but more are required. Please contact any club member or [email protected] if interested. The Boyle Women's Basketball team is going from strength to strength.  If you would like to participate in Men's Basketball Team please get in contact.
COURTYARD MARKET
The Market takes place every Saturday in the Grounds of King House, Boyle from 10am until 2pm. If you would like to enjoy the best locally grown fresh and organic produce, then a trip to the Courtyard Market should be on your agenda. There is a wide range of seasonal produce,
CV & OFFICE SERVICES
Are you looking for a new job? Are you having difficulty putting together your CV? Would you like some help? Then why not call into the Úna Bhán office in the grounds of King House, Boyle, where we will be delighted to give you any help, advice or information we can. A good CV could make all the difference in getting your job application through to the interview stage. We have a template and sheet of helpful tips to guide you through the process. We will also type your CV if you cannot do this yourself. Or you may just want to call in for a chat about your CV. All information will be treated in the strictest of confidence. For more details, contact Úna Bhán Tourism on 071 9663033. We also offer office services such as Photo Copying, Scanning, Laminating, Typing, Faxing, Binding and Printing are carried out at the Una Bhan office in the grounds of King House, for further information.