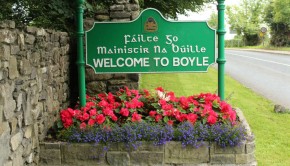 BAF BOOKING OFFICE
Bookings for all events can be made by phone or in person at the Festival Office, Bridge Streat, Boyle and online where indicated int eh programme.Please note that there is limited seating at most of the venues and advanced booking is recommended. Tickets must be paid for at time of booking and are non-refundable. For more information call 071 966 3085 between the hours of 11am until 5pm.
BOYLE OPEN ART EXHIBITION
Showing the diverse and exciting styles and mediums of Art, Sculpture Submission Exihibitions standard continually grows to attract entries from all over Ireland. The extremely popular and well attended Art Exhibition aims to provide a forum for artist to display their talent. The work is selected on merit and entries selected from part-time and full-time and occasional arists giving a lunique blend and standard of excellence. Open night will be Thursday 19th Julyl at 9pm and will open ddaily from 10am until 6pm until 27th July.
PRESENCE
A Photography Exhibition By Fotofit Photography Group Will Be Taking Place In The Boyle  Resource Centre (Basement Entrance). This Exihibition Opens Daily From 20th Until The 27th July From 11am Until 4pm By Tony Murphy.
ST JOSEPHS CHURCH CHOIR
The Choir will be performing as part of the Sunday morning mass on Sunday 22nd July at 11.30  Formed in 2016, the Choir sing on the fourth Sunday of each month at 11.30 mass and at other church ceremonies. The four part choir has over fifty members, a number of whom share the teaching and programming together with Choir Director Anne Kielty.
POTTERY CAMP AT ARDCARNE GARDEN CENTRE
Hullabaloo Pottery Camp will take place this July in Ardcarne Garden Centre. The dates are 30th July until 2nd August from 10am until 1pm. Learn lots of different skills and techniques when you are painting and decorating your pottery. You will have your very own designer kiln-fired pot stand, mug, plate, bowl and piggy bank. Make fabulous personalised presents for family & friends, if you can bear to give them away! For booking and more information please email [email protected] or call 086 4094164. Camp is suitable for children from 6 years upwards
ROCK THE CLOCK PLANNING CONTINUES
The organisers of August's 'Rock the Clock' festival in Boyle have had to cancel the planned 'Lip Sync Battle' due to insufficient entries. Work is continuing weekly on organising a great line up for the much anticipated August bank Holiday weekend Festival. Among those performing will be The Legends who will play live outside The Moylurg from 9:30pm on Friday 3rd of August. The organisers would like to thank those who did sign up for the Lip Sync and "who knows, we might do it again later in the year".
BAF WORKSHOP
Once again, an exciting range of children's and adults workshops has been organised for Boyle Arts Festival which will run from July 19th to 28th. First up, a 5-day workshop for Children aged 5 to 8, 'Fantastic Creatures' with Kate Wilson. This workshop will run from July 23rd to 27th. Participants will create movement sequences, masks and costumes for performance exploring their own imagined beasts, as well as creating environments, nests and habitats etc in the space using natural materials and fabricating with paper and paint. This will include both individual and group work and there will be an informal sharing of the work on the last day. The Singskool Summer Camp is an extremely popular early childhood music programme, designed to put the FUN back into the fundamentals of music. Interactive classes will have your little one singing, playing instruments, conducting, composing, dancing and exploring early music literacy and performing. At the end of the week your mini stars will start in a show for family and friends. There are three Singskool workshops for different age groups, over five days. 'Mini Melodies' for ages 3 to 4, 'Treble Makers Summer Beats' for ages 5 to 8 and 'Beat Buddy Babies', a two-day workshop for children aged 6months to 3 years. For booking and more information please visit www.singskool.com Enquiries 086 395 6389 All Children's workshops will take place in Abbey Community College
JUNIOR GOLF IN BOYLE
Junior golf continues on Wednesday's at Boyle Golf Club and will commence at 6pm. All children 8 years of age or older and interested in learning the basics of the game are welcome. All equipment will be provided.
BOYLE GOLF CLUB
The men's' 12 hole stableford played on Thursday the 28th of June was won by Jonathan Egan,  with Michael Gilmartin and Padraig O'Connell coming in 2nd and 3rd. The "twos club" pool was split between Jonathan Egan and Michael Gilmartin. The results of the competitions played on the weekend 30th of June and the 1st of July will be published next week. The club owes a debt of gratitude to the volunteers who have been up at the course after dark night after night watering greens during the recent dry spell. Without their freely given labour the greens would have been badly damaged and possibly rendered unplayable for our Open Week. Thanks to all involved.
THE HOTEL PUBLIC ART PROJECT UNDERWAY
A new public art project titled "The Hotel" is currently underway. The project aims to capture conversations about the significant role the former Royal Hotel, Boyle played in the lives of the local people. It will investigate the importance of everyday practices of hospitality and welcoming others. The project organisers would appreciate any photographs or objects that may illustrate your story on the Royal Hotel. Conducted interviews will form part of an installation piece in response to this historic building. If you have a story to tell, interviews and meetings will take place on Tuesday July 24th and Wednesday July 25th from 11am – 5pm in the Spool Factory in Boyle during Arts Week. For more information please contact Greer MacKeogh at [email protected] or Carol MacKeogh on 086 8601121
CURLEW WALKERS CLUB
The next meeting of the Curlew Walkers will be Sunday 9th September meeting on Crescent, Boyle at 10 am and will leave for Leean and Doons. This will be Climb Grade B. The leader for the day will be David Brett who can be contacted on 086 8841 763.. Please confirm times with leader or website prior to each walk www.walkingboyle.com
BOYLE ATHLETIC CLUB
At a well-attended meeting it was decided to form Boyle AC (Boyle Athletic Club) to cater for the growing number of people of all ages interested in the various athletic disciplines. It was decided the club follow established guidelines and seek approval from the county board as well as membership of the national governing body. Decisions were made on a working committee, club colours and a club logo.
COURTYARD MARKET
The Market takes place every Saturday in the Grounds of King House, Boyle from 10am until 2pm. If you would like to enjoy the best locally grown fresh and organic produce, then a trip to the Courtyard Market should be on your agenda. There is a wide range of seasonal produce,
CV & OFFICE SERVICES
Are you looking for a new job? Are you having difficulty putting together your CV? Would you like some help? Then why not call into the Úna Bhán office in the grounds of King House, Boyle, where we will be delighted to give you any help, advice or information we can. A good CV could make all the difference in getting your job application through to the interview stage. We have a template and sheet of helpful tips to guide you through the process. We will also type your CV if you cannot do this yourself. Or you may just want to call in for a chat about your CV. All information will be treated in the strictest of confidence. For more details, contact Úna Bhán Tourism on 071 9663033. We also offer office services such as Photo Copying, Scanning, Laminating, Typing, Faxing, Binding and Printing are carried out at the Una Bhan office in the grounds of King House, for further information.