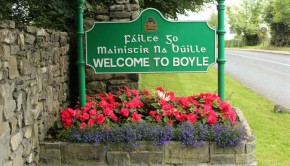 IRISH LEGENDS STORY TELLING
As part of Social Inclusion Week, Úna Bhán Craft Shop, Grounds of King House, Boyle will host three mornings of FREE storytelling and hot chocolate. Focusing on pre-school children and their parents / guardians with young children that may feel lonely and experiencing social isolation and welcome the opportunity to spend a couple of hours in the company of others then why not come along at  11.30am on Wednesday October 17th. Call in or phone Anna on 071 966 3033 to book your free place. This event is supported by Roscommon County Council Social Inclusion Unit contact Colm Kelly for more information on 090 66 37259.
ABBEY COMMUNITY COLLEGE
On Thursday 18th October, 8pm in Abbey Community College. Pat Murphy will give an illustrated talk on the life of this famous yacht from her launch in 1905 to her conservation today in Collins Barracks Museum … including her 23-day voyage to collect guns and ammunition for the Irish Volunteers in July 1914. Admission: Donation.
BOYLE CELTIC DRAW
Boyle Celtic FC are delighted to announce their new "50/50 Weekly Draw", commencing Friday 19th October. The first draw will take place in Mattimoes Bar at 10.30pm and subsequent draws at other venues around the town. Every week, the total money collected is  split 50/50 between the winner and the club. The draw will be broadcast live on Facebook from the venue of the night. Tickets are €2 each or 3 for €5. Just put your name and number on the front of the envelope. They are on sale throughout the town and available from our club officials also. If buying 3 for €5, just place 2 envelopes and the €5 into a 3rd envelope and seal it. The club are hoping to undertake the next phases of its development, with upgrades to facilities at the club, a top priority, due to the increased number of underage, girls and boy's teams. Boyle Celtic are catering for over 700 children now and we must keep moving forward with our facilities and equipment to give each child the best opportunity to enjoy their time playing soccer and develop as both an individual and as a valued member of their team.
COOKERY DEMONSTRATIONS
As part of Social Inclusion Week, Úna Bhán will host a morning at Boyle Farmers Market incorporating cookery demonstrations by Flo to provide healthy wholesome food with a main focus on those living on a budget, called 'Healthy Foods & Healthy Minds'. This year's Social Inclusion week's theme is 'Healthy Roscommon' and all are very welcome to participate in an interactive and social event on Saturday 20th October from 10am to 2pm in the Grounds of King House, Boyle. The Courtyard Market, Boyle takes place every Saturday from 10am to 2pm in the grounds of King House. This event is supported by Roscommon County Council Social Inclusion Unit contact Colm Kelly for more information on 090 66 37259.
THE ACORN PLAYERS
Proudly present "Loophole" by John McManus. A hilarious comedy in 3 acts, a side splitting comedy that will have you shaking in your seats and begging for more. This comedy will take place in St, Joseph's Hall, Boyle on Saturday 20th October at 8.30 and will be in aid of Roscommon Safelink. Tickets are available from Rosali shop Elphin Street and Una Bhan Craft Shop in the grounds of King House. For more information contact 071 966 4200 or [email protected]
CURLEW WALKERS CLUB
The next meeting of the Curlew Walkers will take place on 21st October. Meeting on the Crescent, Boyle at 9am with your leaders for the day being Eugene Griffin 0862560400 and Zita Griffin 0863661336. This will be a Climb/Flat at Ben Gorm/Famine Walk, Grade A/ B. Please confirm times with leader or website prior to each walk www.walkingboyle.com.
RUN WALK N ROLL 2018
This event will take place on Sunday 21st October at 3pm at St. Joseph's Hall, Boyle. Run Walk N Roll is in its 23rd year in Boyle. This year's theme is: 'We Won't Give Up Until Cancer Does' It is a 5.4km run/walk and we encourage everyone to come out and participate, fancy dress is welcome. Entry is on the day and refreshments will be served afterwards. Sponsor cards are also available. Check out this page regularly for updates. Looking forward to seeing you all there to support this worthy cause once again. Contact Damian Regan 0863942388
GIVE BLOOD
The next Blood donation clinic will take place in St, Joseph's Hall Boyle on Wednesday 24th October from 4.30 until 8pm.
SOCIAL DANCING IN TAWNYTASKIN
Social Dancing will take place in Tawnytaskin Community Centre on Thursday nights. Jiving, Waltz and Traditional Steps from 7.30pm until 9.30pm for 7 Weeks. Ceili ignht on the final Thursday November 22nd.
AUTUMN EVENING CLASSES IN CLOONLOO
A number of other classes are planned in Cloonloo for the autumn/winter including: Yoga and Mindfulness on Monday nights. Contact Theresa on 086 0532432. Flower Arranging with Angela east starts November 15th at 8pm for five weeks. Contact Linda on 086 6009940 or Breege 086 3732775 Jiving Class with Colin Butler starts November 13th. Contact 087 7660470.  Pilates with Rachel Martens commenced September 12th. Contact 086 2255393
A BRIDGE CLUB CONTINUES WEDNESDAY
Boyle Bridge Club continues for the autumn season every Wednesday and will take place in the Spool Factory on St. Patrick Street from 7.30pm. New members are always welcome.
RELAX KIDS IS COMING TO BOYLE THIS NOVEMBER.
Started in 2001, Relax Kids is one of the pioneering companies in children's mindfulness and relaxation. The group produce quality relaxation books and CDs that help children relax with a network of fantastic coaches who run classes for children privately and in schools. Relax Kids is used in over 500,000 schools and homes in the UK and aims to boost your child's self-esteem, improve their confidence and help create peaceful thoughts. Please visit 'Relax Kids with Sarah – Roscommon & Sligo' on Facebook or contact 0830618006 for further information.
BOYLE GOLF CLUB RESULTS
The men's competition which took place on Sunday the 30th of September was an 18 hole stableford sponsored by Golfstyle, Ireland's leading golf shop based in the Liosban Business Park, Tuam  Road, Galway. Jimmy Dwyer was the emphatic winner with a fine score of 41 points, leaving the respectable 38 points of his playing partner Dave Purser a distant second. Tom Kearney claimed the final spot on the podium with 37 points. Thanks very much to all at Golfstyle for their continued generous sponsorship. The Winter 9 hole competition made its return this past week. The format is a 9 hole stableford running Monday to Saturday inclusive on a weekly basis, entry is 5 euro, re-entry is 3 euro. This competition runs throughout the winter, weather and course conditions permitting. It has proved very popular since its introduction a few years ago especially with those who have more free time on weekdays than they do at weekends. If you are looking to play but don't have playing partners arranged, just put up a message on the men's' WhatsApp group with your preferred time.
COURTYARD MARKET
The Market takes place every Saturday in the Grounds of King House, Boyle from 10am until 2pm. If you would like to enjoy the best locally grown fresh and organic produce, then a trip to the Courtyard Market should be on your agenda. There is a wide range of seasonal produce,
CV & OFFICE SERVICES
Are you looking for a new job? Are you having difficulty putting together your CV? Would you like some help? Then why not call into the Úna Bhán office in the grounds of King House, Boyle, where we will be delighted to give you any help, advice or information we can. A good CV could make all the difference in getting your job application through to the interview stage. We have a template and sheet of helpful tips to guide you through the process. We will also type your CV if you cannot do this yourself. Or you may just want to call in for a chat about your CV. All information will be treated in the strictest of confidence. For more details, contact Úna Bhán Tourism on 071 9663033. We also offer office services such as Photo Copying, Scanning, Laminating, Typing, Faxing, Binding and Printing.
.