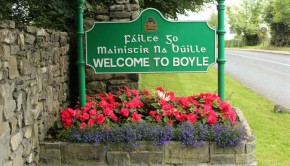 THANK YOU FROM RUN WALK & ROLL 2018
Once again the people of Boyle and all the surrounding area came out in big numbers to take part in the annual Run Walk n Roll for Cancer Research. With almost 400 participants of all ages young and old running, walking , cycling, kids in buggies even the dogs on the street knew this event was on (anyone that was there will know what I mean when I was aptly interrupted by a 'Woof' when  I said dogs were welcome). All participants received well deserved medals and refreshments in the hall afterwards so it was a great social occasion. First man home was Eastersnow/Croghan man Paul Little in a time of 20.10 with local Boyle teen Daniel Casey getting nearer winning every year in a close second. First lady was Croghan teen  Kristy Mc Henry so it is great to see some great young runners coming up. Thank you to all our sponsors Kelly's Londis, SuperValu, Corrib Oil, Cooneys Centra, Applegreen, Better Buys, Eventease.ie, Dj Richie, Bazaar Cafe, St Josephs Hall, McGees Jewellers and Paul Beirne signs. Thank you to the Gardai, Order of Malta, Roscommon County Council, Callery Family, Abbeytown Xpress, Kearney Family, Langans, Finbarr Feely, Stewards, Registration people, Tea and refreshments staff, neighbours and each and everyone involved without whom it could not happen. Thank you to Maura and all the staff and pupils at St.Joseph's Boys NS who have supported this event for years raising big sponsorship which will be publicised at a later date. So far €4000 has been raise with more to come in.
IRISH  COUNTRYWOMANS ASSOCIATION
Tuesday October 30th: Boyle and District I.C A. will take to the dance floor with dance Tutor Breda McNulty who will hold a dance taster class in Tawnytaskin Community Centre from 8.30pm. Breda will demonstrate Jive, Rock and Roll, Salsa and also some body conditioning exercises that can be done while sitting. Open to ALL LADIES, so please come along and bring a friend. For information on ICA and more, please call 087 955 7036
MEMORIAL PLANNED TO BOYLE WAR DEAD
Work is progressing on a memorial to the 127 men from Boyle who lost their lives in the Great War. Boyle lost more men in the last year of the Great War than in any other year. The memorial will be unveiled on Sunday November 11th at 11am at King House.
FREE "EXPLORING EXCEL" WORKSHOP
This workshop in organised by Role Skillnet and will take place at Boyle Enterprise Centre on November 15th from 9.30/11.30. (Registration 9.00/9.30) The workshop is suitable for participants interested in exploring Excel's capabilities to become more efficient in using and creating spreadsheets. For more information please email [email protected] or call 086 203 9182. Role Skillnet provide funding and support for training for private businesses
BOOK LAUNCH
Launch of Barry's book by Dr Jason King who is the Academic Coordinator of the Irish Heritage Trust and National Famine Museum at Strokestown Park. The book is about the Workhouse in Boyle and emigration in famine times. It describes the building of and living conditions in the Workhouse. It tells the distressing tale of 52 orphan girls from the area, leaving on a Bianconi long cart and onwards on a sea voyage lasting 100 days to Australia. This was during the years 1848 to 1850, when 4114 orphan girls from Workhouses all over Ireland many as young as 14 years old were sent under the Earl Grey Irish orphans scheme to Sydney and beyond.Their passage was paid by the Australian Government as more females were required to offset the gender imbalance in the colony (8m:1F). Through correspondence with researchers (Irish Famine Memorial) based at the Hyde Park Barracks Museum, in Sydney, we have traced the early history of some local girls. Some of it makes for sad reading. They were so vulnerable. The Book also gives details on the Rockingham and Woodbrook evictions from their estates in the Barony of Boyle and their resettlement on Sheegora, and Ballymore. Poignant images of a famine house with its bed outshoot or 'pristy' bed are included. Emigration to America, Canada and Australia including the names of the ships and some passenger lists are also covered. Many of these passages were financially assisted by the Boyle Union Board of Guardians. Most of the information was gathered by reading the minutes of what remains of the Boyle Board of Guardians books and from local newspapers of the period. Taking place in King House, Boyle on Friday 16th November at 8pm.
A BRIDGE CLUB CONTINUES WEDNESDAY
Boyle Bridge Club continues for the autumn season every Wednesday and will take place in the Spool Factory on St. Patrick Street from 7.30pm. New members are always welcome.
RELAX KIDS IS COMING TO BOYLE THIS NOVEMBER.
Started in 2001, Relax Kids is one of the pioneering companies in children's mindfulness and relaxation. The group produce quality relaxation books and CDs that help children relax with a network of fantastic coaches who run classes for children privately and in schools. Relax Kids is used in over 500,000 schools and homes in the UK and aims to boost your child's self-esteem, improve their confidence and help create peaceful thoughts. Please visit 'Relax Kids with Sarah – Roscommon & Sligo' on Facebook or contact 0830618006 for further information.
BOYLE GOLF CLUB RESULTS
David Wynne was the winner of the 18 hole Stableford competition played on the weekend of the 20th of October with 41 points. Second place went to Captain Terry Canning  with 40 points and Paul Connolly took the third spot with 37 points. Patrick Egan claimed the prize for best gross score. The men's' Winter 9 hole is ongoing on a weekly basis and can be played any day from Monday to Saturday. The AGM for the men's' section takes place on Sunday the 11th of November at 5 pm in the clubhouse.
COURTYARD MARKET
The Market takes place every Saturday in the Grounds of King House, Boyle from 10am until 2pm. If you would like to enjoy the best locally grown fresh and organic produce, then a trip to the Courtyard Market should be on your agenda. There is a wide range of seasonal produce,
CV & OFFICE SERVICES
Are you looking for a new job? Are you having difficulty putting together your CV? Would you like some help? Then why not call into the Úna Bhán office in the grounds of King House, Boyle, where we will be delighted to give you any help, advice or information we can. A good CV could make all the difference in getting your job application through to the interview stage. We have a template and sheet of helpful tips to guide you through the process. We will also type your CV if you cannot do this yourself. Or you may just want to call in for a chat about your CV. All information will be treated in the strictest of confidence. For more details, contact Úna Bhán Tourism on 071 9663033. We also offer office services such as Photo Copying, Scanning, Laminating, Typing, Faxing, Binding and Printing.